Track Q&A with Lauren Minor and Johnnie Guy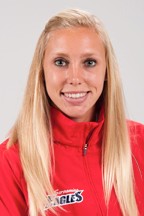 Lauren Minor, senior indoor/outdoor distance runner
The Shield: When you were a freshman did you think you would be where you are today?
Minor: Actually I didn't even know if I wanted to run in college, so when I was a freshman I was still feeling it out. But once I hit sophomore and junior year, I was really glad that I kept running.
How is it transitioning from cross-country to track?
For me it's a lot different because we do a lot more speed workouts – jumping from grass lops to a short 200-meter track. I just try to adjust the best I can.
What's it like working with Coach Hillyard?
Coach Hillyard has helped me so much over the years. You can see that my times have improved majorly. All the work he has me do and pushes me to do – it's helped me tremendously.
How do you prepare for races?
I usually think I want to run fast and try not to think about it too much because that's where I get in trouble. I just stick with the same warm-up routine and drills, then race.
What are your goals for the season?
Track is a little more individual, but you're still on the team, and you're still working towards conference goals. Going into outdoor track, I would love to make nationals because I barely missed cross-country nationals by about 19 places, so making outdoor nationals would be awesome.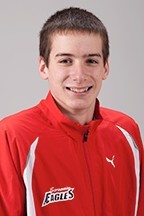 Johnnie Guy, freshman indoor/outdoor distance runner
The Shield: Why USI?
Guy: I was originally at Purdue and didn't really like the big-school feeling, so USI was my second choice when looking at schools. I have a twin brother here and he told me about the campus. So I decided it might be better for me to come here since I'm from a small town and a small high school. It seemed like it would fit better for me here.
How is it transitioning from cross-country to track?
It's a little bit different because in cross-country it's 10k and indoors you go down to a 3k. There is a little more speed involved, especially because it's on a 200-meter track. After getting the timing right it's not that difficult.
After running in your first event for USI and placing 10th in the men's 3000-meter run, how does that feel?
It feel pretty good. It feels like I have a bright future ahead of me with this program.
What are your goals for the indoor and outdoor season?
For the indoor season I would really like to make nationals, which means I have to run a little bit faster in the 3k and then really concentrate on running a 14:20:00 time for the 5k. For the outdoor season – just train hard for the 10k. Outdoors is little more important. That is like our long-term focus. I would like to break 29 minutes in the 10k outdoors.
How do you hope to impact the indoor season?
I'm looking to get some freshmen records, which helps the whole team if you have somebody competing well, and I hope to set us up for a good outdoor season.
How do you hope to impact the overall program?
I think I can make a big impact over next year and years after, especially for the cross-country season – looking to give us a big boost at nationals.