GLVC tournament comes to Evansville
Jessie Hellmann
August 22, 2012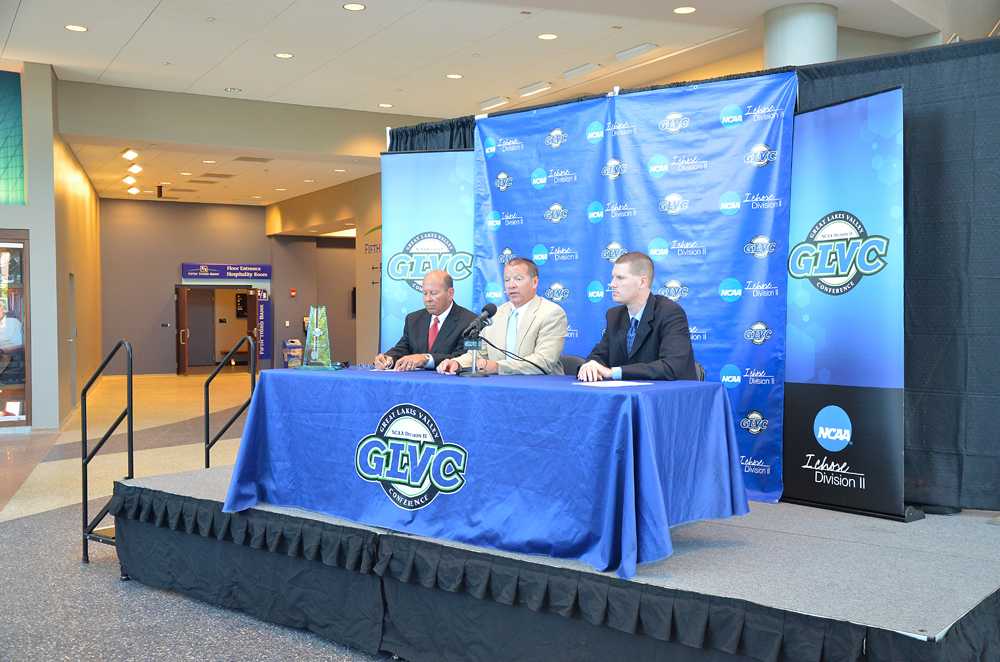 During a press conference Wednesday afternoon at the Ford Center, USI officials announced the Great Lakes Valley Conference men's and women's basketball tournaments will be returning to Evansville this upcoming season.
"Just because it's three miles down the road doesn't mean we're invited yet," said USI Men's Basketball Coach Rodney Watson. "But our team, our fans and our community understand how important it is for us to come out of the gate strong. Our students have always been there to support us. It's up to us to give them a product."

The USI men's basketball team won the GLVC tournament last year.
The 2013 tournament features the top 12 men's and women's basketball teams and will be played over two weekends.  The top four teams will have first round byes and the remaining 8 will open conference tournament on the USI campus in the Physical Activities Center (PAC) March 3.
Women's Basketball Coach Rick Stein said he thinks the Ford Center holding the tournament will bring fans of all types.
"I think it's not only going to draw USI fans, but also basketball fans in general," he said.  "This is high quality basketball for both men and women, and we'll need to rise to the occasion because having the event at the Ford Center is a tremendous opportunity."
Evansville hosted the tournament at Roberts Stadium from 1999-2007, where the USI men's basketball team won two of the last three championships. Since then, the tournaments have bounced around the several different venues. Last year, the tournament was held in Springfield, Ill.
Springfield was supposed to host the event this upcoming season, but a scheduling conflict prevented that arrangement. Instead, it will return to the River City from March 7-10, 2013 at the Ford Center. A news conference is scheduled to announce the event's return at 11 a.m. on Wednesday.