Cheer team places 4th in nationals
Roberto Campos
January 15, 2012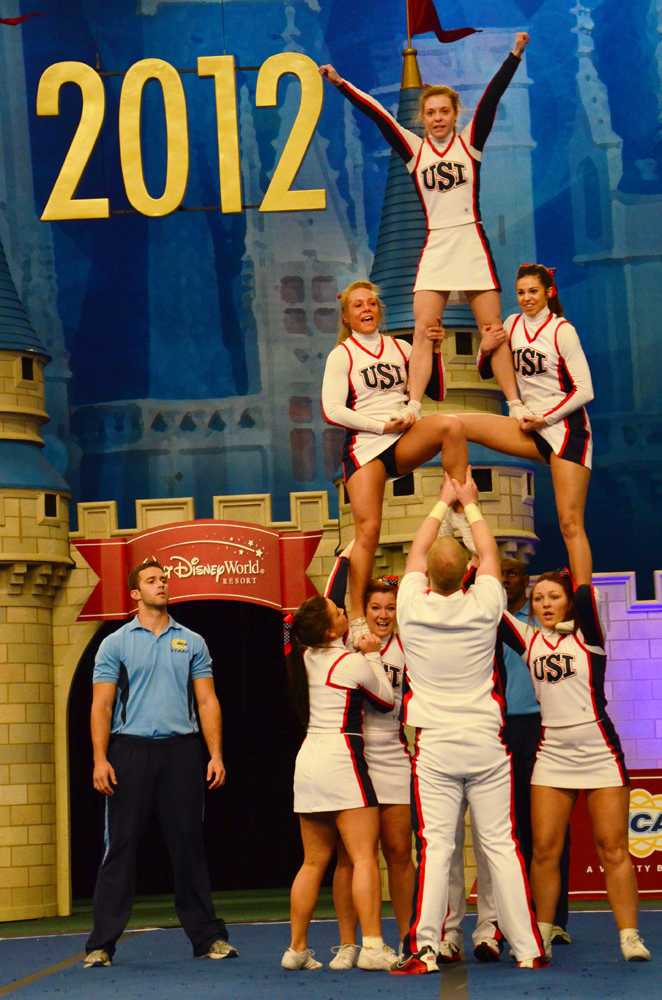 For two minutes and 30 seconds, all lights and eyes in the ESPN Wide World of Sports complex at Disney World were fixed on the USI cheer team. After pulling off, what some of the cheerleaders called a picture perfect routine, the cheer team experienced something shy of a fairy tell ending.
On Saturday, the USI cheer team traveled to Orlando, Fla., to compete in the 2012 Universal Cheerleaders Association (UCA) College Cheerleading Team National Championship competition and placed fourth in Division II Small Coed.
All the joy and happiness that filled the cheer team from pulling of a perfect routine was sucked out of them when the moment the team heard its place, only to be replaced with confusion and disappointment.
Tawne Bucherl, reluctant about the team's placing, accepted the trophy on behalf of the USI cheer team.
"It was really hard for me and the team. I don't always think my team should get first, but at that point I knew we deserved more than fourth place," all-girl base Bucherl said. "As much as it sucked, and it really sucked, to go up and accept a fourth place trophy, I was proud of my team and what we did at nationals."
Last year at the UCA national's competition USI placed second, the second time under head coach John Stuteville's career at USI. The team was determined to take home gold this year.
"Last year we placed second, and it was close, and none of us thought that we should have lost," coed stunter Martin Deason said. "I am disappointed in the scores because we hit our routine perfectly, and the scores and placing doesn't reflect that. I personally believe we should have placed second, Wilmington University had a great routine and deserved to win, but fourth isn't what we should have placed."


Judging for UCA competition is subjective and is based upon difficulty, crowd interaction, entering and exiting stunts and other components can be viewed differently from judge to judge.
"What makes a winning team is a team that can choreograph to their score sheets and to their strengths and hide their weaknesses," said Matt McDonough, who works with the International Cheer Union. "There is a little craftsmanship and coaches putting together their routine so that they distract from their weaknesses and highlight their strengths, but they try and make judging less subjective as possible by having set criteria."
With a bitter sweet taste left in their mouths from a placing that they believed they didn't deserve, Stuteville harbored words of wisdom after the awards ceremony.
"In six years, this routine that they put on at this year's nationals was the best that they have ever performed overall," Stuteville said. "The kids did the best possible job that they could, there was nothing more that they could do."
Prior to UCA nationals the cheer team suffered injuries and important people quitting that effected the depth of the team.
"For what we had, between a few individuals getting hurt and people quitting, we maxed out everything that we could do for the competition," Stuteville said. "We could have put harder skills out there, but we probably wouldn't have hit them and that's a number one no-no."
With UCA nationals in the past, the cheer team begins the long road to getting preparing for next year's competition.
"What happens after nationals is we mainly work on basketball stuff, but at practices we'll begin putting more difficulty into our team and try and master them so we can hopefully be a better team," Stuteville said.
For the past two years, the cheer team has left nationals feeling like they should have placed higher. As they look towards next year, they all have the same goal in mind as they do every year, win it all.
"Situations like this where you get so close and then you're let down in the end, it doesn't do anything but add fuel to the fire," coed stunter Tyler Pipes said. "Getting fourth place and being let down like that leaves you with this really empty feeling, and the only way to fill that hole is for next year to win and put a ring on your finger and a medal around your neck."