Intramural softball finishes playoffs
Hang on for a minute...we're trying to find some more stories you might like.
It may not be the Yankees playing the Tigers, but the softball intramural playoffs carried the same kind of excitement. Drew Hawkins, junior public relations major and member of Phi Delta Theta intramural softball team claimed that this year's playoffs were up for grabs.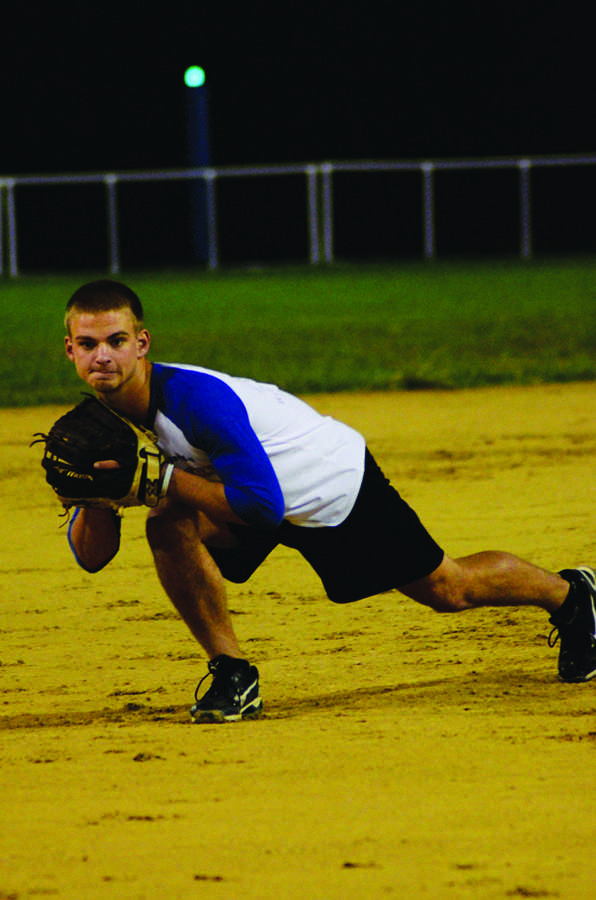 "Kenny Powers team was in the championship game last year got beat by some no name team, [Real Men of Genius]," Hawkins said. "All the teams bring something to the table. It keeps things interesting and it's really anyone's ball game."

Southern's Finniest has won the championship game for the past three years and were the favorite to win this year, Hawkins said.

"Expectations and execution are two different things," said Ryan Fike, senior nursing major and member of Southern's Finniest.

In the semi-final game Southern's Finniest lost to Phi Delta Theta, 13 to 11.

"Definitely upset about losing and ending our winning streak," said Nick Vogel, senior business major and member of Sourthern's Finniest.

Real Men of Genius were excited about their chances of getting into the finals after beating Kenny Powers.

"We got everyone back from last year and I'm feeling good about this year," said Ryan Bell, captain of Real Men of Genius and junior business marketing major. We have a couple of state champions on our team, I think our chances of winning are good as long as we keep our errors down and our hits up. Real Men of Genius faced West Canaan in their semi-final match and lost, 19 to 2. The finals match was West Canaan vs. Phi Delta Theta. West Canaan had faced Phi Delta Theta earlier in the season and had beaten them."



"We run ruled Phi Delta Theta when we faced them earlier in the season," said Kyle Schmitt, exercise science major and member of West Canaan. "We were runner ups two years ago, but were feeling pretty good about our chances this year."

West Canaan ended up winning the final game, 16 to 6.

"After our victory against Southern we felt like the hype was going to carry us through the game," Hawkins said. "We were winning in the second inning, but afterwards they just kept scoring on us and we couldn't stop them. It was upsetting losing, but we're excited for next year and to build on the wins we had this year."

Hawkins, who also works as an umpire, got to see the inner workings of intramural softball.

"There was a two day training session for the umpires and they did a great job with training," Hawkins said. "I feel like were really prepared and were learning as we [umpires] go. It has made it into a really good season."

Scott Woods and Joe Gratz coordinate intramural softball and ready the fields, Hawkins said.

"If it wasn't for Woods and Gratz, we wouldn't have the great intramural softball program that we do," Hawkins said. "It's great that we can have something so competitive that is run so well and at the same time can be free. We really owe it to Woods and Gratz."