The USI men's basketball team took on Tiffin University in an anticipated match in search of their first victory Tuesday night. The game was a thrilling spectacle, featuring high-flying displays by USI's AJ Smith, sophomore guard/forward, and Jeremiah Hernandez, junior guard. However, there were still flaws with USI's performance and inability to keep their foot on the gas, especially late in the second half. Despite this, a win is a win, no matter how you define it, and the team should certainly celebrate after this hard-fought victory.
Going into the game, many predicted USI would find a win here, perhaps by double digits. However, this wouldn't be the case. Despite being a Division II team, the Tiffin Dragons were anything but a pushover. The team utilized a balanced 11-man rotation with a scorer-by-commission approach, in which multiple players came into this game averaging double figures in points. This strategy reminded me of the NBA's San Antonio Spurs, as no player in this game played more than 22 minutes, which is certainly commendable.
For USI, the story was all about Smith and Hernandez. In Sunday's game against Chicago State University, they were, without a doubt, USI's best two options on offense, and quite frankly, I would keep starting those two from here on out until they show otherwise. The three-point shooting had also been a flaw with USI, as they came in averaging 24% from beyond the arc.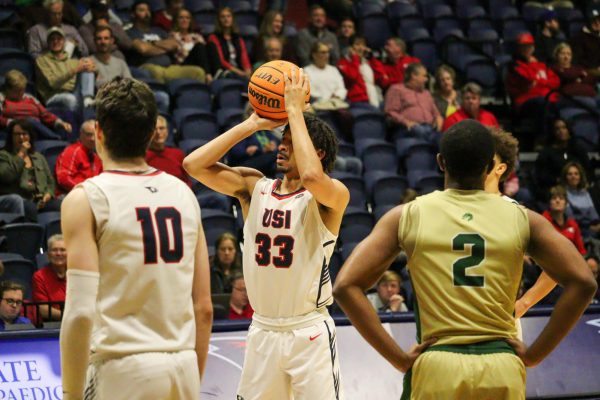 After the game, I asked Stan Gouard, head coach, if he emphasized attacking the basket as opposed to settling for jumpers.
"That was my big thing when we had practice today," Gouard said. "We didn't want to settle for three, I wanted to play faster, I wanted to get the ball moving and attack downhill. As you saw when we did that. We were able to get layups, Jeremiah got to the free throw line nine times, we also got a lot of open jump shots. We didn't convert all of them, but it just opens the floor, and guys emphasize getting down there. And we did a good job sticking to the script."

Starting Lineups:
Tiffin started the game with Morgan Taylor, senior guard, Carius Key, senior guard, and Ian Lopez, senior guard, in their backcourt. In the front court, they started Joshua Rivers, senior forward, and Wesley Jordan, senior forward. Jordan and Taylor were the main offensive focuses, as they averaged more than 15 points per game.
For USI, Gouard opted to change things up, starting Sam Mervis, junior guard, Smith, and Hernandez in the backcourt. In the frontcourt, Jack Mielke, junior forward, and Kiyron Powell, sophomore center, were sent to anchor the paint. Smith and Powell were the only returning starters from Sunday's game.
First Half:
Despite the tough start to the season, the team looked to be in good spirits during the pregame shoot-around. They also seemed confident, which certainly showed in the first half. That confidence was boosted by the student section, which was filled to the brim with energetic and inspiring Screaming Eagles.
To start the game, both sides played tough, hard-nosed defense. Scoring was hard to come by. Offensively, USI put an emphasis on moving the ball around the perimeter, with a Showtime Lakers style, with constant motion, keeping the defense on their toes. Getting the ball to the basket was the primary goal. Smith and Hernandez were off to a hot start early, getting dunks, giving energy to the fans and feeding off of it as well.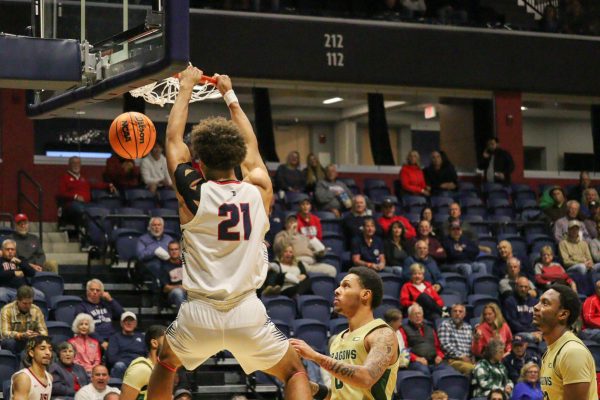 However, Tiffin was not intimidated early, as they fought back into the game with three-point jump shots by Rivers and Rhaven Brown, senior guard. However, Jordan Tillmon, junior guard, who'd been struggling last game, had a very good first half, scoring a three-pointer and two jump shots to keep USI afloat to close the first half.

Halftime: 29-31
USI played a good first half — defensively, it was a stark improvement from giving up 41 in the first half to Chicago State on Sunday. Defending the perimeter still needed some work, however, as Tiffin hit six of their 14 attempted threes. The inside presence was definitely better, as Powell, Nick Hittle, junior center, and Nolan Causwell, senior forward/center, were consistent for the most part. The offense was a bit better, but at moments, it seemed to dry up a little, especially when Smith and Hernandez weren't out there.

Second Half:
The second half started out similar to how the first did. A couple of baskets by both teams kept the game going until the 13:25-minute mark. A missed shot by Tiffin led to Jack Campion, sophomore guard, grabbing the rebound and finding Hernandez for an and-one basket on the fastbreak. This play energized the crowd and the team. Soon after, Tillmon would also get an and-one layup to fall. Consider the energy raised.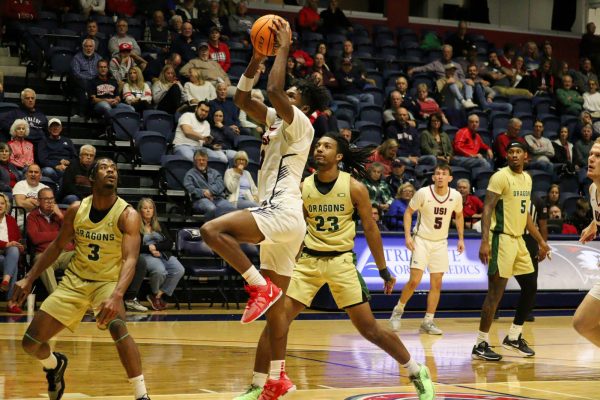 Approximately 29 seconds later, Hernandez swatted a shot and found Smith for a fast break layup. With USI's lead up to eight, Tiffin's head coach, Tom Church, proceeded to call a timeout. Energy maximized.
Out of the time out, Mielke fouled Key, who split his free throws. 17 seconds later, Campion found Hernandez for a driving dunk. Not even 16 seconds after, Smith stole the ball from Taylor and took the roof off the building with a monster tomahawk jam. You simply had to be there to feel the electricity in the building at that moment. I wrote on my Tablet simply, "SHOWTIME."
However, the game wasn't over, as Tiffin stormed back with a 14-9 run from 9:24-2:00 to cut the lead to six with just under two minutes to play. The inner coach in me would've called a timeout here, but Gouard didn't budge. "If the General Doesn't Panic, The Troops Don't Panic." – Shaquille O'Neal on his Lakers head coach, Phil Jackson.
In the last two minutes, the Eagles played hard, inspired by Smith, who was flying around the court. While Tiffin did score twice in the final three times in the final two minutes, USI didn't give up any big plays or three-point baskets that would've given Tiffin too much momentum. The Screaming Eagles grasped a win, the first of the season, just before a long road trip to Duke.

Chronicles From the Hoops Haven:
Watching from the sideline, I was sweating—partially because I was wearing an Italian Tracksuit, but also because the game was not for the faint of heart. The energy in the building was great, and the student section was phenomenal, which gave a lot of energy and confidence to the Screaming Eagles.
Now for the negatives. The perimeter defense wasn't great, especially in the first half, but it improved in the second half. The turnovers were an improvement, at 12 for the game, but it's still something to work on. The three-point shooting wasn't anything to brag about, but it wasn't a giant concern. Obviously, Southern Indiana should've kept their foot on the gas and built on the double-digit lead to perhaps rest Hernandez, Mielke and Smith, who all played for over 30 minutes. An emphasis on Smith, who was extremely active on both sides of the ball. Unfortunately, this may have had negative consequences, as he left the game with an unknown lower body injury/ailment with 13 seconds to go.
Closing the game proved to be hard, as USI turned the ball over and committed a foul with 11 seconds to go. Closing isn't easy, but it is a key skill to win at any level of basketball.

Positive Takeaways:
Hernandez and Smith were *name any NBA duo of the past 40 years.* They were special tonight. Hernandez got to the line 10 times, nailing nine of them. He also had a block and a steal as well. Smith had another double-double, with 14 points and 13 rebounds. He was also a hawk on defense, getting four steals.
In fact, the team as a whole made a lot of defensive plays, as Mielke and Powell had two blocks apiece. Mervis had two steals, while Campion and Ryan Hall, sophomore guard, had steals of their own. Many of these led to fastbreak buckets, in which they had 17 points from breakaways. Points in the paint were where USI made their money, as they had 44. A definite strength of this team going forward.
Ball movement was excellent. The team seems to be starting to gel in that regard. Off-ball movement was key to a lot of the buckets.
In terms of improvement from the last game, Powell and Causwell were consistent in the paint, only letting up 26 points in the paint and getting key rebounds. Campion and Tillmon played well off the bench. Tillmon, from a scoring standpoint, was solid, while Campion had three assists, four for the game, on crucial second-half buckets to build momentum.
For lineups, I really liked the small ball closing lineup of Campion, Tillmon, Hernandez, Smith and Mielke at the center spot. I thought that lineup allowed the team to push the ball up the court and maximize transition opportunities. Mielke played the center role extremely well and could space out to the three-point line as well.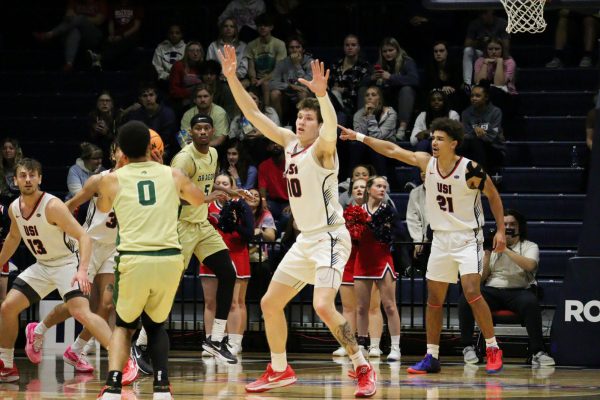 This game was a must-win, and despite the final score being closer than expected, we learned a lot about this team and their will to win. Hopefully, this win gives them confidence as they head out east for the Duke Blue Devil Challenge. First to Philadelphia, PA, to play La Salle University Nov. 18. After, Lewisburg, PA, to compete with Bucknell Nov. 20. Then, finally, to Durham, NC, to play the former boogieman of the ACC, Duke, Nov. 24. I cannot confirm if former Duke head coach, Mike Krzyzewski, will be in attendance, which is only a relevant question because Coach K reneged on his plan to stay out of the Duke spotlight. He recently attended Duke's last home game to watch Duke lose to Arizona (78-73).
Enough about Coach K — he's "retired." Here are my predictions for the Duke Blue Devil Challenge:
USI@LaSalle: I'm predicting a win or a close loss here. LaSalle, at 3-0, hasn't played any tough competition (Drexel, Northeastern and Bucknell) and hasn't beaten these teams by incredible margins.
USI@Bucknell: I'm predicting a win. Bucknell (1-3) lost to LaSalle by eight points, Delaware by 21 and Penn by 19. They beat Niagara, which I didn't know existed until today. Bucknell hasn't played anybody.
USI@Duke: If Coach K is in attendance, I'm predicting a win. If he's not, I will unfortunately go with a loss. No shame in that, though. Duke is still Duke, even without Coach K at the helm.