The men's basketball team kicked off its home opener against the Chicago State University Cougars Sunday in the Screaming Eagles Arena to a crowd of just under 2,000. Going into the game, USI had lost two away games against Saint Louis University and Michigan State University, both by double digits. They looked to get a better result here.
During the shoot-around, I noticed USI was missing a good amount of shots and looked too casual. The optimist in me believed they were getting all the misses out ahead of the game. On the other hand, CSU was hitting a bunch of their shots and looked smooth. I knew at that moment this wasn't a good sign for the game.
The key players in the game for Chicago State University going in were Wesley Cardet Jr., junior guard, Jahsean Corbett, junior guard/forward, and Deshawn Jean-Charles, sophomore guard/forward. They averaged 12-14 points per game and looked to be the offensive focuses for CSU.
For USI, AJ Smith, sophomore guard/forward, Jordan Tillmon, junior guard, and Jeremiah Hernandez, junior guard, were the primary attacking options. Smith came into the game averaging 12 points per game, while Tilmon and Hernandez were both at nine points per game. However, for USI, the offensive load was more of a by-commission approach rather than led by one individual player.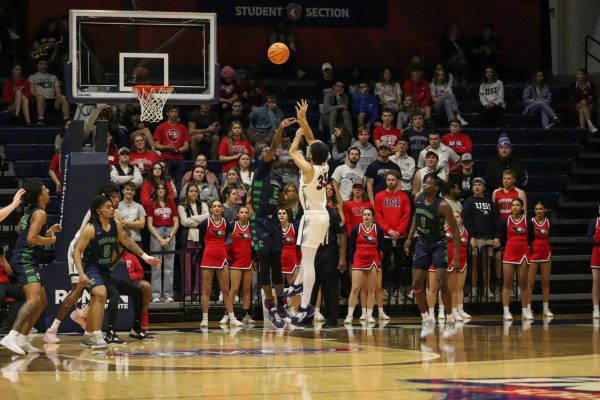 Chicago State University's starting five was reminiscent of the 2020 Houston Rockets team, where they utilized no bigs and wanted to focus on three-point shooting. Cardet, Jean-Charles, Kedrick Green, junior guard, and Brent Davis, junior guard, played as guards on the perimeter. Corbett played as a hybrid power-forward at 6'7″.
USI matched the small ball lineup with Ryan Hall, sophomore guard, Tillmon, and Jack Campion, sophomore guard, playing the one, two and three. Meanwhile, Smith and Kiyron Powell, sophomore center, played as a front-court duo.
Going into the game, USI outsized Chicago State University at nearly every position and should've dominated with the frontcourt. However, the combination of Nolan Causwell, senior guard, and Powell was outclassed in the first half. They gave up a lot of second-chance looks to a more committed and gritty Chicago State University team.
Early on, USI felt too comfortable and played too loose with the ball. In fact, the 95.7 The Spin play-by-play guys and I almost had a ball come our way, à la Ian Eagle. The Screaming Eagles had 13 turnovers in the first half, which would've been bad for the game. For the first half, it's abominable. This led to 30 points off turnovers in the first half, 22 being fastbreak points. USI made many mistakes and showed a lack of effort in correcting them.
Shot selection for USI wasn't terrible, as Tillmon, Campion and Hall were getting good looks but not knocking them down. In the first half, USI shot 30% from the field and 25% from the three-point line, which was not ideal.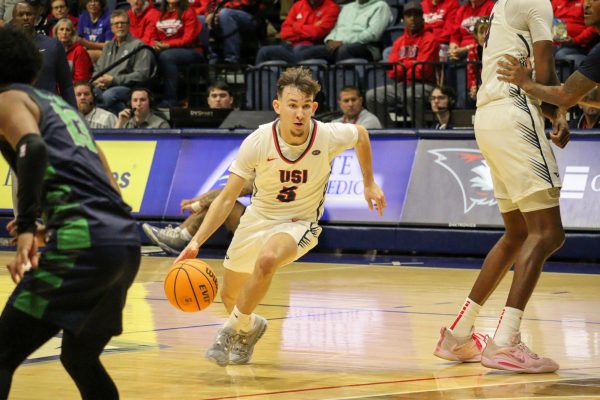 For USI, the defense and rebounding in the first half were pitiful, absolutely pitiful. To quote great NFL head coach Jim Mora, the Eagles simply weren't closing out on jump shots quick enough, and Chicago State University took advantage, hitting 41% of their three-pointers (5-12) and 44% from the field (15-34). Chicago State University was outrebounded by a mere two rebounds in the first half despite having no true big guys. That's just a lack of effort, which I'm sure USI head coach Stan Gouard will address in practice.
All of this combined, led to USI digging a massive hole in the first half, down by 25 at the 1:27-minute mark. USI eventually cut the lead to 19 by halftime.
Halftime: USI: 22 CSU: 41
USI came out of halftime with a bit more urgency. Smith, Jack Mielke, junior forward, and Hernandez hit a bunch of shots in the second half to bring life into the team. Hernandez had a couple of baskets that made the crowd roar. Along with this, USI changed to a zone/trap defense (brilliant change from Gouard), which put more pressure on Chicago State University's jump shooters and forced the ball out of CSU's key players.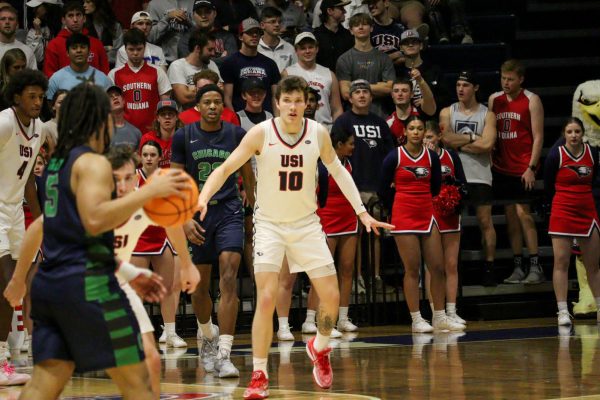 Eventually, USI cut the lead to a 12-point game after Hernandez got a fastbreak dunk that pulled me out of my chair with electricity. The crowd was into the game again, which prompted a timeout from Chicago State University head coach Gerald Gillion.
After the time out, CSU and USI split baskets to keep the lead past double digits, where it would stay for the remainder of the Game.
Final Score: USI: 67 CSU: 78
Chronicles from the Hoops Haven:
I'm going to be nice with what I'm about to say.
USI got punked Sunday night. Simple as that. The bigs, Powell and Causwell, didn't get outrebounded, but they may as well have. They gave up 13 offensive rebounds to a team full of guards. Speaking of our guards, Hall, Tillmon and Campion were rough offensively. They combined for nine total points. They couldn't buy a bucket for most of the game. Their matchups, Cardet, Corbett and Davis scored over 15 points each. The rest of Chicago State University had 21 points total. So, in essence, USI got beat by three guys.
Once again, taking care of the ball seemed to be an issue. There were 13 turnovers in the first half and 21 for the game. Taking care of the ball is crucial for establishing the offense's pace and rhythm and keeping the other team's runs to a minimum.
After the game, I asked Gouard if he would implement a system similar to Indiana University's head coach Mike Woodson, where the players would run in practice for every turnover. Gouard said he would "certainly have them running tomorrow morning."
Also, the three-point shooting was poor Sunday — 4-18 from downtown. The only guys hitting from out there were Mielke and Hernandez. In fact, Mielke and Hernandez are shooting 40% from downtown so far, so I'm pleased with them shooting threes. For the rest of the team, I'd pick careful opportunities from outside.
Positive Takeaways:
Smith played aggressively and tried to energize the team. I respect the effort, but some of those dunk attempts were a bit reckless. However, in the latter part of the second half, he altered his approach into acrobatic layups and went to the rim with a purpose but not trying to posterize the other team. He was also active on the boards with 16 rebounds.
Hernandez played well off the bench in the second half and didn't try to be too aggressive while utilizing his opportunities effectively. I liked his minutes the most.
Mielke seemed to be the on-court coach, relaying instructions to his teammates, which were directly handed down from coach Gouard. He also shot the ball efficiently and had a couple of Larry Bird-esque shots that made me raise my eyebrows. Perhaps he should be taking a heavier load on offense.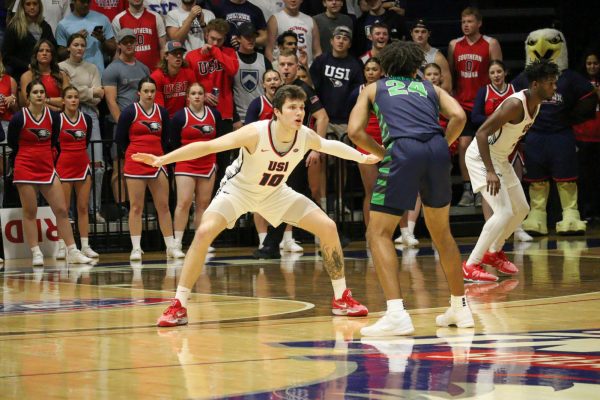 At times, the ball movement was on point, and when the Eagles slowed the pace down, they were less prone to making turnovers.
USI had a late-game comeback but ultimately ran out of time, similar to the game against Saint Louis University. This does show they have heart and determination, which is something to build on. The Screaming Eagles have a chance to get a win on Tuesday night, as they host Tiffin University. Hopefully, they start the game better than they did Sunday.