Kicking off the season, the men's basketball team traveled to Saint Louis, Missouri, Monday for a game against the Saint Louis University Billikens. The game was held in the Chaifetz Arena with an attendance of 4,989. 
Going in, there was an intriguing matchup, as SLU players Gibson Jimerson, junior guard, and Terrence Hargrove Jr., senior forward, would be  tough for USI to handle. Jimerson has had an admirable five-year career with the Billikens, averaging 13.1 points and shooting 40% from downtown. Hargrove Jr. has also been a solid contributor to SLU, growing in importance as the year went on. This game against Saint Louis would be a tough but worthy challenge for USI, reflected in the pre-game predictions, as USI was a 15.5-point underdog going in. 
For the starting lineup, Stan Gouard, head coach, started Jack Campion, sophomore guard, and Ryan Hall, sophomore guard, in the backcourt. Zach Mielke, junior forward, and AJ Smith, sophomore guard/forward, played primarily as forwards, while Nick Hittle, junior forward, started at the center position. However, Hittle only played six minutes, as USI wanted to play quick with the ball and opted for a small-ball lineup.) 
SLU countered with a lineup of Sincere Parker, junior guard, Michael Meadows Jr., senior guard, Larry Hughes II, sophomore guard, with Jimerson and Hargrove in the front court. This lineup is an extreme small-ball, with Hargrove being the interior presence at only 6 '5″. 
Going into the game, USI only had a handful of returning players from the previous season. The ones active tonight were: Jack Campion, sophomore guard; Sam Mervis, junior guard; Zach Mielke, junior forward; Ryan Hall, sophomore guard; AJ Smith, sophomore guard/forward; Nick Hittle, junior forward; and Jeremiah Hernandez, junior guard.  
Guoard wanted to start the season by slowly working the new transfers into the rotation and possibly the starting lineup. By doing so, he started the game with all returning players. During the game, Gouard utilized new transfers, Jordan Tillmon, junior guard, Javius Moore, junior guard/forward, and Nolan Causwell, senior forward/center, all off the bench. Notable transfer from Connecticut, Yarin Hasson, sophomore forward, did not play in the game. Perhaps not the ideal debut for him? I'm not 100% sure.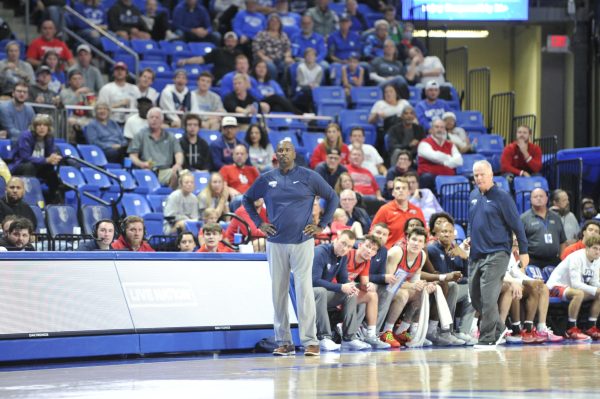 To begin the game, USI started well early on, playing with pace and forcing the Billikens into tough shots. Campion led the attack early on with a couple of baskets throughout the first couple of minutes, with help from Tillmon off the bench.
Early on, Hargrove became a serious problem for USI to guard. He played with a lot of grit and determination, getting rebounds like prime Dennis Rodman and hitting a couple of threes, which allowed him to get a double-double by half. To make things worse, St. Louis started to full-court press Southern Indiana, leading to several turnovers early. These turnovers gave SLU a lot of momentum, which helped them establish a 12-point lead by halftime. 
View this post on Instagram
Halftime: SLU 37, USI 25 
To start the second half, USI focused on getting the ball to Campion and Tillmon, as they had been hitting solid looks in the first half. Unfortunately, Hargrove was all over the glass, giving Saint Louis second chances. SLU continued to grow the lead, eventually up to 20 points. However, USI kept the deficit manageable, thanks to a couple of baskets from Mielke and Tillmon. Unfortunately, the Screaming Eagles would run out of time to come back.
Final: SLU 75, USI 63
Chronicles from the Hoops Haven: 
All things considered, the game could've gone worse. USI lacked a bit of chemistry, which is expected considering the new talent. This most likely led to the high turnover count of 12 during the game. In fact, I would borrow an idea from Indiana's NCAAM Mike Woodson, head coach, and establish a 12-turnover limit for any game during the season. Any more turnovers, and everybody, including the coaches, runs line drills from the baseline to halfcourt. 
In terms of shots, USI shot a dreadful 4-18 from the three-point line (22.2%) but did shoot 27-65 overall (41.5%). Free throws were not great at 5-8 (63.5%). 
USI was dominated in the rebounding department, although mostly in the first half. The numbers overall wouldn't say that, but the game tape did. SLU forward Hargrove had 15 total rebounds, including four offensive rebounds.
Positive Takeaways: 
USI got solid production off the bench, with 35 of their 63 points coming from there. The pace USI played with for parts of the game was impressive and might be one of their biggest strengths throughout the season. 
Tillmon, who led the team in points with 15, could be a nice backcourt leader alongside Campion and Hall, or could even be like a Vinnie "The Microwave" Johnson player, where he gives starter quality minutes off the bench while being the most creative scorer. Mielke played well as a sharpshooter, hitting two three-pointers, and honestly, he should've shot more. Hall didn't shoot the ball particularly well, but I'm not too worried. He's a quality shooter, and he did flash some shot-creating abilities I was previously unaware of. 
Kiyron Powell, sophomore center, and Causwell were decent as big men, but they were overpowered by Hargrove, who had 27 points and 15 rebounds. Smith proved to be a versatile defender, even blocking two shots over the game and scoring a couple of baskets. Campion showed leadership skills, had a team-high of 4 assists, and gave great effort, although he eventually fouled out due to being too aggressive in an attempt to take a charging foul. Despite this, I respect his efforts. Sam Mervis, junior guard, was aggressive defensively, lead the offense, (when Jack Campion was in foul trouble) dishing out three assists and gave the team energy off the bench.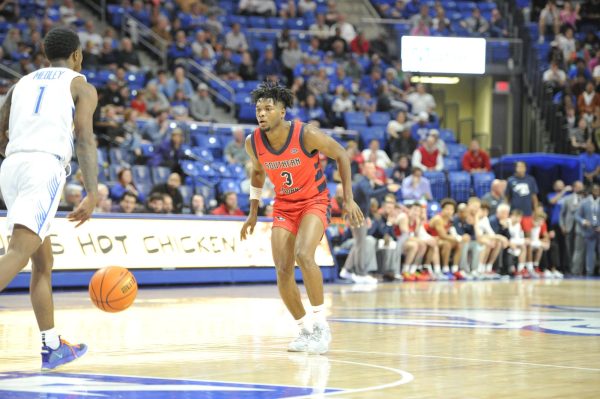 Despite the final score, the team can use this game as motivation and a learning tool to determine what worked well and what didn't. A win would've been an ideal start to the season, but I still see this as a quality performance. The Screaming Eagles didn't give up in the late stages of the game, which certainly demonstrates the gritty and competitive identity of the team.