*this review contains spoilers for "God of War (2018)"*
PlayStation set a lot of standards during the PS4 era.
Games like "Bloodborne," "Marvel's Spider-Man (2018)," and "The Last of Us Part II" pushed the limits of the console's hardware and what the general public thought was possible with gaming. Amazing games were released in this era that made PlayStation one of the best publishers in gaming.
"God of War (2018)" was different.
"God of War (2018)," released April 20, 2018, is a third-person, action-adventure video game developed by Santa Monica Studio and published by Sony Interactive Entertainment. The player plays as Kratos (Christopher Judge), a Greek god living in Midgard with his son, Atreus (Sunny Suljic). During their time in Midgard, Kratos' wife passes away, and it's up to him to grant her dying wish by spreading her ashes across the highest point in all of the Nine Realms.
This game is the sequel to "God of War III," another game known for its quality. Alongside "The Last of Us," this game was the benchmark game during the PS3 era with its big, bombastic action scenes and graphics, which for 2010 was a new benchmark in visuals. With this high bar of quality, it would have been very difficult to follow up such an iconic game.
Just like what "God of War III" did for the PS3, "God of War (2018)" is the best example of the quality PlayStation was putting out during the PS4 era, being a new standard for gaming as an art form.
Gameplay:
The franchise of "God of War" is known for its brutal, over-the-top gameplay. "God of War (2018)" continues this trend with more grounded but equally brutal and enthralling combat. While the original games had a quick and floaty gameplay style, this game has a much slower, weightier gameplay.
The player's main weapon is the Leviathan Axe. While trading the iconic Blades of Chaos for an ice ax may have been disappointing at first, once I started using it, I didn't miss the blades at all.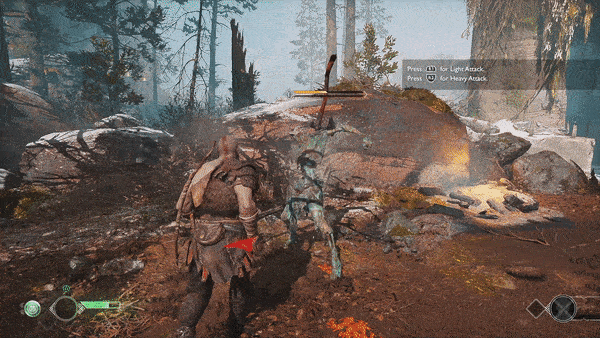 The vast amount of attacks, combos and special moves is staggering. You have a charge-up attack that can chop a dude in half. You can charge up the axe, throw it at an enemy and freeze them, and the best part, when you throw your axe and press a button, it comes back to you like Thor's hammer. It is satisfying and fun to use, and that isn't the end of it.
Later on, the player obtains the Blades of Chaos, the select weapon of Kratos from the original "God of War" games. These weapons have their own attacks, combos and special moves, leading to another avenue of combat the Levithan Axe doesn't provide.
On top of that, there is hand-to-hand combat with a rage meter, allowing the player to knock enemies around like bowling pins or pick up rocks from the ground and chuck them at opponents. Adding even more to this toolkit is a shield to block damage, parry attacks and deflect projectiles.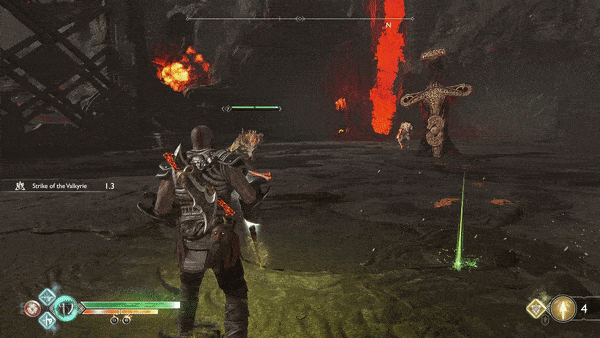 Overall, the combat in "God of War (2018)" is some of the most satisfying combat I have ever experienced in a video game.
What makes it even better is the scale and setting of this game.
Scale and setting:
As someone who grew up on the "Percy Jackson" books, I was really into the Greek mythology setting of the original trilogy. On top of that, the gore and violence were so over the top and absurd that the only games that could even compete with it were the "Mortal Kombat" games, the series that established the Entertainment Software Ratings Board.
As seen from the announcement trailer, "God of War (2018)" has a different tone than the original games, having a much more mature and somber tone compared to the rage-filled fun. On top of that, the game takes place in Norse mythology instead of Greek mythology. I was worried the tonal whiplash would make this game not feel like a "God of War" game.
After playing, it's safe to say "God of War (2018) feels right at home with its predecessors.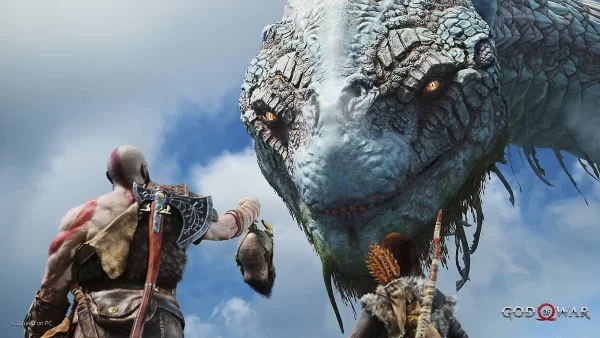 The opening segment alone is one of the greatest introduction sequences to any game I have ever played. After a slow, methodical opening sequence with an ogre boss fight, the player is launched into one of the most bombastic and over-the-top boss fights I have ever witnessed in gaming. The game commits to its roots of being an over-the-top thrill ride, utilizing every aspect of its setting to its advantage.
The choice to set this game in Norse mythology is genius, as it provides a similar, yet much different environment that works so well. While "God of War Ragnarök" does a better job of enemy and combat diversity, this first attempt at a Norse theme is still an effective and memorable experience with the player alongside Kratos being a fish out of water.
The gameplay and setting feel like a "God of War" game. Where previous installments mixed up these elements with annoying parkour and puzzle segments, this installment decides to take a more daring approach and tell a gripping story.
Story:
Storytelling isn't exactly a strong point of the original "God of War" games. Sure, there was one, but it mostly involved Kratos getting really angry, brutally murdering someone, and repeat. Here, the story takes itself much more seriously.
Right off the bat, the game sees Kratos in a vulnerable situation with him laying his late wife to rest. The overwhelming silence and unbroken camera angles of the game champions, instead of the typical loud and bombastic ones of prior games, give them much more weight and nuance, especially with the introduction of Atreus, Kratos' son.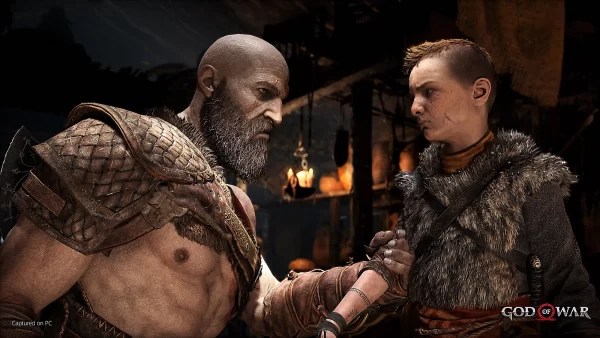 Giving Kratos something to lose now gives the story much more weight compared to the blanket revenge he was trying to achieve before. During the journey, Kratos attempts to teach his son restraint and patience, but knowing the context of the first games, it makes the journey hilarious and interesting with its contradiction.
These two aren't alone in their character development. Side characters like Mimir (Alastair Duncan), Freyja (Danielle Bisutti), Sindri (Adam J. Harrington) and Brok (Robert Craighead) add to the game's main theme of family and relationships. Even if this game borrows the dynamic "The Last of Us" championed five years beforehand, it's a tried and true storytelling trope that works wonders in this setting and, in some cases, even better.
Conclusion:
When I played "God of War Ragnarök" for the first time earlier this year, it hit me how fantastic the original game was and how much it stuck out.
For context, 2018 was a fantastic year for video games, with standout titles including "Red Dead Redemption 2," "Marvel's Spider-Man" and "Super Smash Bros. Ultimate." These are all fantastic games I can go on and on about, but "God of War (2018)" is special.
I've played this game four times now, and every time I play it again, I appreciate it more and more. Even after playing "God of War Ragnarök," I still come back to this game in awe and just take in how spectacular it is, especially for the PS4.
"God of War (2018)" is a rare example of a triple-A gaming studio making something of triple-A quality. It tells an enthralling story without sacrificing gameplay. It's hilarious without robbing the narrative of its drama. It's the hard work and passion of an entire studio of developers coming together and creating a special, personal project that will be remembered for years to come as the absolute pinnacle of what this console generation had to offer.