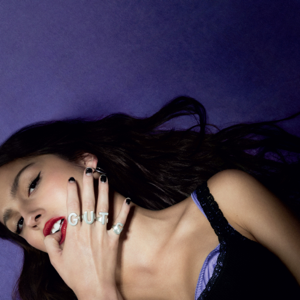 When Olivia Rodrigo released "SOUR," I thought it was going to be impossible to reach the heights that it did. I was skeptical when "GUTS" was announced June 26 because I wondered how she could possibly top the first album.
"GUTS" doesn't just exceed "SOUR" in almost every way, but I think it could be a perfect album.
"GUTS," released Sept. 8, is a pop rock album released by Olivia Rodrigo. This is her second album, released two years after "SOUR."
Like many young artists, Rodrigo started her career on Disney Channel and later went on to start making solo music. Rodrigo received instant success with "SOUR" and does not seem to be slowing down with "GUTS."
"all-american b*tch" starts the album off with a bang and is an instant classic. It goes back and forth between a beautiful ballad and a pop-punk thrasher in a way I have never heard before. The way she was able to combine these two completely different sounds was incredibly interesting and impressive. 
"Bad idea right?" is the next track on the album and the second single released for the album. It is another rambunctious track with a very different feel from the songs released on "SOUR." In "SOUR," almost every track was about Rodrigo's estranged boyfriend and how hurt she was by him. "Bad idea right?" sees her contemplating getting back with an ex-boyfriend despite her friends' distaste for him. The song goes back and forth between normal lyricism and rhythmic dialogue similar to the song "brutal" from "SOUR." It works really well here as she's contemplating her decision.
"Vampire" was the first single released for "GUTS." I originally wasn't a huge fan of this song, as it felt very similar to "SOUR" on an album marketed as being very different from "SOUR." However, on countless re-listens, this is without a doubt one of the best songs she has ever written. Once again, it has the familiar motif of being about an ex-boyfriend. However, the lyrics and emotions brought forth by Rodrigo are at their best here. 
"Lacy" is by far the most beautiful track Rodrigo ever released. It is a soft ballad all the way through and is very poetic compared to her other releases. In fact, in an interview with Wired, Rodrigo stated the song started as a poem written for a college poetry class. This makes sense, as the song really does feel like a melodic poem, which makes it feel very different from every other track on the album.
"Ballad of a homeschooled girl" is a track I'm not absolutely in love with. I still think it's amazing, but it wasn't as jaw-dropping to me as the other songs have been so far. It deals with social anxiety, which is something I can especially relate to. I don't have a specific reason for not liking this song over others. It just didn't have the same impact on me.
If there is one thing I can really relate to, it is self-deprecation, and "making the bed" has it in droves! It deals a lot with getting everything you ever wanted and still not being satisfied with the things you have. Ultimately, she comes to the conclusion that these issues have been brought on by herself. 
In my friend group, it seems like you either hate "logical" or you love it. I'm definitely a part of the group that loves this song. As someone who tends to think overly logically when it comes to social interactions, I love the perspective that sometimes things are supposed to make absolutely no sense. 
"Get him back!" is so awesome. It's similar to "bad idea right?" with its mixture of rhythmic dialogue and lyricism. I think this does an even better job of going back and forth between the two than "bad idea right?" The song has incredibly conflicting messaging with the term "get him back" referring to getting revenge on her ex-lover's wrongdoings while also meaning she wants to bury the hatchet and rekindle their relationship. The back and forth between the two meanings is super interesting and is something I haven't heard be executed as well as it is here.
"Love is embarrassing" is another track I'm indifferent to. I really enjoy the chorus, but nothing else about the track really called out to me. 
Like "vampire," "the grudge" is another song that sounds a lot like "SOUR."Like "SOUR," it is amazing, with Rodrigo's vocals being exceptional here, and is a great return to form for people looking for that.
"Pretty isn't pretty" tackles the same topics featured in previous tracks from Rodrigo, such as "jealousy, jealousy" and "ballad of a homeschooled girl." It's about dealing with insecurities, especially as a young woman. Clearly, as a man, this is not something I can relate to super well, but I can still acknowledge that she gets the message across really well here.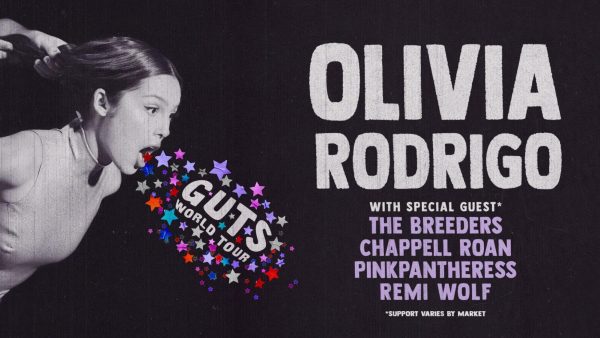 "Teenage dream" ends the album on a high note. The lyricism, the instrumentation, the vocals, everything about this track is extraordinary. It deals with everything supposedly getting better as you grow and coming to realize this is not the case. I think this is something almost everyone my age deals with at this time, and this song perfectly encapsulates that and the message of the entire album. 
This isn't the end of the story, as I bought "GUTS" on vinyl, and each record variant has a different secret bonus track. My disc had "obsessed," and it is awesome, but I wish it had made it to the original album because its overall sound is so great. The song deals with the insecurities of being concerned about your partner's significant other and constantly comparing yourself to them. I really hope this, along with the other bonus tracks, will be available to stream at a later date because this has already become one of my favorite tracks by Rodrigo.
Overall, "GUTS" is an instant masterpiece, somehow topping "SOUR," an album I already considered a masterpiece. What makes "GUTS" better than "SOUR" is its diversification of themes. Individually, every song on "SOUR" is absolutely amazing. However, when you are listening to the album as a whole, it really feels like you are listening to the same messages over and over again with few exceptions. "GUTS" doesn't have this issue. Yes, there is the occasional ex-boyfriend song, but overall, the album is about growing up and figuring out who you are as a person in this next stage in your life. With that, I think "GUTS'" message has more to say than "SOUR's."
If you have somehow not yet listened to "GUTS," I strongly encourage it, as it is a must-listen and will likely be the best album of the year.