Feel like you need a break from your everyday tasks or want to do something fun with your friends? Check out the Eagle Perks offered at USI.
Eagle Perks at USI offer free or discounted opportunities for local events. Eagle Perks can be picked up at the front desk of the Recreation, Fitness and Wellness Center as long as you show a valid campus ID. Each month, Eagle Perks provide a different activity in the Evansville area free to students. 
However, there is a limit of one Eagle Perk per student and once at a specific activity location. The Eagle Perk can only be used if you have your Eagle Access Card with you. Each Eagle Perk is only good for a designated period of time and available to those who have paid the current semester's activity fee. 
Here is the full list of Eagle Perks currently available:
In September, the Eagle Perk offers unlimited minigolf and one round of laser tag at Walther's Golf & Fun. Walther's Golf & Fun has minigolf, laser tag and an arcade. It has two minigolf courses, one indoor and one outdoor.
For October, it's admittance to Mayse Farm Market and The Olde Courthouse Catacombs/The House of Lecter. Mayse Farm Market is a farmers market, bakery and tourist attraction that provides a five-acre corn maze, pumpkin picking and barnyard activities. They are located at 6400 N St Joseph Ave.
The Olde Courthouse Catacombs/The House of Lecter are haunted houses located two blocks apart from each other. Both locations are located at 201 NW 4th St Suite 104.
For November, it's Franklin Lanes. Franklin Lanes is a bowling alley and restaurant located at 1801 W Franklin St.
Eagle Perks also provide all-year activities. These include free admission to the Evansville Museum and Mesker Park Zoo.
Campus also provides multiple student discounts across the Evansville area. To apply for these discounts, all you have to do is show these businesses your campus ID. Some discounts include: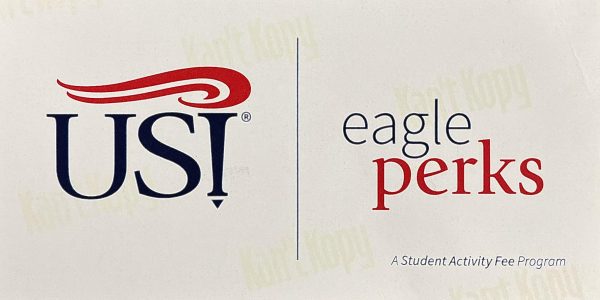 Azzip Pizza – $1 off a fountain drink
Buffalo Wild Wings (West Side Location) – 10% discount
Burger King (all local locations) – 10% off purchase
Culvers – 10% off meal
Eyemart – 10% off our already guaranteed low price on eyewear purchases
Franklin Lanes – $3 game during open bowl
Ghost Quesadilla (Pearl Drive) – 15% off all food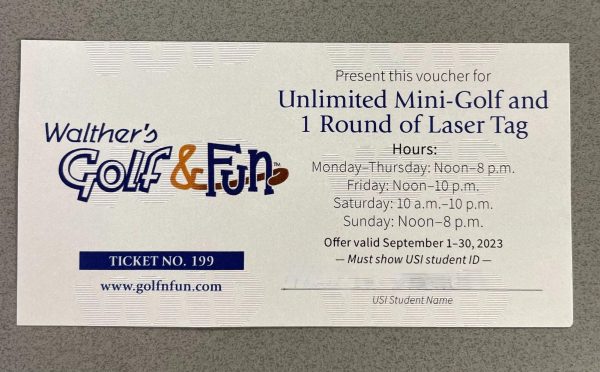 Los Bravos – 10% discount with a valid ID
Orange Leaf Frozen Yogurt – Two free ounces of frozen yogurt
Panera Bread (Pearl Drive) – 15% discount with ID for drive-thru, inside dining or to-go (Discount not available when using Rapid Pick-Up, Curbside, or call-in orders)
Papa John's Pizza – Campus special 1: Large 1 – topping pizza for $7.99. Campus Special 2: Large 1-topping pizza and 1 order of breadsticks for $9.99
Raben Tire – $30 off any set of four tires (cannot be combined with other coupons/offers), $10 off preventative services, $8 off shocks/struts (each), $5 off alignment and $2 off oil change
Southwest Grafix and Apparel – 15% off in-stock retail items
There are more discounts available for students on the USI website. For the full list, click here.