The English department hosted the "Cold Cuts, Hot Takes: The Writers & Actors Strike" presentation Wednesday in the Robert D. Orr Center.
James Hunter, instructor of English, hosted the presentation. His presentation discussed the implications of the Writers Guild of America and Screen Actors Guild strikes and how it affects writers, actors and consumers.
"The writers have a philosophical difference with the studios. The studios have the financial advantage, and how all of this works or what is happening here is fundamental to movies and television that occupies our film culture," Hunter said.
He said most actors do not have a safety net like Matt Damon and John Travolta.
"The average person who works in SAG, the average actor makes about $25,000 per year," Hunter said. "So now, you are stripping this person of their income. They didn't have much savings to begin with."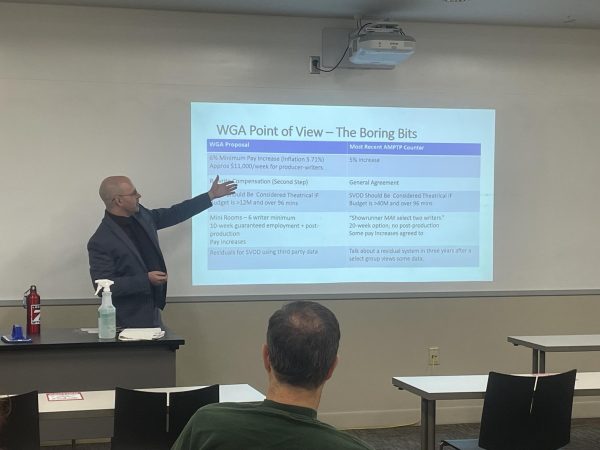 In his presentation, Hunter said the writers and actors are being affected by unfair wages and residuals. The guilds's demands include lessening residuals for streaming programs and shortening the lifespans of TV shows to prevent having to give writers and actors raises. 
"I think it's a conscious choice on the part of the studios in order to boil things down so they can screw over the writers," Hunter said. The presentation was open to all faculty members and students. At the event, nine English faculty members and one student attended. 
Hunter said he was not concerned about the lack of student attendance.
"I think attendance at one symposium isn't enough to read broad concerns about culture and broad concerns about whether or not this is a thing that students are interested in or are affected by," Hunter said.
 "I'm sensitive to the idea that students have a lot on their plate and a limited amount of bandwidth," he said. "And maybe this just wasn't the thing that they were able to come to on a Wednesday at noon."
Denise McKenzie, junior English major, said she is terrified of what the writers strike could mean for the future of writers.
"I'm terrified because I want to be a writer as well and this doesn't look good," McKenzie said. "I don't know if it's me also being nihilistic and coming and seeing the doom of my career before it starts, but I think it's definitely something to be aware of so you can plan for it."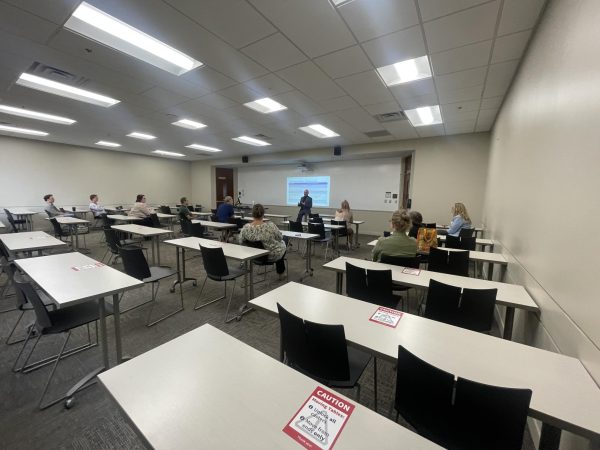 She said she was sad more students did not attend the presentation.
"I'm actually sad more students didn't come today," McKenzie said. "Especially because these are the kinds of jobs that we're looking forward to."
Hunter said students have moved toward short-form content.
"From my perception, students generally have moved away from traditional entertainment sources and moved toward TikTok, YouTube Shorts, Reels, those kinds of short-form content that's made by people who are kind of hustling and struggling and doing their own things," Hunter said. "In that way, students are kind of insulated from some of the more pernicious effects of this."
Hunter said there are ways to help with the writers and actors strike such as donating to organizations and being conscious of the things you watch and recommend to people.
"Culture is a thing that we all repeat and we can be intentional about what we repeat and what we share with each other and the type of culture that we create," Hunter said. "That culture can either be corporate crap, or it could be art and we get to make that choice on an everyday basis."