Shield Sports staff names men's, women's basketball 2023 awards
The university's basketball season is ending, and it's time for The Shield's awards for the first Division I basketball season. 
Women's MVP: Hannah Haithcock
The women's basketball's leading scorer this season was Hannah Haithcock, senior forward, with 14.8 points per game on a .437 shooting percentage. Along with her 188 total rebounds and 23 total blocks, she is the most valuable player on this team. By pure numbers, Haithcock was the epicenter of the Screaming Eagles' offense as head coach Rick Stein ran his offense through the post. Haithcock is this team's premier post player, being second in total minutes at 855 this season. 
Men's MVP: Jacob Polakovich
Jacob Polakovich, senior forward, is one of the nation's top rebounders at 12.8 per game, tying him with Kentucky University's Oscar Tshwiebwe for second in the country. There were 14 games where Polakovich put up a double-double, double-digit statistics in major categories, which is by far the most for the Screaming Eagles this season. Polakovich was also the team's highest-percentage shooter with a field goal percentage of .563. 
Women's DPOY: Vanessa Shafford
Vanessa Shafford, sophomore guard, was a runaway candidate for the women's defensive player of the year, as she had a team-leading 50 total steals. Not only were her steals impressive, but she also led the team in defensive rebounds, making her a threat to start many meaningful fast-break opportunities for the Eagles. Shafford was not a pushover down low either, as she blocked five shots this season. Shafford held her own on defense at all three levels, and that makes her the women's defensive player of the year.
Men's DPOY: Jelani Simmons
Jelani Simmons, senior guard, was a defensive menace this season. He had 48 total steals to go along with eight blocks and 74 defensive rebounds. Simmons was great at a multitude of things on the defensive end, but he especially excelled at jumping passing lanes. Simmons anticipated passes very well and was able to put himself in a position to steal the ball in stride, which forced fast break opportunities that USI would convert on the offensive end for points and to gather momentum. 
Women's 6MOY: Soffia Rieckers
The sixth man of the year for any team goes to an impactful player they can rely on to come off the bench and give starter-level production. For the women's basketball team, this player was Soffia Rieckers, senior guard. Rieckers played in 28 of the team's 29 games and came off the bench in all but nine of them. Off the bench, Rieckers was the team's assist leader with 80 on the season, averaging 2.86 per game. Having a playmaker who was impactful coming off the bench allowed Stein to give his other guards some much-deserved rest and not worry about a dip in production.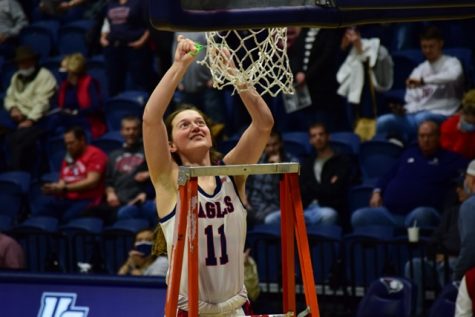 Men's 6MOY: Tyler Henry
Tyler Henry, junior guard, was pivotal for the Screaming Eagles' success this season. Henry provided a needed spark off the bench, as his energy was contagious. He was a well-rounded bench player, averaging 7.6 ppg along with 2.7 rebounds per game. Along with stat production, Henry has hit multiple clutch shots throughout the season. Having a player who provides energy off the bench is one of the most important pieces to high-level teams, as it helps pick up the players who have been on the floor for many minutes to find their second wind. 
Women's breakout: Lexie Green
In the 2021-2022 season, Lexie Green, then sophomore guard, only played a total of 114 minutes in 16 appearances. Green only took 27 shot attempts, with 11 coming from the three. Fast forward to the 2022-2023 season, and Green has played herself into a crucial rotational role. Green appeared in all 29 of the team's games this season and broke out as the team's second-best three-point shooter by making 39.3% of her three-point shots. This breakout helped the Eagles immensely with floor spacing, as she was not allowed to be left alone behind the arc. Defenses had to guard her, which left other players open to create an offense for them.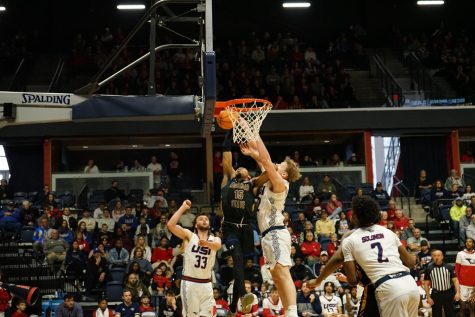 Men's breakout: Isaiah Swope
Isaiah Swope, sophomore guard, was the men's breakout player of the year in the 2022-2023 season. Swope's freshman year ended on a rise. He averaged 8.2 points per game on 36.9% shooting. It was inevitable that Swope would take the leap he did during this season. Swope was the team leader this year in scoring with 15.6 points per game on 46.1 percent shooting. He was second in three-point percentage with 42.1 only behind Trevor Lakes, graduate forward. His improvement was expected to happen between his freshman and sophomore seasons, but that does not make it any less impressive. Swope was a key player and will be for years to come. 
Although the women's team didn't make the Ohio Valley Conference tournament, the men's team made the tournament as a seven-seed against Southern Illinois University Edwardsville at 9 p.m. today in the Ford Center.
For more on the OVC tournament, click here.