Center for Campus Life presents first campus Pridefest
A crowd of students hovered on The Quad and could be seen from the University Center. Colorful trees with red and orange leaves framed the scene. Rainbow stickers and pride flags were distributed amongst students when the Center for Campus Life hosted the first campus Pridefest.
On-campus and off-campus organizations attended Pridefest with resources and handouts for students Friday from 12 p.m. to 4 p.m. Around 10 to 15 organizations attended the event to show their support. A few of the featured organizations included the Evansville Public Library, Demolition Roller Derby and Counseling and Psychological Services. 
Brianna Aldana, student coordinator for gender and sexuality resources, a program within the Center for Campus Life, planned and hosted Pridefest. She presented a table with free "Screagle Pride" t-shirts, pins and stickers to hand out to attendees.
"I'm breathing a sigh of relief just because there's so many people, so I think this is a really good way for the university to see just how many students are part of the community," Aldana said. "I'm hoping this makes a difference." 
She said due to the turnout, she is planning on hosting Pridefest again in the 2023-2024 academic year. 
Kirt Ethridge, adult and teen librarian of the Evansville Public Library, was one of several people representing EVPL at the event. 
"We do a variety of outreach to the LGBTQ community," Ethridge said. "We have LGBT Book Club, which is in conjunction with Greater Evansville Youth, a local LGBTQ youth group."
Beth Heil, experienced supervisor of EVPL, said she wants students to know EVPL is inclusive, and EVPL wants everyone to feel welcome coming there.
Christie Clark, head director of the Demolition City Roller Derby, said she attended Pridefest to show her support and to find students to recruit.
"We also want to make it known to the students and staff and whoever in the USI community that we are actually an all gender, inclusive team," Clark said. "People typically think nowadays that roller derby is female, but we actually have people of all genders on our team, and we welcome that and want to encourage anyone who needs a safe place to come join us." 
Clark said the Demolition City Roller Derby has previously attended a pride parade, but not many other pride events. 
"Unfortunately, there's not a whole lot of pride events in our community, but we do know they're growing and we are excited to be involved," Clark said.
Aaron Pryor, assistant director of Counseling and Psychological Services, represented CAPS at Pridefest to discuss mental health with students. The CAPS table featured stickers, pride flags and stress balls for students to take for free. The stress balls included a QR code, allowing students to easily book a counseling appointment by scanning the code.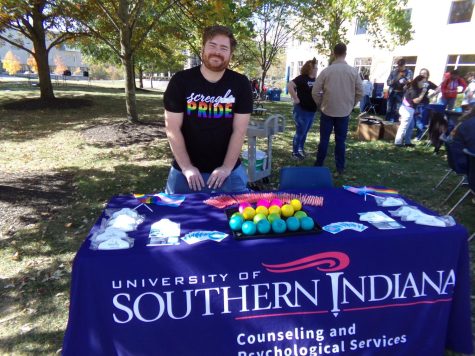 "Today we're doing outreach about mental health and the importance of mental health, especially with the LGBTQ community, historically one of the most marginalized groups, in terms of mental health, self-harm and suicidality," Pryor said. "So, we want to make sure we're reaching out, making sure that folks know they have allies on campus." 
Pryor said he wants students to know they can come to Counseling and Psychological Services for anything they may need to talk about, such as their coming-out story, connecting with their identity, relationship concerns or anything else they may need to discuss. 
"We want to make sure folks have a safe place here, where they can come and talk to a licensed mental health therapist and get that help right here on campus without having to seek those services out in the community," Pryor said.
He said the organizations who attended the event are not just of the LGBTQ+ community, but also represented and support allies.
Daphne Cornwell, PrEP Navigator and Linkage to Care Specialist, represented Matthew 25 AIDs Services, a local non-profit organization offering treatment and prevention of HIV and AIDS, at the event. They offered condoms, pamphlets and various merchandise at their table. They also offer free HIV testing and condom drop-offs in the community.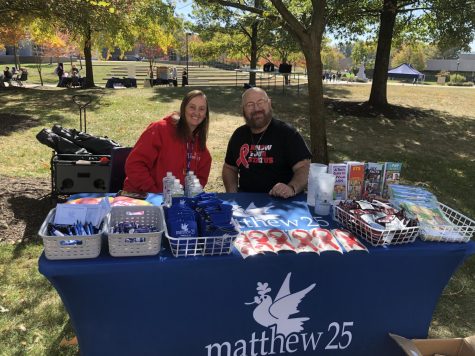 Cornwell said she wants students to know it's okay to be themselves. 
Michelle Kirk, manager of Disability Resources, said she participated in Pridefest so students can be informed of Disability Resources and the accommodations they offer. She said their office wants all students to know of all the support services on campus.
"I'm so happy to be here and represent our office and meet new students," Kirk said. "I've only been here for a short time, and I have really been impressed with the amount of support services that are available. So, it's just another way to bring awareness to that."
Center for Campus Life collaborated with the Student Government Association to help plan the event. Adrianna Garcia, administrative vice president of the SGA's Equity, Diversity and Inclusion committee, represented SGA at Pridefest.
"I feel like it was really important for my inclusivity committee to be here because I feel like people need to know SGA has a special place for them," Garcia said. "Just know that SGA is open to everyone no matter your race, your gender identity or your sexual orientation. You are always welcome here."
Toni Rodriguez, senior double major in psychology and communications, and Alicia Cotton, sophomore political science major, said they enjoyed Pridefest. They said they decided to attend because they wanted to show support. 
Rodriguez worked a table at the event for Arbor College Ministry, a campus ministry organization.
"We are an open and affirming ministry," Rodriguez said. "We want to provide a safe space for open and honest discussions about topics that are usually kind of taboo in the church. So, things like queer people and what it means to be Christian, and co-existing with other religions."
She said anyone is welcome to come, whether they have a religious background or not.
Sarah Lime, freshman biology major, said she and her friends attended Pridefest because they saw the flyers announcing the event around campus, and as they are all members of the LGBTQ+ community, they thought it would be fun.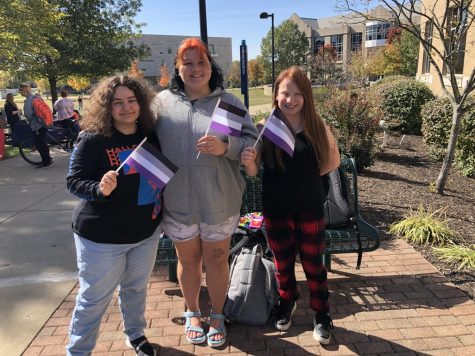 Garcia said she wants students to know how inclusive campus can be. 
"If you look around, there are so many campus organizations that are here to support this community, and hopefully they know they are supported and loved," Garcia said.