The university pays consultants $150,000 to identify its 'human personality'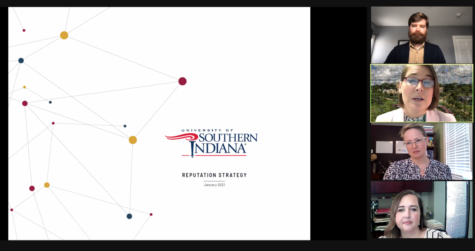 The university paid just under $150,000 to have Carnegie Dartlet conduct research on defining the university's "human personality." 
Carnegie Dartlet is a for-profit organization that began its work with the university in September, with workshops in October. This research is aimed to improve the university's communication and reputation.
Kindra Strupp, vice president for marketing and communications, said the university's strategic plan to raise visibility and reputation directed the university to research its "human personality."
"Ultimately, you as a student, and all the students we're looking to recruit, have the opportunity to understand who USI is through this lens of purple, yellow and maroon color," Strupp said.
Carnegie Dartlet ascribed 3 color descriptions to the university. Yellow describes the university as a "brilliant and transformative innovator," purple as a "supportive, selfless care-giver," and maroon as a "resilient and tenacious competitor."
Strupp said these lenses are the framework for all the information and stories that communicators for the university will write. 
About 550 students and faculty participated in the original survey, and about 100 participated in a "message workshop," Strupp said. 
35 people from different departments will participate in a workshop to understand the information Carnegie Dartlet gathered.
"We will start understanding a little bit more richly how to write things, speak, take photographs within the frames of these color lenses," Strupp said.
The $150,000 the university spent on this program went to research, reporting, assessment, feedback, Zoom calls and continued development, she said.
Courtney Tritch, a strategist for Carnegie Dartlet, presented the data from the project on Wednesday, in a virtual presentation.
"This is the paradigm shift, tomorrow is just the beginning," Tritch said.
The information Carnegie Dartlet gathered will build brand identity for the university's advertising, Tritch said.
Participants in the survey most commonly referred to the university as "good," "local" and "unknown."
The research found that the majority of participants found the university as a caregiver that "isn't very unconventional or daring." 
Purdue University and the University of Evansville are also clients of Carnegie Dartlet.