BTS' 'Map of the Soul: 7' explores themes of individuality, personal growth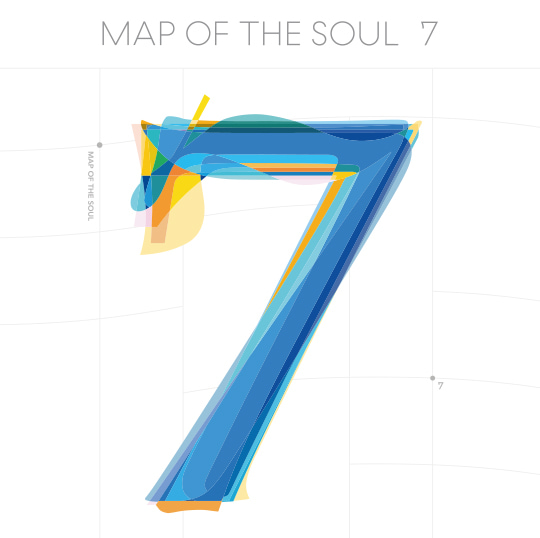 BTS are continuously killing it with their passionate personalities and endless exploratory themes.
Their recently released album "Map of the Soul: 7" is no exception. This new album continues the delve into the groups' inner psyches and characters following last year's "Map of the Soul: Persona." "7" exhibits more emotional, individualized self-discovery themed tracks while "Persona" offered more comfy, summer tunes.
"Persona" served as an introduction to the idea of self-discovery by addressing the world at large, while "7" goes into more depth about the seven members themselves instead of an overall bigger picture.
First of the new tracks is "Interlude: Shadow" performed by rapper Suga, paying homage to BTS's 2013 hip hop track "Intro: O!RUL8,2?" from their "O!RUL8,2?" album. The song starts with a slow, saddened sound while Suga discusses his hopes and dreams before dissolving into verses where he expresses the fear of his passions burning out and the shadow that constantly follows because of that fear. 
The song suddenly picks up an intense, deep bass hammering into the listener's head as it approaches the end, while Suga almost takes the persona of his shadow to reveal it is part of who he is and something normal to be accepted.
"Black Swan" follows as almost a continuation to "Interlude: Shadow," the first single to be released from the album. The song starts with a soft instrumental similar to BTS's 2018 single "Fake Love" and encompasses delicate droplets of string symphonies as the groups' soulful tones fade into sorrowful revelations of fearing the loss of their passions. 
RM's verse "If this can no longer resonate, no longer make my heart vibrate, then like this may be how I die my first death," exhibits the depth of this anxiety. The meaning of a black swan is a sudden, unexpected event, which makes the title appropriately match the lyrics describing how the passion of music suddenly leaving the members would kill them internally.
Jimin's "Filter" and Jungkook's "My Time" exhibit a personal side for each of them. Jimin's solo displays a sexy-sounding, Latino-styled guitar instrumental with a mixture of his familiar innocently-toned cadence and a deeper huskiness. The two tones perfectly fit Jimin's lyrics of having different sides to himself, fitting whatever mood he's in. 
"My Time" is less playful and more on the self-discovery side with Jungkook's flashback of his years as a trainee. He reflects on his feelings of going through life too fast while friends he knew were able to take their time. The song comes to a pleasant, bittersweet ending as Jungkook assures his fans no matter the struggles, he's happy for having his fans who helped guide him along the way. 
"Louder than bombs," co-written by Troye Sivan, is undoubtedly one of my top favorites of the album. It has an intense, yet relaxing flow that's hard not to completely drown in. The members emotionally lament the two things symbolizing the loudness of bombs, which are pain and success. 
The two can't seem to be without the other, and as the boys describe the suffering they've experienced rivaling the horizon-like explosions of bombs, they also sing about how they hope for better days and how they won't buckle under hard times because they are ultimately achieving their dreams as artists. The song concludes with a confident BTS determined not to run away from their struggles and make their voices louder than any bomb: "we will endlessly sing to you. Louder than bombs, I sing."
"ON" is the second released hit single from the album and references the group's 2013 track "N.O." The percussion-filled track following "Louder than bombs" further insinuates the idea of not giving in to the weight of hard times and to "bring the pain on." The strong determination apparent in BTS's voices make you want to burst out dancing and take on the world. It's so motivational it can serve as a remedy to any mental blockage or hardship, or serve as the best workout tune.
The best headbanger of the album is "UGH," another badass track with a mixture of traditional Asian string instrumentals and old-school video game battle music added to the rap line's (RM, Suga and J-hope) collection of songs going against haters and discussing how hating isn't worth anything if it harms others. "00:00 (Zero O'Clock)" is the sweetest with the vocal line (Jin, V, Jimin and Jungkook) singing about everyone having days where they feel defeated and hoping for a better tomorrow. The song is heart-warming, especially with the guys cheerfully singing "and you gonna be happy," which makes it hard not to smile.
The next set of solos, which include "Inner Child" by V and "Moon" by Jin, take on emotional, soothing tones. In "Inner Child," V reflects on his past and how he's changed over the years and continues to change to try to do his best while also addressing his younger self. It's an uplifting track full of gentle strums of instrumentals making you think about the positives of life. Jin addresses his love for BTS fans, ARMY, in his solo track "Moon." He compares himself to the moon by explaining that ARMY is the planet he shines for. It's a caring song perfectly illustrating how much the fans mean to Jin and how he doesn't take them for granted. "Moon" is essentially Jin's love song to ARMY, and it's adorable and sweet how heartfelt it is.
Another adorable song from the album is Jimin and V's track "Friends," where the two discuss their friendship and high school memories they'll continue to look back on fondly no matter where they go in life. With a bubble-pop tune and playfully-affectionate lyrics such as "for eternity, keep staying here, hey, you are my soulmate," "Friends" shows the depth of their relationship goes further than simply being members of BTS. They're dear friends who are family to one another.
RM and Suga's "Respect" is a solid, lighter-sounding rap containing the contemplation of the meaning of respect in today's age and the hypocrisy that comes with it. It's a thought-provoking and inspirational message that allows you to see what's important to RM and Suga in terms of what they wish to express to their listeners and what they deem essential to consider through music.
Many fans are aware BTS typically inserts a song specifically addressing their relationship with their fans, and "We Are Bulletproof: The Eternal" is the newest addition to their collection of songs to ARMY. This track seems to be the final installation of the group's series containing "We Are Bulletproof: Pt. 1" and "We Are Bulletproof Pt. 2." 
This ending to the series contains more sentimental vibes than the previous two and discuss how the group used to feel like nothing until they realized they have ARMY and how happy they are to have them. This change in the member's mentality and how their pain transitioned to happiness are seen as the lyrics start in the beginning as "we were only seven" to change in the ending of the song to "we are not seven, with you." The song tightly grabs at any fan's heartstrings, especially for those who are familiar with the significance of the word "bulletproof" to BTS and their struggles of growing as a group. 
The conclusion of the album, "Outro: Ego," is performed by J-hope, mirroring Suga's "Interlude: Shadow" by distributing a realization of identity in a more vibrant, upbeat instrumental. In typical J-hope style, the track fully encompasses funky hip-hop flows with additional trumpet breaks showcasing the celebration-like message of realizing and trusting who he is now based on previous experiences and identities. "Ego" describes the consciousness' central part, which is an individual's awareness of their character. 
The track is the perfect ending for the album, and shows how much BTS has grown over the years and through the album itself. "Map of the Soul: 7" fully displays who BTS are not just as individuals, but who they are in unity and what they are passionate about expressing through their music.
From the beginning of "Map of the Soul: 7" exhibiting the pains and shadows following the group, to the end that showcases BTS's maturity and appreciation of where they are now, this is one of the most personal and moving albums they've ever produced.
(5 / 5)
Leave a Comment