Outfielder leads by example
Aaron Euler has played baseball since he was little. He said that baseball turned into his passion when his father introduced it to him.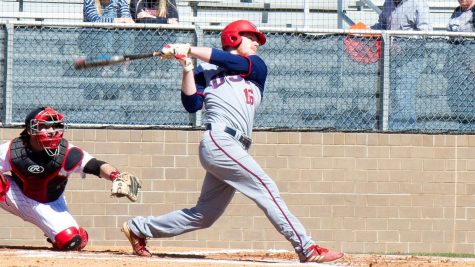 "My dad got me into baseball at a really young age," Euler said. "When I was five, I started playing baseball and I just fell in love with the game. It's like my passion. I'm glad I can continue to play in college."
Euler, a junior outfielder, from Evansville, said one major change from high school is learning more about opponent's plays and skills while fine-tuning his own skills. Which Euler said, is difficult when the other team is doing the same.
"We look at games in a more complex way," Euler said. "I guess it's a lot more trying to figure out how the other team is going to play against you how the pitches they are going to throw to you."
Euler said he has to work on things that he never even noticed or thought about when he was in high school and it's made a big difference in the way he plays.
"[We] work on the little that you don't ever think about when you're high school, you just get the big picture. But once you get into college," he said, "I think you work on the little fundamentals. You focus on little things that you never think can make you a better player, but they really helped you out."
Euler said their opponents know their strategies and they know how to pitch and defend against the Eagles. Euler said it's hard to predict how the other team will play and it's very hard to get a leg up in the game.
"We go through slumps as hitters, and it's tough because of the teams we're playing. They know our scouting reports. They know how to pitch to us. So you have to have that mindset. It's a huge obstacle because they know you're every weakness, and you have to try to get around that."
Tracy Archuleta, the baseball head coach, said Euler is a guy who plays really hard and leads the team by example. He said that Euler came into his own in his sophomore year.
"He's a guy that's gonna grind out every day," Archuleta said. "He's always working on getting better. He's not a vocal leader by any means, but he's a guy that's going to lead by example by how he plays. Probably after his second year, he's just really come around and developed his swing into being one of the better hitters in the game."
Euler said that the team is a really close-knit group of friends always striving to get better and play harder.
"I love the game and I love my teammates," Euler said. "We're all like good friends and Archuleta is like a dad to me. He pushes us every day. It makes us better. He also cares about us a lot and wants us to do good in life."