Student veteran explores personal struggles in new book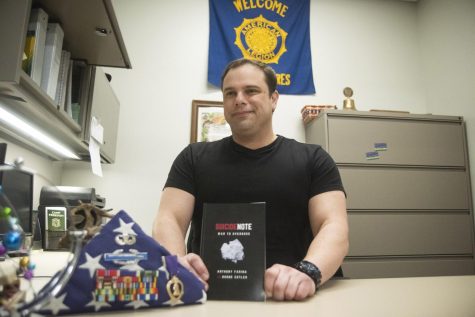 Traversing the complexity of mental illness can cause some to break down and lose hope. For others, it inspires them to make a change.
"It can get really bad, but if you sit there and look for that purpose, that light is going to eventually show," said Anthony Farina, vice president of the student veterans association. "You may have to get darker, but it'll show."
Farina is the author of a new book titled 'Suicide Note' which explores the ins-and-outs of his struggle with suicide.
The senior philosophy major spent four years in the Marines after graduating high school. He joined the army after and was deployed overseas during the invasion of Iraq in 2003.
He was deployed to Iraq a second time in 2008 as an infantryman.
"When I got out, that's where the real struggles began because it was like taking a backpack full of weight off, and everything just kind of compounded," he said.
Farina traveled home in the winter of 2018 at the conclusion of the fall semester. He began typing, letting all his emotions out after feeling drained from the semester.
He was determined to find a way out of his depressive state, which led him to compile his collection of verses into a book.
"Just because someone gets depressed, who's a veteran versus someone who's not, the same processes are still working against you," he said. "We want to let people know this is something everybody is fighting."
The Santa Claus native enrolled in USI six months after retiring from the military in 2015. He said the time he spent playing PlayStation, eating pizza and waking up was monotonous and didn't fill his passion.
It took Farina about three months to write 'Suicide Note.' He's previously written two books: 'Angels in Sadr City,' which is a memoir about his time in Baghdad, Iraq during the surge in 2008 and 'Forever Verse,' a fairy tale he wrote for his daughter while he was deployed in Iraq.
He also speaks to people struggling with mental health through Facebook Live chats.
Farina said out of all the work he's ever produced, 'Suicide Note' is the one he is most proud of.
"We see the rise of depression for all these other reasons and, and people are losing hope in people," he said. "One thing I fought for my entire career was to give people hope. It pains me to see that personally."
Farina worked with Alfonso Aldana, president of the student veterans association, to have the university publish the book after negotiations with Traitmarker, a publisher from Nashville, fell through.
Aldana, who wrote the foreword for the book, said he met Farina in 2017 when they were in an ethics class together.
"Either we all know somebody that's been through it or we know that someone who has committed suicide," he said.
Aldana spent eight years in the military, stationed in Japan, Italy and San Diego before returning home to Henderson, Kentucky and enrolling at USI.
He said he hopes the book will help take the stigma out of mental illness.
"Eventually, we just kind of like gravitated towards each other and he just had all these crazy ideas and we would try to go after them and they fell and we went after the other one, that fell," Aldana said. "Eventually we just hit it with this one." 
The book is currently available at the USI bookstore. All proceeds from the book will go toward functions aimed at combating mental health issues for student veterans.