Watson staying humble after securing all-time win record
Rodney Watson said that one day he might be able to look back and be proud of his accomplishment but Tuesday wasn't that day.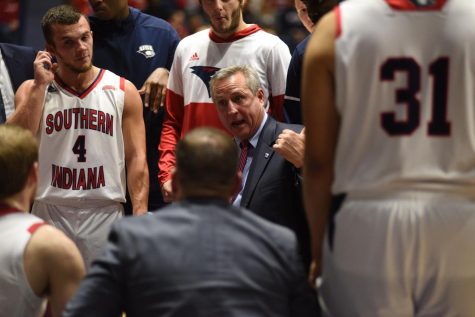 The Men's basketball head coach, is now USI's winningest coach in the school's history at 232 wins and only 74 losses, passing former coach Bruce Pearl who held that honor since 2001.
Watson has been the head coach of the Men's basketball team since the 2009-10 season and said he has trained some brilliant players in the last decade.
"I'm very humbled to be a part of this program," Watson said. "And I certainly wouldn't dismiss this situation. What I find to be most gratifying is to be a part of a really incredible era that's taken place over the last 27 years."
Watson said that he is proud to be a part of the USI basketball community and of the players he's had, but being a coach isn't just about the winning and record breaking.
"That stuff doesn't hold much water with me because I've never made a basket," Watson said. "A coach doesn't ever get to enjoy the good times. Everybody knows about 232 and I know that other number is 74. That number wasn't fun."
Watson said that he's along for the ride right now, training his players and making sure that they're ready for the next game.
"We make shots," Watson said. "When we make shots, it changes our mojo and then all of a sudden our defense gets in a better position."
Watson thinks the aura of the arena and the student body had to do with the team's victory.
"It just has an aura about it," Watson said. "This is a first class state of the art arena and our student body was just as incredible. It's exactly what I've been talking about. They are creating a culture in a brand new place that is theirs and calling it their own."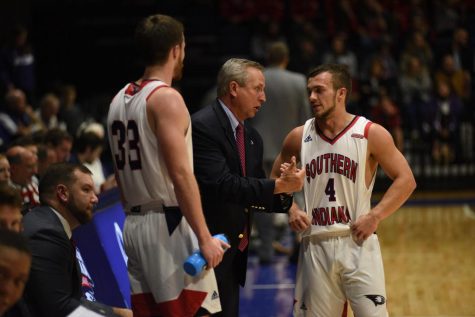 Watson said the energy from the student body was crazy. He said the team fed from that energy and once they got going, their performance was first class, just like the facility and the university they are associated with.
"I've had really good players," Watson said. "We've got great assistant coaches that have brought great players in here. It's been a lot of fun to coach these guys. Hopefully we'll be able to do something really special this year."
The entire student body section at the Battle of the Bridge game was chanting Watson's name by the end of the night, proving just how important he is to the USI athletics community.