'Let It Snow' follows diverse, fun relationships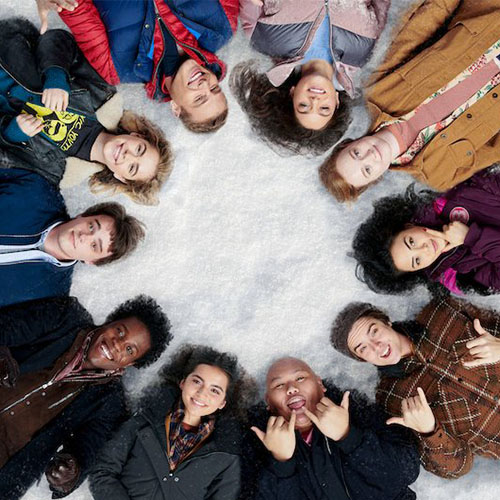 "Let It Snow" lifts spirits just in time for the holidays. 
The Netflix original movie, an adaptation of the book "Let It Snow" by John Green, Lauren Myracle and Maureen Johnson, follows three relationships as a Christmas Eve snowfall creates obstacles.
Although the movie is an adaptation of a book, the Netflix original shines in its own light. Three stories of different relationships are followed while they intertwine in a small midwestern town, and with the snowstorm comes trials of love and friendship.
Each relationship is unique to one another. Tobin and the Duke (a.k.a Angie) are childhood friends, but Tobin wants to be more than friends. When JP, the Duke's college friend, tags along, Tobin gets jealous and his relationship with the Duke starts to hit a rocky patch. 
Their relationship adds a lot of humor to the movie. Tobin is quirky and easy to fall in love with, while the Duke is the perfect tomboy that anyone could get along with. Although the audience gets only a small glimpse of their characters and relationship with one another, it's almost the perfect amount to root for them and fall in love with them. An impromptu singing scene shows how perfect they are for each other.
The next relationship follows Julie and the famous Stuart Biles who meet on a train. Stuart wants to get away from fame for a little bit and follows Julie into the small town. They don't understand each other at first because of their social classes, but they help each other out. 
Julie's and Stuart's relationship is unique in the fact that they don't have any history together, but they help each other relax during the holidays by doing winter festivities, a reminder of what a joyful time Christmas is. 
The last relationship involves Dorrie, a worker at Waffle House, who has a crush on a cheerleader, who also happens to stop by for waffles during the snowstorm. Dorrie is open about who she is and what she wants, but that isn't the same for cheerleader Tegan. 
Tegan's afraid of showing others who she really is, but she can't deny her feelings for Dorrie. What complicates Dorrie's situation more in the film is the quarrel she has with her best friend Addie over Addie's cheating boyfriend.
Dorrie is involved in two relationships: the crush on Tegan and the fight with stubborn Addie. Dorrie has to juggle a lot in this one day, all while trying to work, but she manages to get a happy ending. She stands up for herself, teaches Tegan to not be afraid and enlightens Addie on her own relationship. 
It's easy to fall in love with every single one of them because all of the characters are diverse and distinctive in their own ways. 
Each character brings something new to the table and the audience takes it in with open arms. Not only is "Let It Snow" a movie following different relationships, but it's a perfect movie to watch for the upcoming holidays. 
"Let It Snow" is humorous and compelling. It's not one of those Netflix movies that should be skipped over. There is a 'true' aspect of the movie showing what the teenagers are going through are some of the difficulties teens might face in everyday life. Then there's also fun aspects of the movie such as the less realistic detail of seeing a party being thrown at a Waffle House. 
Nonetheless, "Let It Snow" is a captivating movie portraying different relationships and characters all while spreading holiday fun. 
"Let It Snow" is a movie that should not be missed this holiday season.
(5 / 5)