Meet the students bringing Archie to life
Student mascots share their stories from behind the feathered head
The Shield interviewed two students who serve as USI's mascot Archibald "Archie" T. Eagle to learn more about their experience being the beloved eagle. They have been identified by the names Courtney and John for this article to keep their identities confidential.
Courtney said the best part of being Archie is that her friends cannot know. 
She had to make up different excuses for why she can't go with her friends to sports games and other events.
"I see people I know at events and they have no clue it's me in the suit and I think that's just so much fun," she said.
Two students are chosen to play Archie each academic year — a primary one and an understudy. Past student mascots volunteered, but this year both the primary and understudy Archie students received scholarships from the USI Foundation worth $3,000 and $1,000. Students must be full time with good academic standing, complete an application and live audition before being chosen.
Courtney said she trained most for the live dance audition, eager to represent her own style.
She anticipated performing her routine in the gym, but instead, found herself in the Loft where students were eating breakfast. She immediately forgot her whole dance routine due to nerves and made up moves as the song "Uptown Funk" played.
She waited a week before she was called back into the Archie program office and was told the good news: she was chosen to serve as the primary student to be the mascot.
"My heart like dropped," she said. "It was really nerve racking because of the suspense but it made me feel good to get the position because I really don't try out or apply to too many things."
She headed back to her room, unable to share the good news with her roommates, but she was "doing backflips in (her) head."
Courtney said one of her friends jokingly suggested she apply for the Archie mascot position during the Student Involvement Fair, and she actually liked the idea.
"Me being Archie has definitely taken me far out of my comfort zone," she said. "Actually, being involved and a part of something makes me feel good though."
Archie's understudy, John, said he went to the Student Involvement Fair eager to be more involved and interact with the students and staff at the university.
He said stopping at the Archie program booth was a complete accident but is glad he decided to fill out the application form. 
He said he worried the Archie suit would restrict his movements during the live audition, but he still performed well at the live dance audition by putting most of his effort into speaking through his body language.
He was excited to learn he had been chosen to help serve as Archie, saying the experience has helped build his confidence even though no one can see his face.
He said as Archie, he likes to sneak into people's photos, high five students and see Archie's presence making people happy.
"A lot of students appreciated the mascot," he said. "I'll see that one person walking along to class and I'll come up and high five them and then they'll have a good smile and laugh to start their day."
He said he experienced some trial and error by learning not to use stairs if he can help it, identifying which students or referees do not like to be messed with and how to best deal with the hot Archie suit.
"The worst part about (the suit) is the sweating," he said. "It's so hot in the suit. Even putting your hands up for a simple high-five is going to make you sweat."
He said being able to suit up, even though it can get pretty sweaty, is one of the greatest experiences he could ever get because he interacts with people and becomes a dancing eagle. 
He said he hopes to be able to work at an orientation so Archie can cheer on the new university students. He also hopes to attend basketball games and help get Archie out on campus even more to "spread positivity and happiness."
He said a great thing about being a part of the Archie program is that he is still able to manage his schedule with the organizations, so he can still attend other events and organization meetings on campus.
Lead Archie friend Kaylee Johnson said she was required to utilize her studies in marketing and communication to help manage the Archie team member's scheduling, making sure that the students' schedules worked well with their activities and classes. 
The senior public relations and advertising major also manages Archie's social media accounts on Facebook, Twitter and Instagram, to help establish a stronger personality for Archie.
"We want Archie to try to stay up with trends and other social media to make him fit in with what students are doing today," Johnson said. "This is Archie's home and he needs to welcome everyone in because he's been here the longest and he's showing everyone how USI should feel."
Johnson said it was her job to keep Archie present on campus whenever the group was still in the process of selecting a student to serve as Archie, by posting weekend reviews, about events on campus, and looking beyond athletics.
"Getting experience in managing the social media page and getting to meet new people was a big draw for me," Johnson said. "Trying to develop (Archie)'s personality has been a big thing. And how to connect that with everyone at the university and still be kind of funny." 
Both John and Courtney said they are eager to have Archie out on campus more, taking time to meet with students, faculty and staff members. They are working to move Archie from the sole focus of athletics to university interaction through campus events like Spirit Fridays and other fun, spontaneous appearances.
Courtney said this is important for both the students and other members of the university community because Archie is the embodiment of the school's spirit.
She said the most rewarding experience is seeing how happy Archie makes people on campus. 
Archie took pictures with university faculty and staff during a Spirit Friday, including English professor Jill Kinkade, who told Courtney she had never had a picture with Archie in all her years of teaching and the photo made her whole day.
"(Archie) has the ability to change the entire dynamic of a person's day," Courtney said. "I think Archie represents the school as a whole and it's definitely something that I have to step back and remember that I am representing something other than myself, I'm representing this entire school."
Archie will be out on campus on Halloween, trick-or-treating as a ghost, ready to celebrate the fall season with students as the embodiment of the university's spirit.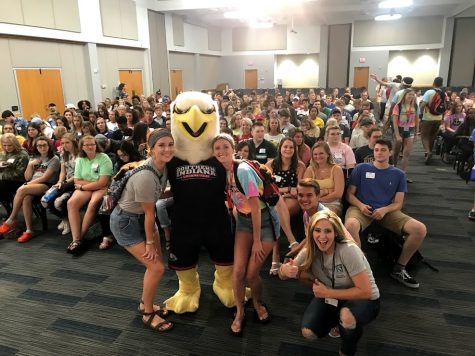 The Shield spoke with lead Archie's friend Kaylee Johnson and the director of community engagement and special projects Sally Smith about Archie The Eagle's favorite things at USI. Archie has been apart of USI since 1970 and celebrated his 49th birthday on Oct. 22 as USI's embodiment of the campus spirit.
What is Archie's favorite thing about USI?
Archie's favorite thing is school spirit, in all different ways. From athletics to student organizations to the departments on campus and the community. Being the general student leader for the students. Archie has been here longer than anyone. This is his home.
Does Archie have a favorite spot to eat on campus?
Archie's Pizzeria in the C-Store because it's his place, he owns it.
What is Archie's favorite place on campus?
Archie likes to read books in the library but he also likes to go to athletic events and cheer on student athletes, or hang out at the UC to see students. 
Does Archie have a favorite TV genre?
Archie doesn't watch much TV. He's too busy. He's more into books. He just reads his textbooks a lot. He doesn't have much time for other reading. 
What are some of Archie's hobbies?
Walking on Burdette Trail and being in nature, attending athletic events for all teams, reading, and listening to music. He likes music by artists Sheryl Crow, the Eagles, The Birds, Wings, and A Flock of Seagulls. They're classics.
When is Archie's favorite time to walk around campus?
The whole academic year. Not summer because there are not as many students, but definitely the beginning of the fall semester because everyone comes back. Archie is a people person, a "people bird."
What is Archie's favorite event on campus?
Welcome week as a whole is his favorite because of more than just new students, but having everyone back on campus is his favorite. Summer's kind of slow. Having people on campus is more exciting.
He also really likes graduation. He attends graduation every year. He gets a cap and gown and takes pictures with the graduates. He gets to celebrate the graduates as they leave