Theatre students dress "The Revolutionists"
Dara Turner had an obsession with costumes from an early age.
The senior photography major could recognize what time period a film took place based on the costumes.
Turner is the wardrobe supervisor for USI Theatre's first play of the season "The Revolutions." She and her team help the actors with their costuming during the show and making sure the costumes are laundered, ironed and repaired when needed.
The costumes for this show were designed by Shan Jensen, a professor of theatre. Dress rehearsals began Sept. 30 and the team helps the actors with their wigs, make-up and costume changes during the show.
Turner got into costuming because she used to do special effects makeup back in high school. She decided to go to school for costuming, because state colleges like USI usually don't have degrees for make-up. She originally started as a theatre major and she wanted to go into costuming.
Turner has worked on five shows now and she previously did the costume designing for USI Theatre's 2014 student-directed show "The Pillowman."
Turner said the costumes in "The Revolutionists" are extremely literal and true to the 18th century time period with corsets and skirts, but she likes that.
"It's kind of a blank slate," Turner said. "It speaks to the purity of these women and their intentions as well."
Turner said she always found it interesting what people used to wear because it has a lot to do with society at the time. She said she enjoys costuming because she's very project-based in what she likes to do and how she learns.
"It feels like the culmination of everything I'm good at and enjoy," Turner said.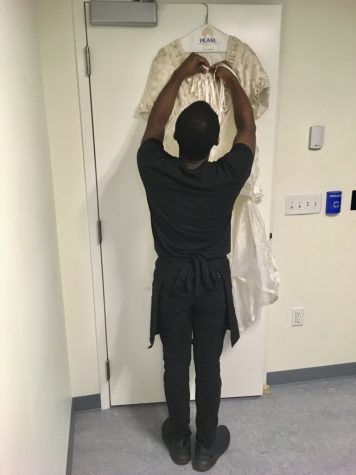 Brandon Douglas helps Turner with the wardrobe as a part of his theatre lab. The senior theatre major said he helps the actors with anything they need.
"It's a lot of fun," Douglas said. "We are a really big family over here."
Douglas said being a part of the wardrobe team has allowed him to further his career by dabbling in design and learning more about the technical side of building costumes.
"The Revolutionists" will be Turner's last show in her collegiate career, and maybe her last show ever since she doesn't know if she will continue in theatre since she changed her major to a minor.
"It's something I've always loved," Turner said. "It's just a really fun thing to do and it's an honor to be named wardrobe supervisor and have that trust from (Jensen) to help lead this group of people in that way."
Leave a Comment