Play to bring comedy to French Revolution
Eric Altheide said USI Theatre's upcoming play, "The Revolutionists" by Lauren Gunderson, is funny, intelligent and timely.
"It centers around the struggle of women to get their voices heard in a world that focuses on fighting and not listening," The director and associate professor of theatre said. "While the play is a comedy, people will leave this play feeling positive and empowered."
The play tells the story of four real life women who lived during the time of the French Revolution. It hits the hard facts people still face in everyday life such as activism, violence, and feminism. Each woman in this story is trying to get history to listen to them.
The play portrays their personal journeys in a humorous manner while also explaining that there is still a lot of progress to be made and voices to be heard in the world.
"Even though voices are heard, there's a cycle of minority voices still being suppressed," Althiede said. "There is a lot of progress to be made in the world and I want this play to push people to be more active in hearing others."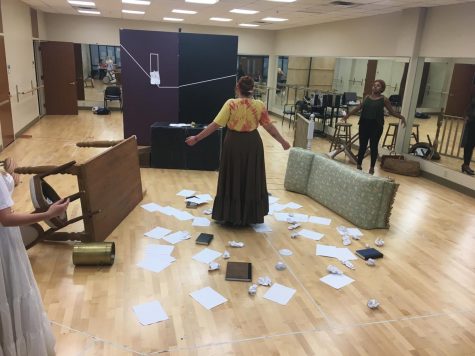 Jesmelia Williams, a senior double major in theatre and French, said the play was a collaborative experience to discover how it could be told in a contemporary style. Williams, who plays one of the leading women, said the parallel between what was happening back then and what is happening now are sadly not all too different.
"We want the audience to feel as if they are actually witnessing these historical figures as real people," Williams said. 
The show will run from Oct. 3-5 at 7 p.m. and Oct. 6 at 2 p.m. in the Performance Center. Tickets are $2 for USI students, $10 for USI employees, $4 for non-USI students with a student ID, $10 for seniors (60+) and $12 for adults
Leave a Comment