More than just glamour
USI student competed at Miss Indiana 2019 after winning local crown
Callie Cessna was competing in her eighth pageant when she won the title of Miss Northwestern Territory in Vincennes, Indiana in November. The junior social work major placed third runner-up at the pageant she competed at before.
"Placing felt great because you look at all of the other women there, and how talented and smart they are and seeing how they already had a sisterhood, and then actually getting to be a part of it, it feels so good," Cessna said.
Cessna went on to compete at Miss Indiana in June in Zionsville. Miss Indiana is an official preliminary competition that selects the representative of Indiana for the Miss America pageant. Cessna was eligible to compete at Miss Indiana because she won the local pageant of Miss Northwestern Territory.
Cessna started doing pageants her freshman year of college. She became interested after following Ellie Barmes on Instagram who was Miss Indiana's Outstanding Teen in 2017.
"I saw all the stuff she was doing with her community and she got to go to Miss America's Outstanding Teen and she was getting scholarship money and all this stuff and I told my mom, 'I have to do this,'" she said.
Cessna was able to compete in Indiana pageants even though she was from Illinois because she was attending USI. She said the process of signing up for the pageants was overwhelming at first because of the amount of paperwork.
"It wasn't easy because I'm not a dancer, I'm not a singer, I don't have a talent, I didn't study in the arts like a lot of these girls did," Cessna said. "There are girls that have been playing the piano since they were seven, dancing, classically singing and I didn't have any of that."
Cessna competed in several local pageants before she went to Miss Indiana. She said they would typically consist of learning the opening number in the morning, interviewing with the judges, performing the opening number and introducing themselves to the audience, the evening gown presentation, the onstage interview and the talent portion.
Cessna danced as her talent for her first few pageants, but she had to do something else after she sprained her ankle. She began to sing "The Climb" by Miley Cyrus and, later, "Hallelujah" by Leonard Cohen. Cessna had never sang for a crowd before, and was terrified.
"You don't think about how your voice changes when you're nervous and scared, but it does and it's so different from singing in your car or singing in your shower to singing in front of an audience of people," she said. "It was overwhelming and it was really scary but after I did it, there was a sense of accomplishment. I was really glad that I did it."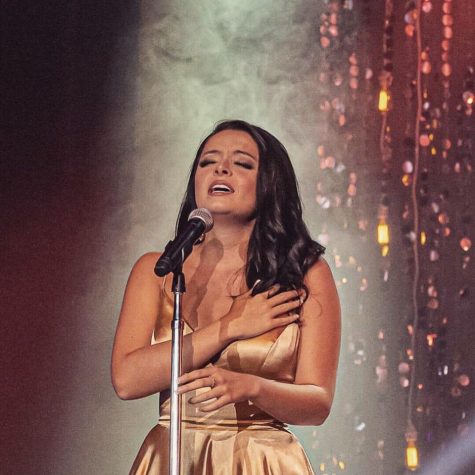 Miss Indiana was a six day long event compared to the one day long local pageants Cessna competed at before.
"It was so crazy," Cessna said. "That week was the best. It wasn't anything like I expected it to be, but it was way better."
Cessna shared a room with the person who held the title of Miss Northwestern Territory before her and they became close that week. They participated in the usual pageant competitions throughout the week, like the onstage interview and talent portion, and the awards were announced on Saturday.
"They have stuff planned for you all the time," she said. "If you think you're going to get to sit down and have time to yourself, you're not."
The contestants went to Riley's Children's Hospital during the event.
Cessna said it was cool to be there again because she was there when she was little.
The contestants have to raise or fund $100 for the Children's Miracle Network, a non-profit organization that raises funds for children's hospitals and medical research, in order to compete in pageants. Cessna raised the money by looking for donations from local businesses, auctioning gift baskets on Facebook and asking her family to donate for her Christmas and birthday. Cessna has raised over $1,000 for the organization.
Tiarra Taylor of New Albany was crowned Miss Indiana 2019. Cessna was initially disappointed that she didn't place, then she saw all the other contestants that didn't place.
"Their talents were so amazing and they've done so much for their community with their platform," Cessna said. "After I saw the other girls that were back there I didn't feel bad at all because any of them could have been chosen," she said.
Cessna plans to keep competing as long as she can. She has already competed in a couple of local competitions since Miss Indiana. She said she hopes that she can go back one day and win.
"I'm more confident in myself," Cessna said. "Before I started competing, I would not even call the pizza person to order a pizza, and now I feel like I can go out and talk to anyone. Being able to go to the hospital and talk to the kids there made me so grateful for what I have, and honestly, I feel like the experience as a whole just made me a better person in general."
State Director of Miss Indiana Randy Sanders said pageants can help college students with their communication skills and the level of confidence they have.
"Some college courses require public speaking and interaction with the classes and so forth," Sanders said. "All college classes and all work beyond college require in-depth knowledge of the subject that you're studying or you're working on, and that's a big thing that pageantry helps with."
Sanders said that pageants are now more focused on the success of competitors instead of just looks.
"We realized that young people today who are going into the college world really have to focus," he said. "We are focusing our attention on successful people, so we are looking for those ladies who have shown they are studious, engaged in what's going on in the world and that they take their studies seriously."
Cessna said students interested in pageantry should try it once.
She said it's a great opportunity with the chance of scholarship money and businesses are willing to help contestants with expenses.
"It's so intimidating at first looking from the outside in, but once you're actually doing it, and you see all the people who are willing to help you and how the girls treat you, it's completely different," Cessna said.