Educating for a better tomorrow
Environmental science, biology majors present research on climate change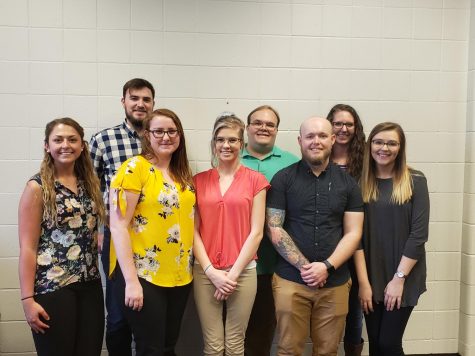 Alyssa McClung believes that when she mentions climate change, most people think about the coastal regions of the U.S. instead of the midwest. Yet McClung said southern Indiana has been experiencing just as many effects from climate change.
"The changes are pretty dramatic in some cases," the junior environmental science major said. "I think it's important for USI students to be informed with what's happening in their community, within their state, the country, and their whole world. Climate change is real and a big deal."
McClung's 400-level Biology and Environmental Science of Global Change class presented environmental presentations during the "Impacts of Global Change in the Lower Ohio Valley" symposium Tuesday evening.
The class divided into two groups with one focusing on the climate change in riparian habitats in southern Indiana and McClung's group working on climate change in forested regions in southern Indiana.
McClung said she hoped the symposium helped bring awareness to the environmental changes Evansville is experiencing.
The symposium held at the McCullough Library focused on what climate change would mean for Indiana, including original research of climate change in Evansville and a panel discussion.
The event was sponsored by the Southwest Indiana Sierra Club Network. The Keynote address was the findings of the Purdue Climate Change Research Center and was presented by Hans Schmitz, an Ag and Natural Resource Educator for Purdue Extension.
"It's important that the students are representing," McClung said. "Then it shows that the next generation shows a great interest in stuff that's going on with the environment and it might influence other people within this generation."
McClung said her group focused on plant phenology, insects, mammals and birds researching how each was affected by climate change individually and as a whole.
The students used peer-reviewed articles for the semester-long project. McClung said it was difficult to find research for only Indiana and the students had to find information from other locations and sue species behavior to predict what would happen in Indiana.
McClung said she was nervous to be presenting alongside professionals.
"We are just hoping we are going to be able to do well and they will also be impressed with what we have to present to people," McClung said. "Our group had a lot of motivation to do well and succeed."McClung was especially interested to hear from speaker Laura Unfried, a 2018 biology graduate from USI.
Unfried had conducted her own research while still at the university for her presentation "Climate Change and Reproduction: A Study of Cavity-Nesting Birds in Southern Indiana."
Unfried's presentation focused on the effect temperature changes had on southern Indiana birds, specifically the bluebird and chickadees.
"I am very interested in birds," Unfried said. "I'm also fascinated by the effect of climate change on organisms."
Unfried said she used the campus' own monitored nest boxes for the two bird species and was able to access data from the last 40 years. She studied when the birds began to breed and lay their eggs in spring.
Unfried's results showed temperatures of the previous month strongly relating to when the birds laid their eggs and the species' breeding has moved up at least a week.
McClung said she was impressed with the turnout and excited to share her class' research with the community.
"I feel that climate change is one of the most important subjects to even study and for the public to know too," McClung said. "It's a great way to show the community that local colleges are interested in making a change and helping the environment."