'Bru Burger Bar' displays classic American food, dining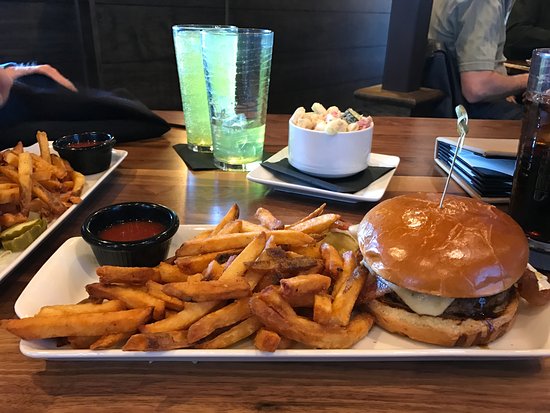 This past weekend, I ate at a local restaurant in Evansville. It's called the "Bru Burger Bar." This restaurant offers dozens of burger, salad and beer options. There are even vegan and vegetarian options.
According to the "Bru Burger Bar" website, "Our goal is to bring you great burgers made from the best local meats, topped with the freshest ingredients and placed in our freshly baked bun."
Burgers are the main dish served here. On the menu, there is a section for "Chef Burgers" which are specialty dishes. The "Classic Burgers and Sandwiches" section has a more traditional feel with options like basic cheeseburgers, chicken sandwiches and many more. Even though this section is full of classics, the chefs still find a way to put their own modern spin on these dishes.
Size does matter at "Bru Burger." They offer an 8 oz. burger that is considered normal size. This size doesn't seem like much, but I was only able to eat half of my burger. For a lighter appetite, Bru Burger offers a 4 oz. size burger that is called a "snack size." Their burgers are so thick and juicy that you will be satisfied no matter what size you choose.
"Bru Burger Bar" is located at 222 Sycamore St. in an old Greyhound Depot. The building was renovated to have a modern, industrial feel. The dining room feels open and spacious because of the high ceiling and option to eat upstairs. They have the old Greyhound bus records hung up on the walls which keeps spirits of the past alive.
The atmosphere was calm, laid-back, friendly and overall positive. The staff was friendly and did their jobs well. There was an overall good vibe and feel of the restaurant.
Young and old alike can come together and have a great meal. "Bru Burger Bar" is considered a classic American icon. I would definitely eat there again.
(4 / 5)