Please mind the people behind the curtain
Shining the spotlight on the theatre lighting crew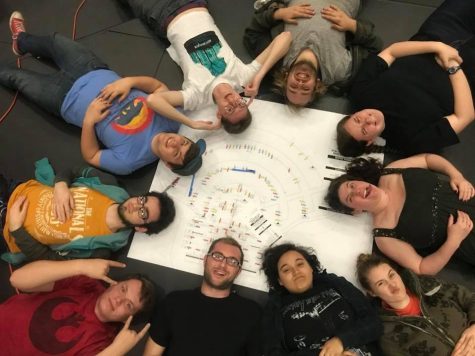 Rafael Gonzalez just happened to fall into theatre.
The junior theatre major was the lighting designer for the USI Theatre Department's production of "Pygmalion." This was his first time designing the lighting for a show in the performance center after he was the lighting designer for the student production of "Standing on my Knees" in spring 2018.
Gonzalez became involved in theatre in elementary school. He studied theatre as a high schooler at the Osceola County School for the Arts before coming to USI. His initial major was computer science before Chair of the Performing Arts Department Elliot Wasserman spoke with him three days into his major and convinced him to add a theatre major.
Gonzalez eventually dropped his computer science major but remained a theatre major. He didn't get involved in the technical side of theatre until he joined the lighting lab at USI.
"There was just something about it that sparked my interest," Gonzalez said. "Programming lights, hanging them up and plugging them in is all fine and dandy, but it was the crossover between computer science and theatre that I really enjoyed there. That sparked my interest, especially with lighting."
Gonzalez said he had no clue how he managed to learn so much about lighting in three years.
"It was a lot of spending time in the theatre and just asking questions and being there and just trying to absorb as much knowledge as possible," Gonzalez said. "The more time you spend in there, the more you learn and that interest that was sparked inside of me helped me to just keep learning."
Gonzalez spends the majority of his time working in the lighting department. He was told to go home a lot his freshmen year before he began getting paid as a student worker his sophomore year. Gonzalez said he enjoyed being there. He learned as much as he could from the people working there.
"I'll complain a lot about being in there and having to work, but I'd rather be doing that than being at home not doing anything," Gonzalez said. "A lot of it, to me, is just wanting to do something. And especially where I'm at now, the more time I spend in there, the more I can help other people grow and learn, the more I can help make our shows better."
Gonzalez attended production meetings every week with the designers and the director when he worked on "Pygmalion". He has just read the play before the first meeting he went to and he had just got his footing down on the complexity of the story. He was sitting there when Wasserman, the scenic designer Paul Weimer and the costume designer Shan Jensen started bouncing ideas back and forth.
"I was in awe sitting there," Gonzalez said. "I was like, 'These guys managed to analyze this play faster than I could read it,' is what it felt like. That also just comes with the sheer amount of knowledge they have, but a lot of it just comes from talking to them."
Gonzalez had to figure out what he wanted to bring for the show and how the lighting design was going to tell the story, the mood and the atmosphere around it.
"How am I going to bring, not just the story to life, but the costumes, the set, the actors?" Gonzalez said. "And that was my next step, that research, a lot of research into that time period."
Gonzalez found himself looking into a lot of paintings from the time period of the play and of London. He found a lot of his colors from a digital water painting.
"I wanted to world to feel very vibrant and bright and colorful, like you're looking into these paintings," Gonzalez said.
Gonzalez plotted the show and gave it to the lighting crew. He spent a lot of time after that teaching the crew how to set up the lighting.
"And then, before you know it, you're focusing the lights and it's (tech week) and you're going, 'Where the hell did all the time go?'" Gonzalez said.
Gonzalez was terrified when the show opened.
"I do not like watching opening night, for that very reason because you're sitting there and you're going, as a lighting designer, 'I should have fixed this. I should have fixed that," but, to the normal eye, you're like, 'I saw nothing wrong with it,'" Gonzalez said. "It was exciting and terrifying at the same time. You're sitting there and you're hoping nothing goes wrong cause you know you did your best to fix everything, but there's always something that you miss or something that you don't know is gonna go wrong on opening night."
Gonzalez felt a sigh of relief after opening night.
"It didn't' hit me until I was walking home and I was like, 'Oh my god. I designed a main stage show,'" Gonzalez said. "It was terrifying and thrilling at the same time."
Gonzalez said designing a show in the Performance Center helped him understand just how complex lighting can be. He said the difference between designing a show in the Performance Center and designing a show in the Mallette Theatre was so drastically different in terms of scale."
"The big thing I did learn was honing in my skills on the technical things and be willing to take these chances and being able to use everything I have at my disposal here," Gonzalez said. "I shouldn't limit myself to the Mallette."
Gonzalez hopes to design a show next semester. He wants to do freelance work at other theatres and work more as a master electrician after college.
Maya Fein was inspired to get into lighting when she was an undergraduate. The assistant professor of theatre was required to take technical classes as a theatre major. She ended up taking a lighting class.
"I was really nervous and terrified, and I had an amazing professor, who is still a huge mentor to me and an inspiration today, and they really unveiled what lighting did," Fein said. "When I look into lighting, it's this beautiful synthesis of, not only the art of theatre, but it's painting with light. It's composing an orchestra of instruments that turn on and off…and for me it was a way for me to show this artistic vision that I had in a medium that was tangible to me."
Fein has done the lighting design for many of the shows at the performance center. She leads the lighting lab for the theatre majors.
"Lighting exists in every moment of a show and it is the reason that we can see, literally, what is happening on stage," Fein said. "Lighting is always changing and always evolving and a lot of what lighting does is it shaped the perception of the audience. We can light the same costumes, the same set, the same actors in different ways and completely change the mood and the feeling of the piece."
Fein said lighting designers are grasping at the emotional and psychological threads of the audience and helping them to be more immersed in the storytelling in every single moment.
"I think the important thing about technical theatre and all the stuff backstage is, we as a theatre are incredibly interdependent," Fein said. "We all work together to make the best show we possibly can and I think that that's crucial…understanding what goes into a production enhances your appreciation for everything that everyone does and makes you more of a global thinker."
Leave a Comment