German films to feature complex story lines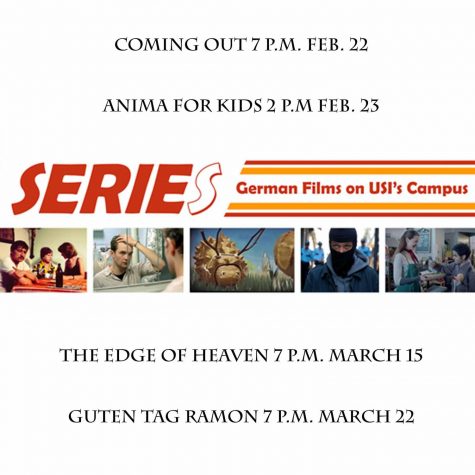 Emma Carmichael said she doesn't usually see American movies step outside the box and try things that are out of the ordinary.
"I feel like I've never seen an American movie that's this weird," the junior history major said. "It really shows that the people at the time and their response to foreign influence."
Carmichael attended the German film series, "Alie: Fear Eats the Soul" and said the film's theme perfectly displayed the blurring of borders.
"Fear Eats the Soul" was the first movie of the sixth year of the multi-lingo film series. Films will be shown with English subtitles at 7 p.m. every Friday in Forum I until March 22 with a Saturday kids film at 2 p.m. Feb 23.  
"I think that you should branch out and see other things you're not used to," Carmichael said. "A lot of German films are different from American mainstream movies, especially from the '80s. I think it's important to go out and experience something different."
While Carmichael had already seen the film in her German film class, she said she still appreciated the cinema photography and storyline American films do not often portray as much as she did the first time.
There will be a new German film featured each week and Carmichael said she is eager to see the different films selected for the series, and thinks it will be a great way to expose herself to the German language.
"I feel like during the movie I definitely tried to listen in to the language and see if I can understand it and get the context of what they are saying," Carmichael said. "It also makes me feel better because I feel like I understood most of it and gives me hope to keep studying."
Carmichael said she believes the film series is a great way for people to experience different cultures.
"I feel like every language has different cultures with different movies and different themes to it," Carmichael said.
Assistant Professor of German Bartell Berg said art is important because it tells people about who they are and helps us to think about what it means to be humans in a global family. The German film series it's particularly important to Berg because German's film history has impacted American films.
Berg said the German films all share a common theme of crossing borders because the topic is currently a flashpoint in American politics. The films will not only focus on literal border crossing but also on metaphorical borders such as the divide between humans and animals and the crossing of sexuality borders.
Berg said the goals for the film series were to offer German films to the university community, highlight the skill and use of foreign language to learners of German, for students to think about different cultural perspectives and to broaden those perspectives.
Berg also wanted to break down German cultural from its monolithic perspective.
"It's more than pretzels, beer and lederhosen," Berg said.
Berg said the film selection was also based the movies' historical significance and their standing as classics in German film.
"We have great resources on campus for showing films," Berg said. "Film does bring the entire campus together and gets us talking about things."