Warming up for the final go
Men's soccer team kicks off preseason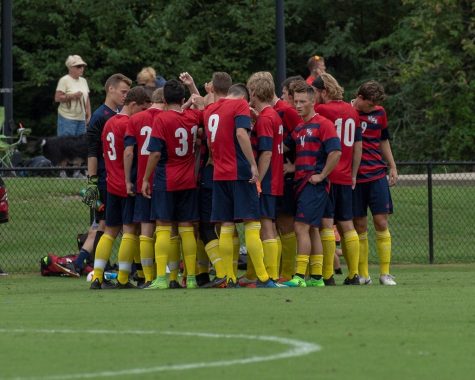 Jonathan Faas will lace up his soccer cleats for the last time this season.
"I haven't really processed it yet," the junior business administration major said. "It's a little sad just because I have been playing soccer my whole life. I don't really know what it's going to be like after. It has to happen though, everything comes to an end."
Faas said training during the offseason will help prepare the team to great things this fall and hopefully accomplish a team goal of winning a championship.
"We had a great season last year and you don't want to lose that by taking a certain amount of months off and expect that to just happen. By putting time into the offseason we're continuing that success."
The university men's soccer team started weight training to prepare for the spring season which begins March 23.
Justin Faas said the team has been spending their first eight weeks of their offseason training and weight lifting twice a week along with indoor scrimmages. When the team returns from spring break, they will begin training every day for their spring season.
"I think we are setting ourselves up for a better spring–the best spring we've had in my three years," the junior English creative writing major said.
"This period is a good chance for us to really work on our interpersonal skills and hang out as a team more than we've gotten to in the past fall seasons," Justin said. "It's a good chance for us to come back together and bonds as a team and become closer that will hopefully translate well onto the field for next fall."
Justin said it is important for the team to continue working even during the offseason. Not just to physically stay in shape but also to keep the team conditioned.
"Being around a team, it's like the season never ended. Just talking with the guys the mentality is still there," Justin said. "I think over the course of any season the team goes through ups and downs. The team becomes closer with that. Being in soccer as a team where there are eleven people on the field at once, it's nice to be able to know everyone to where you trust them."
The team has been working on communication during workouts by breaking up into smaller groups, mixing underclassmen and upperclassmen to build relationships.
Justin Raines said soccer is a team centered sport.
"It's important that everyone on the team is checked in all the time," the junior engineering major said. "That can be done by things like the spring. Guys are constantly together and constantly relating to each other. Come fall time, it makes it easier for guys to come together and get stuff done."
Raines said the spring season is different compared to the regular fall season. He said the fall is active and difficult at times with two games a weekend and training every weekday. Raines said in the spring the team plays the same sport but less strenuously.
Raines said the soccer team's offseason is for maintenance to organize, encourages others and for players to pull their own weight.
"It's important because if we want to be serious competitors come next fall, we have to take care of ourselves in the offseason," Raines said. "You have to get with it because we do have six games, and even though they aren't season games this is an expectation that you need to perform."
Raines said the training is also helping the team prepare for a big season since the team will have many seniors next season. "It's a push season," Raines said. "Most of (the seniors) will be peaking competitively. We have tons of talent and reasons to play hard and nothing to lose."