After hours: contributing to a welcoming environment
Eagles Express Convenience Store worker talks experience, impact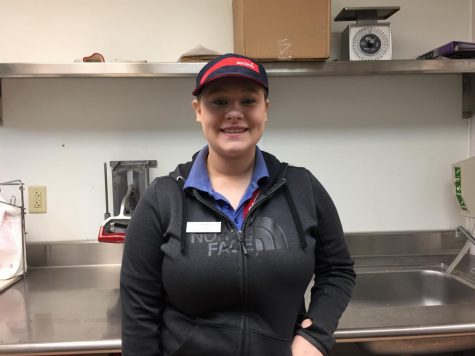 Each week The Shield will interview someone who is employed by the university. This week, Laura Ankeney, a sophomore finance major, talked about her job at the Eagles Express Convenience Store. 
Laura Ankeney has worked at the Eagles Express Convenience Store for over a year, and at the start of the semester, she was promoted to a student supervisor position.
The sophomore finance major said a couple of the past student supervisors had left the Eagles Express Convenience Store, leaving the position open.
"There's always a student supervisor there so there's someone who's reliable," Ankeney said. "I work in the kitchen with everybody, like normal. But I help if people have questions and also customers if they have questions then they are referred to me. I also count drawers and make sure things are done at night."
Ankeney said working at the Eagles Express Convenience Store as a supervisor has given her valuable experience in leadership, problem-solving, interacting with customers and communication.
Ankeney said one of her favorite parts of the job is training new workers.
"I really like training people. When I get asked to train someone, I just find so much enjoyment in it because it's like 'yay you got the job and you're new here and I want to show you how everything works.'"
Ankeney believes working at the Eagles Express Convenience Store is also a great way to learn about what's going on on campus.
"It's really fun because you get to meet a lot of students and talk about class and all the struggles. It's getting involved on campus," Ankeney said. "I feel like if you're having the whole college experience you should participate on campus. You're not just here for school because it's stressful. If you are participating on campus and doing a job or activity on campus, then you have something to do and that's how you find out other events."
Rebecca Kazmierski was also promoted as a supervisor at the beginning of the semester. The sophomore mathematics major said she and Ankeney work together occasionally and share the responsibility of making sure things are running properly at the store. Kazmierski said Ankeney is a great communicator, which makes her a good supervisor.
"At the (Eagles Express Convenience Store), if we aren't communicating, then orders aren't getting filled correctly. So by having (Ankeney) be a good communicator we are getting things made correctly so that the customer is getting their full, completed order," Kazmiersko said. "(Ankeney) is always going and getting things done so we don't have to do them later. She is very people-oriented, and so she works well with other people and makes sure they're working correctly. If they aren't doing it correctly then she's able to instruct them to do it."
Ankeney encourages anyone to apply to work at the store because it is a great example of the university's diverse and welcoming environment.
"Even in a workplace at the university it's still always welcoming, and there's going to be people there to welcome you," Ankeney said. "It shows that even the jobs on campus have the same core values that everyone is going to be there."