Lessons on mental toughness
Students overcome mental barriers, find success
Alex Davidson spent her first two seasons on the basketball team sitting the bench.
The senior elementary education major's family would crowd the bleachers each game, only to see Davidson play the last minute of every game.
"My family was proud that I was even on the team," Davidson said. "But to me, it was embarrassing that I wasn't playing."
Finally, a flip switched in Davidson's mind and she decided she was tired of sitting on the bench.
"Those summers before my freshman and sophomore year, I kind of took the summers off," Davidson said. "I wasn't playing as many pick-up games as I should have, I wasn't running, I didn't have a ball in my hand every day. I could really tell everyone else on my team was really putting in work over the summer. So, going into my junior year I really made it a point to get better in the summer."
Davidson spent her summer babysitting for her high school basketball coach. When she wasn't watching her coaches two daughters, Davidson was spending hours in the gym practicing her shooting and handles. If she was lucky, Davidson was able to use the weight room.
"I'm not going to lie, almost every morning I would get up and I wouldn't want to do it," Davidson said. "I wouldn't want to go to the gym, shoot or run, but I was tired of not playing so that's why I worked so hard in the summer."
Coming back, Davidson began the season as a starter.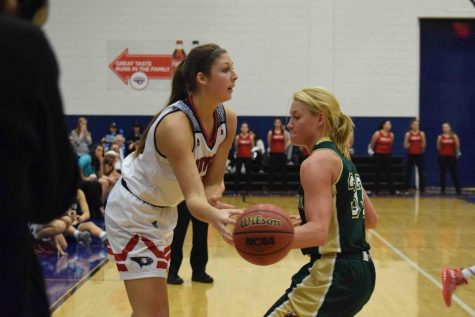 "Our coach talks a lot about how you have to get better in the summer, and you can't go three months without getting better because you're not going to come ready," Davidson said. "So that was a big point pushing me to get better in the summer. And then I think another was just having a winning mentality and getting better every single day."
Davidson said her new push of motivation and self-motivation partly came from a book her coach assigned her team to read in the summer called "Toughness" by Jay Bilas.
"It was a good book about what it takes to be a tough player, which is not something a lot of people understand and all the components to it, which is the will to win, and what you do each day to prepare for your game or your practice," Davidson said. "So, I think our team really took a lot out of that book and it really helped us get better."
Kacy Eschweiler said her team joked they were a book club that summer.
The sports management graduate student said her team spent that summer reading "Toughness" together, texting each other their favorite parts of each chapter and quotes they found inspiring.
When the team returned to school, they read the book again.
"We were pretty much the same team, but we had a better mindset and we knew how to focus in, and we knew how to be better teammates and better players," Eschweiler said. "So, that really jump-started the whole 'wow, I can be tougher. I can I learn how to get through this. I can I learn how to run this mile.'"
Eschweiler said the book taught her the most about mental toughness.
"Mental toughness has been a battle for me, personally," Eschweiler said. "We get hurt, we get injured, and I have sat out my fair share of practices. It takes a toll on your body, and it takes a toll on your mind. It's a lot of running, it's a lot of hurt and pain, but you have to keep telling yourself that you can keep pushing through it."
Eschweiler said that mindset change is what separates talented teams from great teams.
"Mental toughness can be taught, be evolved, grown, made better, and I think that's something I have really figured out," Eschweiler said. "I'm a big mindset person. I have to keep my mind focused on the right things to be a better teammate and to be a better player. Basketball really teaches how to get that toughness, how to keep it, and how to grow from it."
Eschweiler said before she read "Toughness," she used to think her coaches were crazy to ask so much from them.
"What we have here is really special," Eschweiler said. "The environment the coaches create here is unmatched. Even the good teams don't have a culture like we have here. The reason most of us are here is because of the coaches."
Eschweiler said the lessons she learned from "Toughness" made her a more resilient person.
"You learn a lot from failure," Eschweiler said. "You know how to learn from it, and turn it into a positive thing. It will help me remain strong and tough and not give up on the goals I have set for myself."
Leave a Comment