After hours: lights, camera, action
Student gains confidence through part-time job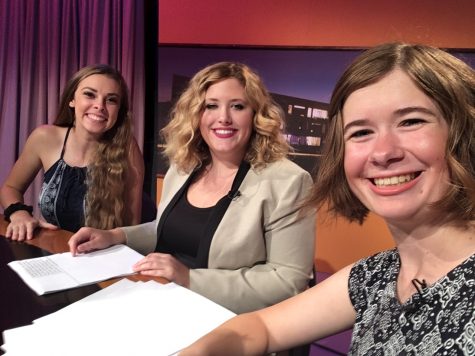 Every week The Shield will feature a student who is employed by the university. This week, Ann Powell and Jana Garrett talked about their experience working at the university television station, Access USI. 
Ann Powell trembled as 15 overhead lights illuminated the nerves on her face.
The senior radio and television and journalism major attempted to calm herself as the cameraman counted down to showtime.
"3, 2, 1"
Powell, a junior at the time, was on the phone with her mother just moments before, crying, terrified of going on air for the first time. Powell's mother told her to smile, enunciate and to try not to look like a zombie on camera.  
Most of all, she told Powell to enjoy the experience as much as she could.
Powell adjusted the microphone on her shirt, sweating under the heat of way too many lights and reminded herself the correct way to pronounce the name of the main person in her news story.
"Good evening, welcome to Access USI. I'm Ann Powell."   
Powell now works as the head news anchor, news director, producer and reporter for Access USI, the university television station. Powell said she has come a long way since that first day on camera.
"When I started I didn't have very much self-confidence," Powell said. "But being on camera has made me way more confident and sure of myself. I have also developed a thicker skin."
Powell applied to work at the television station her freshman year as a reporter.
"I didn't come in wanting to have all the jobs I do now," Powell said. "I was a junior when I got an email that both news anchors quit, and they asked me if I would do it, so I said 'sure.'"
Powell said that year was difficult. Not only was she the only news anchor, but there was only one cameraman for three cameras, and they were incredibly short staffed in all other positions.
"I was meeting with reporters, I was writing stories, I was putting the show together, and it was extremely stressful," Powell said. "This year is a lot better. We have people who are asking questions and eager to learn and we have a lot more people on staff."
Now, Powell arrives at the station on production night around 4:30 p.m. to write the script for the night, check to make sure all the video packages are on the server, make sure the server doesn't crash and run through the show a couple times.
In addition to greater confidence, Powell said she has gained organizational skills, leadership abilities and a much better understanding of what it is going to be like in the workforce.
"It takes a lot of practice to do this job," Powell said. "It's hard for me to look back at the packages I made freshman year. Without this job, I wouldn't have the experience I do or be as good as I am at what I do."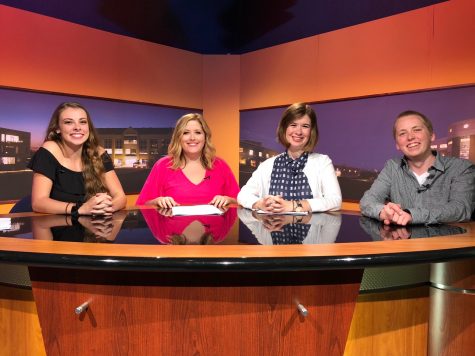 Jana Garrett works as a reporter for Access USI.
The junior communication studies major receives class credit for her time at the station.
"I love it, honestly," Garrett said. "I think it's really fun. I can go out and get some good video and all that kind of stuff."
Garrett said you won't ever see her on the videos she produces, but you'll hear her voice.
After shooting video, Garrett will return to the office to upload her videos and edit them. She said one of the greatest skills she has learned is how to edit her own content.
"I took a class last semester that taught me that, but I didn't glean much from it," Garrett said.
Through her hands-on learning, Garrett said she has learned how to use white balance, how to make sure the camera is steady and set up the microphones for good sound quality.
Garrett said she isn't sure if she will work at the station after her practicum ends, but said she is interested if the opportunity is there.
Garrett said she sees Powell almost every day as she goes in and out of the office to get cameras for her videos and to edit her clips.
She said Powell has helped her understand the logistics of the job, as well as the more technical side of what she is supposed to do as a reporter.
"I have enjoyed my time at Access USI," Garrett said. "I would encourage others to give it a try."  
Powell said her goal is to eventually be a news producer and said she wouldn't be able to be hired on her experience in the classroom alone.
"Experience is key and so is networking," Powell said. "I have been able to network a lot through this. I worked at 14 news over the summer, and without my experience I have had at the station, I would have not had the criteria and experience to work there."
Leave a Comment