Theatre season opens with strong performance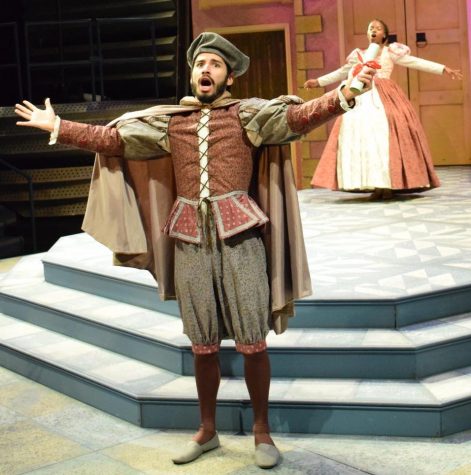 The university's theatre held its first production of the season this weekend with the play "The Dog in the Manger." The romantic comedy was set in royal 17th century Spain, and was filled with many fun characters that had me laughing at the ridiculous schemes and jokes.
The play quickly caught my attention, and by the first intermission, I was eager to see how the tangled love story of the Countess and her secretary would play out.  The story kept me alert as it moved quickly between the growing and interchangeable love affairs of characters.
The messages of love, honor, following one's heart and the reassurance no one is made of stone or ice so solid they could never love, were all brought together through the acts and rang true for the play's end.
There was also a very unique and complicated dialogue featured. Filled with sonnets, declarations of love and a quick-paced script, I could have easily been left behind and confused. However, actors and actresses conveyed their points and thoughts carefully, speaking with directness and near perfect execution of the old, Shakespearean language allowing me to follow the plot.
As always, the set-up, costumes, and lighting were also well thought out and constructed. As the play was set in the Countess' home, the theatre crew was able to shift small details such as doors or hedges into scenes to show a change in setting in a way that worked well with their stage. The lighting was used well to express individuality in character's asides and emotions.
It was a wonderful and enjoyable experience to watch and a great start to the theatre's 2018-2019 season.
(5 / 5)
Leave a Comment