Setting the foundation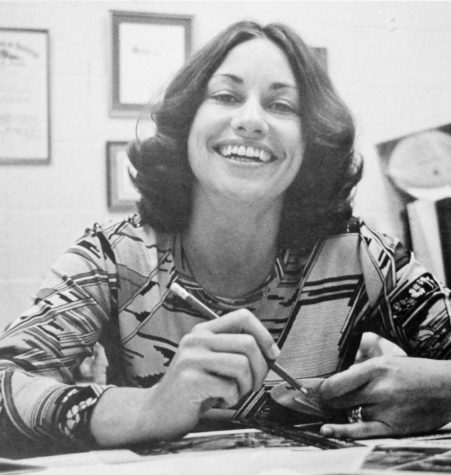 Sherrianne Standley walked onto campus in January of 1976 as the new adviser for The Shield with upheaval in the newsroom.
The students Standley was now in charge of were writing about faculty members who were not being hired back on account of not having terminal degrees.
"I walked right in the middle of all that," Standley said. "And the only advice I ever got from David Rice and the administration was to make sure we are doing everything correctly. They never said I should tell those students not to write anything bad, they never said that. They said just make sure we are doing things correctly."
Standley was only the adviser for The Shield until 1977, but said the work the students did that first year set the foundation for all the years to come.
"Those young students who were managing the newspaper in those early years were careful journalists," Standley said. "They were very careful because they knew that they were plowing the ground for the students who would come behind them and they knew they wanted to do things correctly for that reason, and I was so proud of all of those students in those early years."
Standley said that normally a publication wouldn't have to worry about libel so much, however, because a large majority of the content they were writing concerned the teachers and administration, it was her job that first year was to keep her students on the straight and narrow.
"I knew a good bit about student publications and libel, so I was able to guide them on that path, and I also tried to tell them about good writing skills," Standley said. "But really my job was to kind of show them how to put together a decent publication that didn't libel someone."
Standley said she would never take credit for what those students did her first year.
"They made a commitment to quality they were absolutely committed to good quality writing and excellence in reporting," Standley said. "And when you do that in the foundational year, then the people behind you get it, and they know we're supposed to do this correctly."
Standley said she also challenged her students to think about fairness, especially when writing about the faculty members.
"It has been part of my entire life to always talk about fairness and balance," Standley said.  "Because when you're young, you tend to think, 'well that's unfair' and then when you're an old person like me you tend to look at the situation and think, 'well it might seem unfair, but think about this.'"
Standley said in the entire time she was advising The Shield, nobody in the administration ever told her to clamp down on the student press.
"I think that that says so much about USI and its culture," Standley said. "USI believes In freedom of expression and the freedom of the press."
Erin Gibson was finishing up her documentary on international adoption for her final project and getting ready to graduate with her master's degree with the advising position for The Shield opened up.
"I knew," the instructor of journalism said.  "I knew I wanted this job, and I knew I could do this job."
Gibson had been adjunct teaching at the university for several years before, and spent several years in a professional career in radio and television.
"I wanted to get into the profession first because I wanted to have my own, what I call my war stories about working in newsrooms and working in media," Gibson said. "That was really important for me to have experience that I could then eventually actually take into the classroom. I think I knew really early on that I had a goal of being in the classroom someday."
Gibson was hired in the fall of 2007 to a staff she described as bare bones. Gibson said the staff was small to begin with, but many students decided not to come back because of the change in adviser leadership.
She said her first challenge was to win over the heart and minds of her students.
"I wasn't ready for how unprepared they were to go into things alone," Gibson said. "I thought they would tell me, but I hadn't won over hearts and mind yet so that first issue was really, really rough. It was an eye-opener for me."
Gibson said former employees would leave a mark-up of the newspaper in The Shield mailbox.
"I was teaching them how to deal with criticism, especially when it was coming from those people who had previously done the job," Gibson said. "It was rough. I kept telling my students, I don't think they are able to think about how they were new at one time too."
Since that fall of 2007, Gibson has been able to watch the staff evolve.
"We grew and grew," Gibson said. "Until next thing I know, we have an award-winning newspaper on our hands."
Gibson said she feels like the match that sets students off and gives them permission to do something really cool.
"There should never be an instance where an adviser maximizes quality by minimizing learning," Gibson said. "Student media should always consist of student work. That has been my mantra. I have owned it. It's at the bottom of every email I send so people understand what my job is."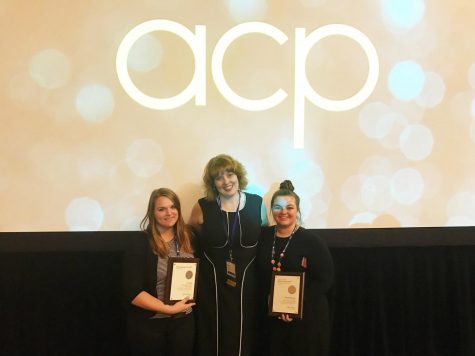 Gibson said her role at The Shield is support in whatever way the staff and individuals need, as well as the cheerleader that tries to use a megaphone with the rest of the campus.
"Every time the staff has tried to do something new that went beyond the ordinary day to day operation has been a combination of absolute thrills and a lot of stress," Gibson said. "When they tacked the magazine for the 50th anniversary of the university, I was impressed at the organization of that process."
Gibson said each new staff has a different personality, and each needs her in different ways.
"The door is always open," Gibson said. "I really mean it. Bring me a story and we're going to look at it together, or if you want feedback on something you have written. Come to me while you're trying to solve a problem and trying to get ahold of a source and we will workshop it together."
Gibson said she loves watching students learn.
"Success isn't always the way that learning happens," Gibson said laughing. "But if they have learned from something that has happened that wasn't great or a mistake or just a complete screw up as long as learning happens, I'm really happy and that drives me. Watching them make those connections has made me feel like I know what I'm doing. It's been life-changing."
Leave a Comment