Reclaiming the discarded
Wood pallets, an old Halloween bucket and other odds and ends found around Evansville litter the floor of McCutchan Art Center and Pace Galleries as Hannah Spurgeon watched artist Kevin Titzer construct his latest art exhibit.
Titzer's piece titled "Chapter 23: Sack Race with Knives," a large-scale installation made of reclaimed materials from the Evansville area, will be revealed Saturday in gallery three. Until then, Titzer will be working during the gallery's hours, constructing his house from reclaimed materials he's collected.
The senior art education major said Titzer's artwork is the first of its kind to be featured in the gallery. The complete installation of Titzer's art will take two weeks.
"It's cool as hell," Spurgeon said. "It's not an everyday thing that happens. Over the five years that I've been here, I've never once seen that. You could come in as a guest and watch, and that's just really cool."
Spurgeon said Titzer collected multiple objects that fit the character of Evansville, including many garage sale signs.
"Just the way he can make something out of what we consider garbage beautiful again, it's just awesome," Spurgeon said. "I'm just gonna be peeping through that window a lot."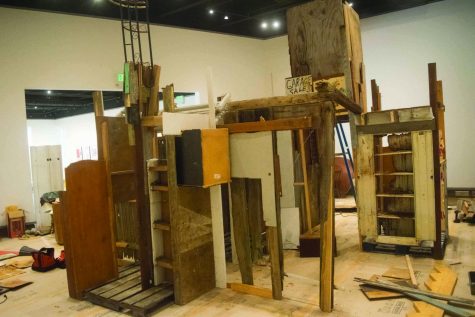 Titzer is part of a trio exhibit being displayed in the university gallery in celebration of its tenth-year anniversary of the gallery. The exhibit consists of three parts titled Past, Present, Future on display until Oct. 26.
The first and second galleries feature the history of the McCutchan Art Center. Viewers entering the first gallery are surrounded by framed posters and postcards of each of the 75 shows held at the gallery.
The second gallery is filled with Kenneth P. McCutchan's large collection of Indiana artists' works collected of from the 1850s-1970s.
An alumnus of the university, Titzer said it was surreal to back at his home and see the many changes in both Evansville and the university.
He had been collecting material from all around  Evansville, finding metal, furniture and more potential supplies.
"I'll continue to collect things," Titzer said. "But over the last two days, I have gotten the bulk of it. I have no idea what I'm going to do. The materials dictate what direction I go."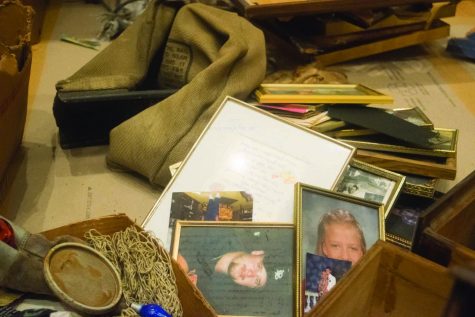 The process for building the houses is an unconventional approach compared to his other works.
"There is no real process," Titzer said. "I just start. Whatever happens, happens. It's a very different process. It's the opposite. That's why it's really interesting and liberation to work on (houses)."
Interim chair of the department of art and design Kathryn Waters said it was fantastic to have Titzer back on the campus especially for the 10th anniversary of the Pace Gallery.
"This is the first time we've have commissioned an artist to stay for a period of time in the gallery and build something right there," Waters said. "Usually we bring in a visiting artist, but they already made the piece."
Waters said it feels great to see a student succeed. "I'm just so proud to be a tiny, tiny part of someone's life success. It really means everything to us teachers I think."
Waters said she is so proud of (Titzer).
"This is what all of your professors tell you," Waters said. "You do a good job in school, take advantage of opportunities and then you'll go out and have a wonderful career. And (Titzer) coming back like this just proves that point to every one of our students."