Eagle expeditions: serving together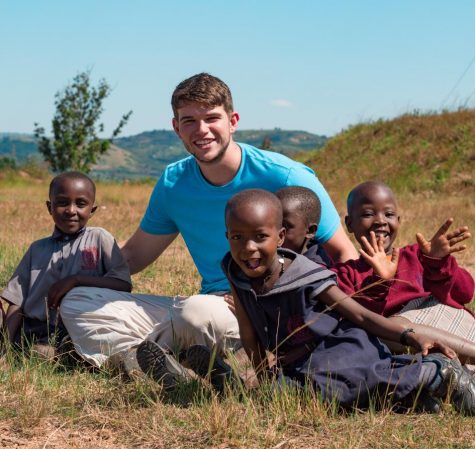 Every week The Shield will feature a student who spent time in another country over the summer. This week, Christian Barrett and Bronwyn Boots shared about their two-week trip to Uganda with Christian Fellowship Church. 
Christian Barrett said he has developed an immense desire to go into full-time mission work over the past few years.
The senior history major was originally interested in going to the Middle East in Islamic countries but thought that might not be the best place to go overseas for the first time.
Still not deterred from wanting to share his faith overseas, but a little more cautious, Barrett began looking for something a little safer for his first experience.
"I was like 'okay what else can I do?'" Barrett said. "Christian Fellowship Church offers a trip every summer to college-age students to go spend two weeks in Uganda, so I was like 'yeah that sounds like something I would like to do.'"
While Barrett was interested in going on the trip, he was nervous that the trip would be focused on doing construction of some sort, which is not what Barrett had in mind.
"I wanted to do something that had eternal implications, Barrett said. "Knowing that I'm here to help souls and to teach people about Jesus."
Barrett and 11 other college-age students, five of which were from USI, went to Kampala, Uganda for two weeks through Christian Fellowship Church.
The church has led the same trip every summer for the past 30 years.
Barrett said he knew very little about what to expect from the trip. Barrett was told only a couple of things: where they were going was very poor, and the group would be visiting prisons.
The team spent three days in Rakai, Uganda which was the first city to ever have an AIDS outbreak.
The small village continues to be afflicted with the disease.
Christian Fellowship Church has built a girls' dormitory and is in the process of building a boys' dormitory because of the high number of children whose parents have died to AIDS.  
"It was a sobering moment to just kind of go hang out on this mountain with this devastated town and just play soccer with these students," Barrett said. "The joy that us being there brought is something I will never forget."
In addition to going to prisons, the team also visited homes for pregnant teenage girls. The home is for girls who have been kicked out of their families.
"It was hard figuring out how you relate western civilization and how Jesus changed our lives to what the majority of the world is living with," Barrett said. "Jesus is still the one that changes lives no matter what the circumstances are, he's still the answer for everything."
Barrett said he was surprised how immersed in the culture he became.
"The thing I love about Uganda is that everywhere you go people say you're welcome," Barrett said. "At first you're like I didn't do anything and then you realize they are saying you're welcome here, like they want you here."
Barrett said America stuck out in sharp contrast to the friendliness of Uganda in this way. He said that while Americans in Uganda are welcomed with warmth and open arms, the same is not done for those coming to America.  
"How do I interact with people that are from different countries? Do they know that wherever I am at that they are welcome?" Barrett said. "And I think that is probably something we can all learn from in a sense."
Bronwyn Boots said her favorite part of the trip was going into the prisons.
This was not the first time the sophomore elementary and special education major had traveled overseas. Boots has been to Mexico, Canada and many European countries.
However, Boots said those vacations were nothing like serving on a mission trip.
Boots said that while it was scary going into the prisons at first, she never felt unsafe or threatened.
"I know it's hard for them to be there and be away from their families and be closed off from their society," Boots said. "But getting to share my testimony with the women and letting them know that they are not forgotten was the coolest thing."
Boots said some of the women started crying simply because they were there.
"They responded like I have never seen before," Boots said. "They were just so thankful that we were there and so thankful that people came to talk to them. They don't get that very often, especially the prisons way out in the country that really never are visited. Our college group will go once a year, maybe."
Boots said they made sure to be on eye level with the women, sitting on their knees as they spoke with the women in their cells.
She said it was incredible to be able to hug the women after their conversations.
Boots said she was thankful to have Barrett there with her on the trip.
"I felt very comfortable with him considering he is my boyfriend," Boots said. "Just having him there as almost an outlet when I was having a bad day just to be like for him to pray over me was just like one of the most amazing things. To be in Africa and just be able to love on people together was great."
Boots said she loved watching Barrett step up as a leader on the trip.
"One of the questions my mom would ask me when I was growing up was, if I ever had a crush on a boy or anything like that, she would say do you think he will love Jesus more than he will ever love you?" Boots said. "I never could answer that question confidently until I met Christian."
Barrett said the trip convicted him to care more about relationships.  
"There's one thing every single person has in common right now, and that is we are all going to die. There's a time limit on everything so it's like how do you want to spend that time limit?" Barrett said. "As a Christian, I believe I have an answer on how we should spend that time limit so that we can have eternal salvation, and I should be using my time to tell more people about that."