Assistant Director joins Public Safety
Director of Public Safety Steve Bequette said the biggest challenge he faced was trying to find someone to fill his own shoes.
Bequette was assistant Public Safety director for nine years under former director Stephen Woodall until January 2018.
Now, 26-year veteran Vanderburgh County Sheriff deputy Sam Preston has joined the university to fill those very shoes Bequette left empty.
"I worked a lot with special events, as training coordinator, I have a lot of what skill sets I developed and they really fall hand and hand with public safety," he said. "It was a great way to try something different and challenge myself, but also use the same basic skills, and working with a great boss."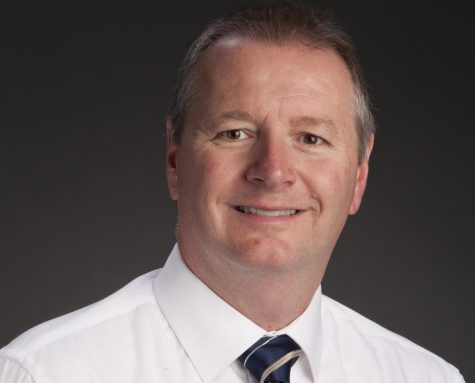 Preston worked with Bequette during his time at the sheriff's office and said it was great to come back to the university and have that familiarity.
"I love working at USI. As a deputy, I spent a lot at the university working special events, ball games, some on campus in housing, and it's nice to now have a little more intimate relationship with the university and to work with public safety officers a little more directly. It has been great," he said.
He said the learning curve was large, but he soon found out everyone has a willingness to help.
"A lot of this job requires the networking, and with the all the other offices on the university, it's always nice to know who to call and if I call the wrong person, they are happy to direct me to the right resources, and that's been great," Preston said. "Everyone has really taken me under their wing."
Preston's first day on the job was May 21 and serves as second-in-command of the Public Safety department. He said most of the work being done is through a team approach.
"Sometimes depending on what situation arises (Bequette or myself) will handle it," he said. "I have done a little more of the report review. Obviously, there are things that are important to us, we both have done a lot of presentations on active shooter scenarios."
Preston said that both Bequette and himself bring their own unique flavor to the job.  
"We are both getting our feet wet," he said.
Preston said after he left VCSO in May he was not quite ready to finish working.
"I think I bring that passion and energy to the office and having a skill set, public safety is very akin to what we did in law enforcement. Those skills are very transferable, and having knowledge of the campus was great too," he said. "I did not come in where I was totally lost, I think I was able to make that transition smoothly because some of the strengths begin with the agencies we were close with."
He said he works well with networking and facilitating, and so far the university has far exceeded expectations.
"It is a very fast-paced university," he said. "There is a lot of energy here. One of the things that drew me here is when I look at most of the employees they stay a long time, and there is a reason why that is. That's a testament to the university spirit and that's very important."
Preston said he has most been impressed with how university allows students to succeed.
"We try to equip our students with the resources they need to succeed," he said. "The university does a fantastic job, and I never got to see that from a sheriff's office perspective. When I see that behind the scenes, there is a lot they do to make sure people are comfortable and perform well."
Preston said Public Safety serves as the face of the university 24 hours a day, especially during off hours.
"We want to make sure we are equipping our officers with tools to provide great service and build relationships with the students and faculty so we can all work together cohesively," he said.
He is a graduate of the 2016 FBI National Academy and a certified Master Instructor by the State of Indiana. Preston also is a peer support and QPR-suicide prevention instructor and has experience working in crisis negotiation. He holds a bachelor's degree from Western Kentucky University and a master's degree from Indiana State University.

"I am always here," he said. "if you need something feel free to approach me if I don't have the answer I will get it for you and get it back to you."