Back to the basics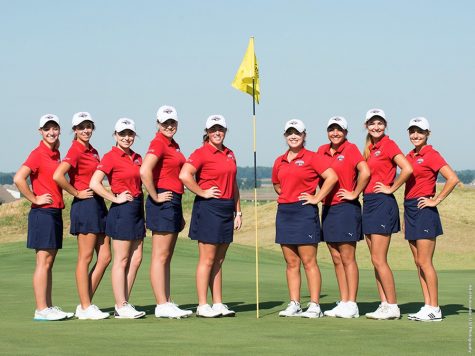 Taylor Howerton sees golf as more of a lifestyle than a sport. The senior sports management major was a multi-sport athlete growing up and played basketball and volleyball for fun.  However, Howerton could see herself playing golf for the rest of her life and wanted to make a career out of it.
Over the weekend, the women's team took to the greens to do battle against almost a dozen other colleges from the region. Howerton was able to give insight on the tournament and all things golf in a Q&A.
The Shield: What was the tournament that the women's golf team participated in over the weekend?
Howerton: The University of St. Louis held a home tournament, the Triton Invitational, which was just a regular season tournament. Including USI, there was a total of 12 teams participating.
The Shield: Have you been playing for USI your entire college golf career?
Howerton: No, I actually transferred here in the middle of my sophomore year from Indiana University.
The Shield: How do you feel the USI golf team differs from the IU team?
Howerton: I'd say it is a little more laid back in that IU is a D-1 school, so they focus heavily on their athletics. Don't get me wrong, they focus on academics as well, but IU is just more focused on winning championships where athletes here seem to be more focused on academics.
The Shield: We know how you scored personally in the tournament, but how did the team do as a whole?
Howerton: This was actually one of our best tournaments. We finished third overall. The first day was not our best, but the players came back the second day which helped us get that third and move up in the rankings putting us now at 10th in the region.
The Shield: What do you think the main contributing factor is to the team's success?
Howerton:  Just the chemistry between everybody. How well we get along, play and prepare ourselves. They know how to hype each other up and get everybody ready for the next tournament.
The Shield: What kind of work is the team putting in to prepare for these tournaments?
Howerton: Right now we are mainly working on our fundamentals out on the golf course. Working on course management and definitely short game because it is the most important part of our game besides our mental game. Just getting out on the course and working on situations that we knew we need to work on to prepare for postseason.   
The Shield: With a new school year approaching, what are you doing to prepare potential new players who are trying out for the team?
Howerton: Showing them the ropes of the team. Sitting down and showing them the day to day activities. Also showing them the dedication that makes us one of the best teams in the region and showing them the layouts of different course we've been practicing on. Showing them as well how to be in the best shape they can be in which is a huge factor in collegiate athletics.
The Shield: Now that you're heading out the door, what is next for you?
Howerton: I actually have an internship this summer at French Lick. I'll be there on the golf course until August, and then after that my plan is to try and go professionally in golf.
The Shield: How do you feel about that transition going from collegiate to professional golf?
Howerton: I know that they are two different worlds. I'll be on my own and I won't have a team behind me there to support me, but I know that I'll have my friends and family who will always be there. Work ethic will also have to be a lot stronger as well. I'll have to be more dedicated and understand that it's a whole new atmosphere. I just need to make myself comfortable and adapt.
The Shield:  For people who are very green in the sport, what advice would you give them to get over the initial frustrations that come with the sport?
Howerton: Someone once told me early on, "you aren't good enough yet to get mad. If you're not a professional, you aren't good enough to be mad." So, just get over the frustration because it is one of the most frustrating sports. Another thing is to definitely focus on your mental game and short game. 
Leave a Comment