Finding a new groove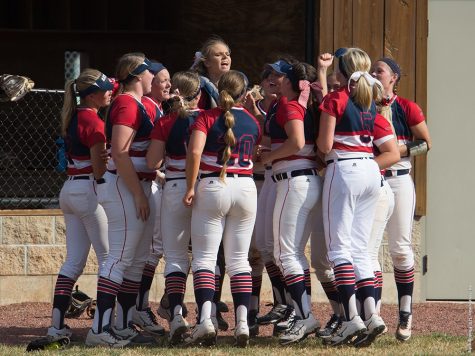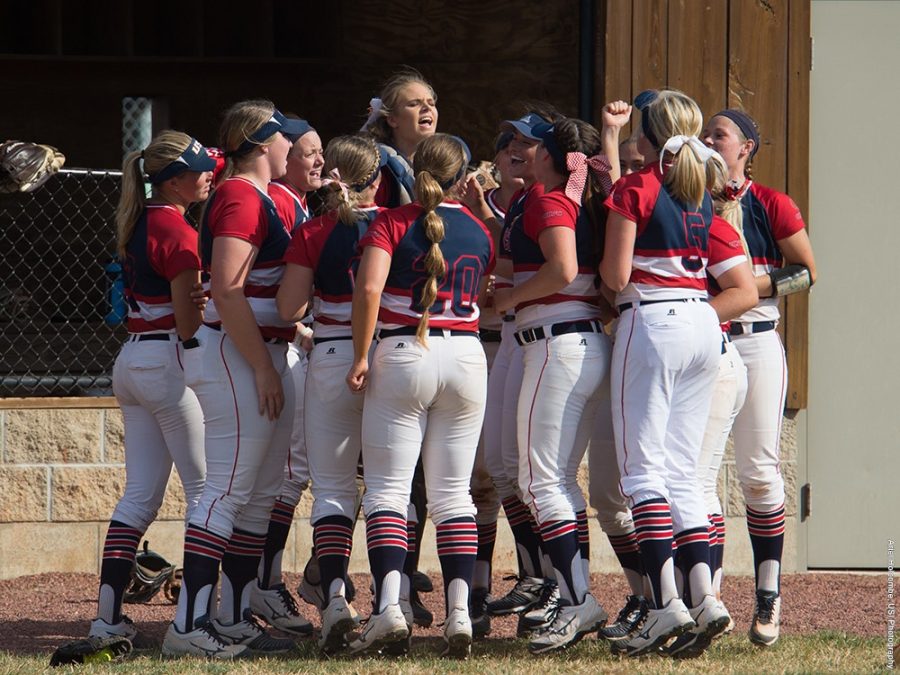 Coming off the success high of last season, the university softball team was ready to be just as successful this season. However, the season started rocky and left the team confused and discouraged.
Caitlyn Bradley said she and her teammates asked themselves why they weren't doing as well and why they weren't succeeding like they did the year before.
"At the beginning of the season we put a lot of pressure on ourselves," the junior exercise science and kinesiology major said. "We did come back from having such a great year and a high winning record season, we had to take a step back and realize we weren't the same team," Bradley said. "We lost some important leadership voices and gained some new players, and we had to learn how to approach things differently."
Bradley said the team dynamic has improved.
"Our team has to rely on each other a lot more than we did last year," Bradley said. "Last year, we always counted on the long ball and that home run, and this year I think it's just been good because a lot of us are just those single gap hitters, and sometimes that is more important when you're trying to win a game than relying on the long ball."
Bradley said this year has been a process of preparing herself for next year.
"We have a couple seniors, but they kind of wanted to start putting some of the role on us juniors to prepare us for next year," Bradley said. "We try to step up and be those voices that try to get people back into the game, getting them pumped up and motivated instead of getting discouraged."
Bradley said part of that leadership role is by setting an example.
"For me, that means running on and off the field," Bradley said. "If I strike out or something I don't want to come back in the dugout and be slamming my helmet or crying or something. It means getting right back up there and cheering for the next batter. Attitude is a big thing. Softball is a sport where you get down on yourself super easily. You might not do well personally, but your team might be winning, so if that happens you just have to keep cheering on for your team. You can't worry about yourself."
Jennifer Leonhardt came onto the team as a freshman last year unsure what kind of role she would be playing.
The sophomore biology pre-dentistry major said she ended up playing a fairly large role.
"I started last year as our pitcher," Leonhardt said. "I started the majority of games and I had a really good year, and we went to the World Series."
Leonhardt said this year had been mentally challenging for her.
"There was a lot of pressure coming off of last year, and having received so many awards at the end of last year I also had a lot of pressure, and that was awesome, but I just felt like I had to do better and that I had to repeat it," Leonhardt said. "And just being a sophomore, I am still young. I still have learning to do."
Leonhardt said that as the pitcher, most of the pressure to win falls on her shoulders.
"I think because things didn't go our way at the beginning it was easy to make myself think that it was my fault, but I have really noticed these past few wins that they were team wins we all had a part in it," Leonhardt said. "And now that I think back to the beginning of the year, it was all team efforts. It wasn't just me, but being a pitcher, that pressure does come to you. You think it is your loss because the L goes next to your name at the end of the day, but that is something that comes with the role."
Leonhardt said that just being able to go to conference makes this season a success.
"There was part of the season where we were worried we wouldn't even make it to conference, so I think if we make it to conference, we can do even better than we did last year in conference," Leonhardt said. "We may not go as far as we did in regionals. But if we do well in conference, we can take that as a win."
Leonhardt said the ultimate goal is to make it back to the World Series. Last year was the first time the team had ever made it that far.
"We can do it. We have the talent," Leonhardt said. "But it's just a matter of how we are set up this year."
Bradley said she thinks the team has the potential to do very well in conference.
"We still have to win a couple more games just to secure our spot, but us knowing that that is at risk kind of pushed us and encouraged us to fight more, knowing we have to fight for our spot, even more so this year than we had to last year."
Leave a Comment