Telling their story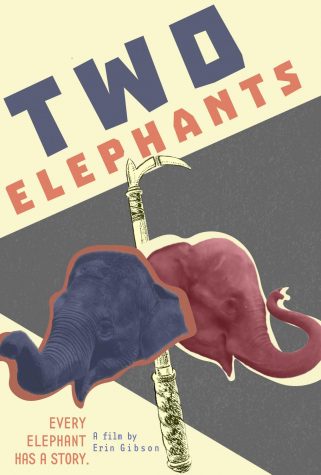 Erin Gibson has been waiting eight years to tell Bunny and Kay's story.
Bunny and Kay were two of Mesker Park Zoo's beloved elephants. However, what happened to them after they left the zoo is a story often untold.
"When I learn something I want to tell somebody," Gibson said. "It's this big secret that I finally get to let out of the box and that feels really good."
Gibson, an instructor of journalism, worked on her documentary, "Two Elephants," consistently for about four years. The documentary focuses on the two elephants that were permanently kept at Mesker Park Zoo. Kay was kept at the zoo from 1929 to 1954 and Bunny was kept there from 1954 to 1999.
Karl Kae Knecht, a cartoonist for the Evansville Courier from 1906 to 1960, was partly responsible for the founding of the Mesker Park Zoo. According to Gibson, Knecht was fascinated with elephants and started a fundraiser to bring an elephant to Mesker Park Zoo.
When Kay arrived she was met with a big parade and was prominently featured in the newspapers and Knecht's cartoons.
This all changed in 1954 when Kay fatally injured her handler, zoo director Bob McGraw. He asked on his deathbed for Kay not to be killed.
"That was the end of her story as far as Evansville and the Mesker Park Zoo was concerned," Gibson said. "They never really told the rest of the story, at least in modern history."
Kay was traded for Bunny, who stayed at the zoo until she was moved to an elephant sanctuary in Hohenwald, Tennessee, in 1999. Bunny stayed there until her death in 2009.
Gibson said she always had a curiosity as to what happened to Kay. She said she heard, either on the radio or television, that Kay had been euthanized using the exhaust pipe of a truck after the attack.
"After I heard this I thought, 'There's just no way. That can't be true, not after Bob McGraw begged for her life before he died,'" Gibson said.
Gibson said she found an online database that confirmed the story, but when she traced back the information all she could find was an anonymous comment left on a circus blog.
"I knew that when I found out what happened to Kay, I was going to come back and correct the record," Gibson said.
Gibson said she spent many years looking for what happened to Kay with very little luck. When The Evansville Vanderburgh Public Library got a massive grant to digitize all the newspapers,
Gibson spent a summer looking for the clue to find out what really happened to Kay.
Gibson said she cried when she found the article confirming what really happened.
"It became clear that I needed to tell the story about both Kay and Bunny because they both had these very similar endings in Evansville," Gibson said. "There are so many parallels and differences in their stories that I decided they needed to be told side by side."
Gibson said she first started gathering information for the story about eight years ago when she created a folder titled "Two Elephants." She said she grabbed any links she found and dropped them into the folder. Gibson said she downloaded every single article mentioning Kay.
Gibson said she used her passion for journalism to piece together the story using the articles found in the newspapers. She said she was able to piece together a lot of information through the Evansville Courier and Press and the Evansville Journal, a newspaper that no longer exists.
"It's an interesting coming together of my passions with this elephant story and with journalism," Gibson said.
Gibson said documentaries, like "Blackfish," caused her some setbacks when she tried to gather footage since many zoos are now wary of documentarians.
"They were concerned that I would shoot video over a whole lot of things and they couldn't control the narrative," Gibson said.
Gibson said that despite her film's economic and environmental message, she tried to keep it from being heavy-handed. She said she approached the subject as objectively as she knew how.
"The bias I have is that I am an animal lover," Gibson said. "I am about animal welfare and I believe in that, but I tried not to take an extreme viewpoint."
Gibson said there's no narrator and all the information is from other sources without her personal input. She said she inserted people with conflicting viewpoints in the documentary.
"I really want the viewers to decide for themselves how they feel about these issues," Gibson said.
Gibson said her goal for the documentary never changed. She said she wanted to set the record straight about Kay's life.
"Wherever the story leads me, I wanted to go," Gibson said.
She said she wanted to know the truth, whether it was happier or sadder than the story she was told.
"Letting Kay be an ambassador for other elephants and letting her represent their stories made me feel like I gave her a better ending because it didn't just end in that fatal moment for her," Gibson said. "She can still teach us something and that makes me really emotional, that she's being able to, in some odd way, speak through me."
Gibson said she was relieved to finally get this story to the public.
"I keep on thinking about the excitement I'm going to have watching it in a theatre with people because I'll get to hear if they laugh at the points I laugh and if they're sniffling at the points where I'm sniffling," Gibson said.
Gibson said she still cries at the same points in the film.
"I'm pretty proud that I can still feel that connected to it," Gibson said.
Gibson said she received a lot of help from various sources, including her director of photography, David Arthur.
Arthur was still a student at USI shooting in the university photography department when he was asked to help Gibson with the documentary. Arthur said he shot the interviews and rigged the camera, sound and lighting while Gibson did the interviews.
Arthur worked on the film between 2015 and 2016.
"In theory, it didn't sound the most exciting since filming interviews is pretty basic, but hearing the stories was a lot of fun," Arthur said. "I got really involved in the story hearing everyone's different perspectives."
Arthur said that it's a story that has been forgotten.
"People don't know about what happened and it's an interesting perspective that a lot of people don't think about," Arthur said.
Arthur said he remembered an elephant being in Evansville when he was a kid.
"They lived interesting lives, it's not every day that you hear about elephants locally," Arthur said. "They're an animal with particular interest value."
Arthur said the story was really unique to the midwest United States.
"Erin is a really good interviewer and she's done a good job pulling all the most interesting information out of the people she spoke to," Arthur said.
Arthur said he hasn't seen the film yet but was looking forward to it.
"It's a really fascinating story and I'm really excited to see how it turned out and for other people to see it as well," Arthur said.
"Two Elephants" will premiere at the WNIN Old National Public Theatre at 7 p.m. May 18 and May 19 at 5 p.m. and 7:30 p.m.