Relieved to see Tiger Woods return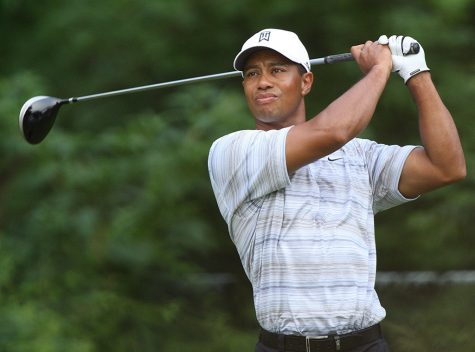 Flickr
Recent sports headlines have featured stories of Tiger Woods' highly anticipated return to the Masters this weekend.
"Tiger Woods has returned and far surpassed anyone's lofty expectations of what he'd be able to do this quickly," Jim Nantz, CBS lead broadcaster said. "I've had 33 years…it's always highly anticipated, but…this is probably the most anticipated Masters any of us have seen in our lifetime."
Personally, I was pretty stoked for the return of the Big Cat. I was pretty relieved to see him return with so much welcomed positivity after being plagued with a lot of negativity over the last several years.
In 1997 when 21-year-old Woods won his first Masters Tournament, it was evident that he was destined to do great things within the sport. Woods came back and won his second green jacket again in 2001, his third in 2002 and his fourth in 2005.
Along with his Augusta success, Woods was racking up wins at the U.S. Open, the Open Championship and the PGA Championships. There was no stage where the golfer wasn't showing off his mastery of the sport.
I can recall as a kid how amazing it was to watch Woods on the TV with my old man. In his prime, there was no moment that wasn't a spectacle to watch as long as he as on the greens.
With all the success, Woods was rated the top-ranked golfer in the world from August 1999 to September 2004, and again from June 2005 to October 2010.
With a fast climb in the sport at such a young age, it was a wonder when the golf titan fell.
November 2009 would start a snowball effect in Woods' life, beginning with a car wreck that resulted in a destroyed fire hydrant and a tree in his own driveway.
His wife, Elin Nordegren, had to smash the driver-side window to pull him out. The incident landed him a traffic citation for careless driving and a $164 fine.
Just a month later, a cocktail waitress claimed to have an affair with Woods. Other women, including a Las Vegas club promoter and a porn star, also came forward with claims of affairs with Woods.
Woods owned up to all the accusations. He apologized and announced an "indefinite break" from golf.
Nordegren left Woods while he went to a sex addiction clinic in Hattiesburg, Mississippi. Following the stint in rehab, several of Woods' sponsors dropped him, including AT&T and Gatorade.
Following the collapse of his marriage, Woods was plagued by injury.
He withdrew from the Players Championship in April of 2011 due to MLC sprain and left Achilles strain.
He pulled out of the final round of the WGC-Cadillac Championship with an injured left Achilles tendon in March 2012.
Again in April 2014 he pulled out of the Honda Classic and Arnold Palmer Invitational with back issues. A month later Woods underwent back surgery for a pinched nerve which caused him to miss the Masters and U.S. Open.
After his last surgery in April 2017, which Woods has said "went well," he was arrested in May for suspicion of driving under the influence in Jupiter, Florida. He was released from the local jail on his own recognizance with no bond.
After almost a decade of battling life, injury, and error, the golf titan is taking the stage again. The four-time Masters winner took to Augusta for the 19th time in his career. In his 18 previous appearances at the Masters, Woods has posted 13 top-10 finishes.
This year, however, Woods did not place on the leaderboards, but finished off the 2018 Masters with his best performance of the week, shooting 3-under 69 Sunday to finish at 1 over for the tournament.
When I had a chance to catch the series, I was left with pure amazement as to how hard Woods played after recovering from so much in his life. You could tell that he was back in the mix and feeling it.
"The run-up to this event is pretty hard and pretty grueling," Woods said. "I pushed myself pretty hard to get ready. And I peaked at it four times over the course of my career, and it's tiring."
I know that Woods was referring to the training that led up to the Masters but I almost got a sense that he was talking about more than just this year's training. I felt like he was referring to the long ride he has been on getting back in a state of mind where he could play as well as he has this year.
If you watch how the Big Cat has been playing this year, it is evident that he has been putting in the work and fighting past almost a decade of injury and negativities. If Woods continues to play as he has so far this year, we are in for a good jump back into the game for the seasoned golfer.
Leave a Comment