'I want to do something I genuinely like'
Women fight stem program stigmas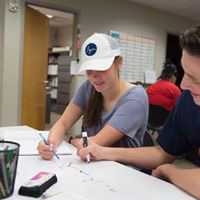 LaVerne Jones
In physics class, there is not an open seat. Students are packed into the classroom, pencils furiously scratching notes as the teacher gives examples.
In a class of 40 students, only four are women.
"I was always interested in how we got here," Ernestine Tramill, a junior physics major said. "What was our purpose, was there anything else? In my junior year of high school, I took a physics course and realized that's where I was going to find those answers."
Only 14 percent of engineers are female, according to the Congressional Joint Economic Committee.
"I see other women in my math and chemistry classes," Tramill said, "There's quite a few women in chemistry actually. I saw women in my intro to physics courses, but I am the only woman in the two upper-level physics classes I have taken. However, the class sizes are small already."
Sophomore Electrical engineering major Kelsey Likens said sometimes she is the only female in her classes.  
"I really enjoy my classes, especially the few electrical engineering classes I've taken so far," Likens said. "I want to do something I genuinely like. With engineering, there are so many different fields to go into. I want to find one I'm really passionate about."
The university offers specializations in civil, electrical and computer, industrial and manufacturing, mechanical and mechatronic engineering. Each one of these fields is listed on Forbes top 25 list of "degrees with the most earning potential."
The Beauro of Labor Statistics projects that the need for jobs in this sector is going to increase 28.2 percent for the next six years.
However, the stigma of males seeking STEM degrees never bothered computer science major Adrian Hudson.
"I was exposed to engineering by working on a robotics team in high school," Hudson said. "I later switched to computer science and I really enjoy programming. I hope to have a career in software development of applications."
According to a paper published in Psychological Science at the University of Missouri, women in countries with higher gender inequality seek careers in STEM more often than women in countries that are more gender equal. Women in these countries are likely only securing the most secure path to financial independence through STEM. Looking at test scores from these countries women often performed as well as or even better than men in their fields.
"I think my family may consider my major a little masculine," Tramill said, "Originally I thought of being a vet or a psychologist. I think my family would have been more understanding of those more feminine careers, but they are supportive regardless. I'm a very proud and confident person, it's possible I have faced judgment for my career choice and didn't even process it."
Likens said sometimes there are comments that make her pause.
"Sometimes there are comments here or there that make me pause," Likens said "Sometimes I get, not really judged, but some people are shocked when I tell them that I'm an engineering student. It may be because of my gender, it may not, it doesn't bother me much so I don't put too much thought into it."
There are many scholarships available specifically for women considering getting an education in STEM. The Society of Women Engineers gives away scholarships of up to $20,000 to degree-seeking women. Organizations like Girl Scouts of America are trying to counteract the bias against women seeking STEM degrees by offering badges and scholarships for scientific achievements.
"What I would tell other women," Tramill said. "Congratulations on breaking barriers and paving the way for young girls that think science is for men. Women have won Nobel Peace Prizes in science, that should be enough to prove women and men are equally capable scientists. So be sure of yourself and your capabilities, and so focused on your goals that you don't have the time or energy to worry about what they might think of what you're doing."