Running club supports, encourages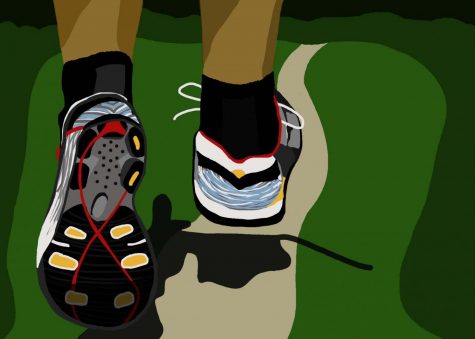 Illustration by Maddyson Lewton
Alicia Spears is in charge of making sure everyone has a running buddy.
The senior exercise science and pre-occupational therapy major joined the Screaming Eagles Running Series in January and has since become in charge of leading warm-ups, and organizing the running schedule and calendar.
The running club participates in a sequence of races organized by the university that focuses on increasing the health and well-being of the Evansville community while also providing hands-on experience for students in the USI community.
Members of the club run every Monday, Tuesday and Thursday at 6:30 a.m. and every Saturday at 7 a.m. The series includes three races each of a different length, beginning with a 5k and ending the season with a 10k.
The Spring into Fitness 10k, the last of the races, will take place April 7, starting at 9 a.m. in front of the RFWC.  
Spears ran cross country and track in middle school, but when high school came around, she quit. Now, Spears wants to participate in every race that she can.
"Even though everyone in the club is on different running levels, we share a great sense of community," Spears said. "We watch every single runner finish, encourage and cheer each other on, and all go to breakfast after the race."
Spears participated in the Hearts on Fire 5k, and hopes to run in the 10k in April.
Libby Buckmaster said she ran cross country in high school, but wasn't very good at it. When the freshman sonography major came to the university in the fall, she was looking for a way to stay active and keep off the freshman 15.
Not wanting the intensity of a college sport, Buckmaster thought a club sport would the perfect fit for her.
"I was really nervous going into it because I wasn't sure if I would be able to find anyone who was close enough to my pace that I could run with them," Buckmaster said. "But it wasn't anything like I thought it was going to be, and I found people to run with almost immediately."
Buckmaster eventually had to quit the club because of lack of time, but now runs on her own.
"The club is what got me back into running and is the reason I still run now," Buckmaster said. "I haven't been in a while, but I know if I was to go back today, they would all support me and welcome me back just as much as when I was involved."
The club focuses on the individual and group improvement of all members. Each member is given individual goals for the day, and everyone works to get better based on their own skill level.
Becca Hammond said she was roped into joining the running club because of Buckmaster.
The freshman undecided major had very little experience with running, but was quickly running four miles.
"I had more energy than ever," Hammond said. "I was getting up most days of the week to run. I was sticking to my plan and I was consistently improving."
Hammond said having a support system like the running club is vital to success.
"It's so easy to give up and become unmotivated," Hammond said. "If I was running alone, I might stop to walk more or maybe not even run the full four miles. I wouldn't have improved nearly as much or stayed as consistent without having people to push me."
Hammond said the club is great for every skill level.
"We are like a family," Hammond said. "While everyone was at different levels and working toward different individual; goals, we all wanted to see each other succeed and were willing to push each other to get there."
Leave a Comment