'We want to recognize those phenomenal women'
Community women honored at annual ceremony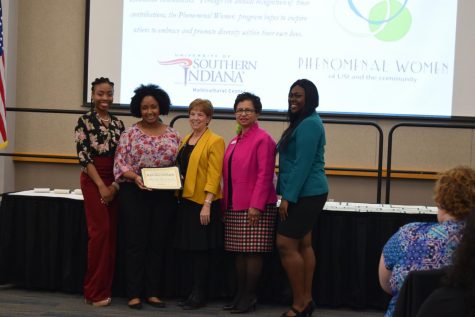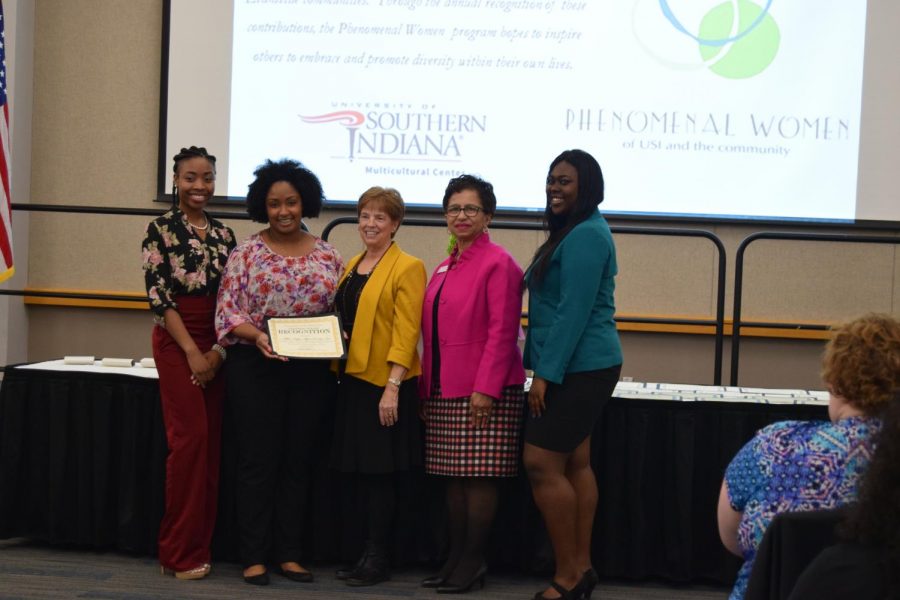 Beverly Jones
"Women can learn that their accomplishments are important and that they can have a real effect on their community," Maggie Winter said. "I think it's really good that USI is putting on this event to honor women and make sure that our accomplishments are recognized."
Winter was a representative of the university's women's soccer team at the 17th annual Phenomenal Women of USI and the Community Recognition Ceremony.
The freshman undecided major said the event was a perfect way to celebrate Women's History Month by bringing together women of the Evansville community alongside university faculty, staff, athletes and sororities.
"I think it's important that USI does their part and makes sure that (women) feel included here on campus," Winter said.
Director of the Multicultural Center Pamela Hopson said the Phenomenal Women ceremony is one of the Multicultural Center's primary events honoring women who have made contributions to the university and Evansville community.
"We want to recognize those phenomenal women in our lives from USI and in the community," Hopson said. "More than just employees, we are recognizing students, employees and the community for all the great things women have done."
One of those phenomenal women was Zoe Kaufman, selected as the undergraduate student for her efforts as a resident assistant and organizing the Celebration of Life event.
"I feel very honored and excited," the junior nursing major said. "I think recognizing people for the work that they do is really fantastic, so I feel really special to be here today."
Kaufman said being presented with the honor was truly amazing and makes her feel successful in her goal to give back to the community.
"I feel like sometimes people do amazing things, and sometimes they aren't noticed," Kaufman said. "So obviously the people who were rewarded tonight have done amazing things on bigger levels and smaller levels, but all important."
Melinda Roberts, the administrative staff honoree, was recognized for her "immeasurable involvement" in the community.
"I feel very proud and humbled by this experience to be around so many people who have done so many things," the assistant professor of criminal justice and director of gender studies said.  "I think that there are a lot of women both at USI and in the community that are doing a lot of incredible things. It's very important to bring attention to a lot of their accomplishments."
Roberts said it was amazing to hear the women's many accomplishments and appreciated the efforts given to honor them and their important work.
"It really highlights the different things women are doing in the USI community and the community beyond. I think it's important that we hold events where women come together at all times to share our stories and learn from one another," Roberts said. "To share in each other's successes and to also learn from each other's failures, to build each other up and to make a support system."
Roberts believes it's important to recognize the many different and unique things women accomplish especially from the next generation.
Roberts said she was glad to see so many young women attend the event and hear about their impact to the university because these women are our future and they can go far.
"It's exciting to see so many young phenomenal women in this room," Roberts said. "I definitely look forward to seeing where they end up."