'Black Panther' exceptional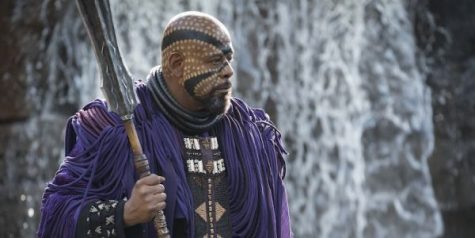 Creative Commons
Marvel slays again with yet another badass superhero film with "Black Panther." Released in late February, "Black Panther" immediately earned its way to becoming the biggest solo superhero movie in North America, beating 2008's "The Dark Knight."
After the death of his father (shown in "Captain America: Civil War"), T'Challa (Black Panther) returns home to his African nation of Wakanda to take on his role as the new king. However, when a strong enemy arrives to threaten his place as king and potentially put Wakanda and the rest of the world at risk, T'Challa must go through multiple challenges in order to ensure the safety of all and his role as Black Panther and King.
Based on previous Marvel movies and the trailers released for "Black Panther," one may have expected the story to contain heavy technological elements and battles within busy cities. The film exhibited all of this and more. Although high technology played a huge role in the world of Wakanda, the story also displayed great African cultural elements and traditions. It was very refreshing and riveting to be able to experience the Wakandan culture and learn more about African traditions. Epic battles in cities and strong elements of technology may be cool, but being able to immerse yourself in a culture that is important to the storyline and different from your own was truly exceptional to witness.
Speaking of characters, the film displayed many interesting characters with unique personalities. T'Challa was very serious and passionate about his role as the Black Panther and King of Wakanda, and it was endearing to be able to feel and see his emotions for his late father and his people. It's important to see the vulnerable human side of heroes because some may forget that they have moments of weakness just like everyone else. Another character that is sure to capture the hearts of many fans is T'Challa's younger sister, Shuri. Shuri is only a teenager, but she is also perhaps one of the most intelligent characters in the Marvel universe. At such a young age, she is already seamless in designing suits for the Black Panther and being able to invent various extraordinary pieces of Wakandan technology.
Perhaps the only character in the movie to have a complaint about is the antagonist, Erik Killmonger. A flaw in many action movies is perhaps the simple distinction between good and evil when in reality it can be much more complicated than that. Killmonger seemed to be nothing but a bloodthirsty killer. There were moments of empathy for his devastating past, but in terms of his role in the movie, he didn't seem to have much depth.
Lastly, one cannot speak of "Black Panther" without mentioning the soundtrack. The film's soundtrack captures the movement and atmosphere of the movie with its upbeat, powerful sounds and lyrics by artists such as Kendrick Lamar, the Weeknd, and SZA. The music in the movie perfectly sets the mood and encompasses T'Challa's character and goals.
Marvel has yet to disappoint with its new releases, and it's safe to say "Black Panther" deserved the excitement and hype it has received for so long. The Marvel franchise is getting better and better with each release, and with all of the movies they are soon to be released later in the year, let's hope the franchise continues to grow and evolve.
(4.5 / 5)