'In someone else's shoes'
'Vagina Monologues' to tell female stories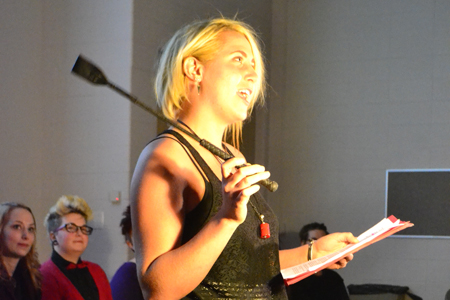 Photo by The Shield
Mary Lyn Stoll has been co-running "The Vagina Monologues" for 11 years, but every year, she performs the same monologue.
The associate professor of philosophy performs "My Vagina Was My Village." The piece is about a refugee woman who has been raped by a number of individuals and genitally mutilated.
"Her experience is utterly distant from my own," Stoll said. "I have never been a refugee. I have never been that ridiculously poor. I have never been mutilated or raped. Really, everything that happens to her other than before the trauma, I don't have a touchstone. I think it is the task of the whole performance, to find a way, as much as you can, realizing it's limited, imaginingly putting yourself in someone else's shoes to try to feel what they are feeling to understand the world from perspectives that aren't your own and never could be."
"The Vagina Monologues" have been performed globally for many years before the university joined the movement. This year is the 20th anniversary of the series of interviews conducted by Eve Ensler.
Ensler is an American playwright, performer, feminist, and activist, best known for her play "The Vagina Monologues."
"Eve Ensler did a series of interviews with women from all different backgrounds. Everything from women who had been refugees in Bosnia and Kosovo to a woman in the south who is homeless," Stoll said. "So all different sorts of women that she interviewed and then she created 'The Vagina Monologues' which are a series of monologues to get the conversation going about vaginas because while talk of men and male genitalia is often prevalent, at least at the time she was starting this, it was seen as very taboo, impolite, maybe even unethical to refer to women's whole bodies."
Ensler works with feminists all over the world by giving her monologues as part of a movement to help women and girls who are the victims of sexual assault and domestic violence.
The University will perform Ensler's "The Vagina Monologues" Feb. 22 and Feb. 23 at 6:30 p.m. in Forum 3. The cost of the event is $8.
Ten percent of the proceeds from the event will go to the V-Day fund, which gives out grants to grassroots feminists organizations all around the world.
The other 90% goes to Willow Tree of Posey County which is an organization that gives shelter to women and girls who are the victims of sexual assault or domestic violence.
Lauren Wojcuich said she took Stoll's Sexual Ethics class by accident, and Stoll made such an impression on her that she decided to join "The Vagina Monologues."
The sophomore communications studies major never talked about her sexual life before she walked into Stoll's class, but said the class has made her more comfortable with the topic.
"When (Stoll) brought up the event I thought I might as well get out of my comfort zone and start trying to talk about topics like the Vagina Monologues. I want to be more comfortable with it. I'm not there yet, but I want to be."
Wojcuich will be performing the piece "Woman that Loves to Make Vaginas Happy."
"It has been rewarding hearing what the other girls in the performance talk about," Wojcuich said. "I have been educated on sexual assault and I have never been exposed to that. Other girls are so fiery and passionate about the subject and I want to be more like that."
Wojcuich said she was hesitant to join because she is not as comfortable with the topic, but said she thinks most girls are like her in that way.
"I think every girl should participate in this event if they have a chance," Wojcuich said. "Even going to the event is a good way to get more comfortable with the topic."
Cheyenne Welte said when she watched the event last year she felt so empowered.
"You will laugh, you will cry, you might cringe," the junior theatre and English major said. "You won't know if you should laugh or cry or both, but it is a variety of everything."
Welte will be performing the piece "My Angry Vagina."
"My vagina is sick of everything," Welte said. "It is sick of tampons and thong underwear, especially thongs. My vagina is pissed because of speculums, but I call them mean, cold, duck lips. And I'm pissed because they are cold and we don't warm them up and it's ridiculous. I'm angry, I'm angry about everything. But mostly I'm angry about not being able to do what I want. In the end, I go into this rant about all the things my vagina wants. I want to have it and I don't want to feel bad about wanting it. I see it as an empowerment piece."
Welte said it took her a long time to find "her angry" for the piece.
"It was hard for me to be that angry at first," Welte said. "But now I relate to the piece better now because I understand it more."
Stoll said there are no tryouts for the monologues, and that it is less of a selection and more of a devotion.
"I want people who are passionate about the cause," Stoll said. "Because it's about giving voices to women whose voices aren't otherwise heard. I want people who that is their priority. I want people whose priority is letting women who have been silenced have their voices be heard."
Leave a Comment