Play to portray passion, process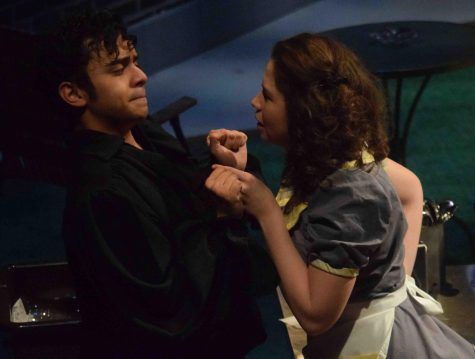 Jorden Auker
Cast members of USI Theatre's next play describe it as a messy love story.
The theatre opens "Italian American Reconciliation," written John Patrick Shanley and directed by Elliot Wasserman Thursday.
The play is a slice-of-life comedy that takes place in New York City and follows the exploits of Huey Bonfigliano (sophomore Nathaniel Robles De Jesus) as he tries to win back his ex-wife, much to the chagrin of his friend Aldo.
Robles described his character as a brooding artist type going through a midlife crisis.
"He's not very confrontational," said the sophomore theatre and business major. "He does what he's told, and throughout the play, he tries to find his strength again."
Robles used the script to get into the mind of his character.
"It helps in rehearsals when your director can give you an idea where to go…but it's really just a matter of reading the play and seeing why this character does all the things that he's doing…see where you can pull from your life and see how to make it accurate to what the author is trying to portray for the character," Robles said.
Robles described the importance of love in the show.
"This show is a very truthful portrayal of love and how people go through love…love is not something you automatically get right, it's not a fairy-tale." Robles said. "That's what I think is great about the show the show really portrays how sometimes you get in wrong, sometimes you get it wrong multiple times, sometimes you never get it right."
Theatre and philosophy major Parker Hart described his character, Aldo Scaliki, as a lot of fun, very loud and very animated.
Hart described the challenges he faced in performing the role.
"The hardest thing for me has been finding the funny…trying to accent and hit all the comedy," Hart said.
Hart praised his fellow cast members.
"They all are really great actors and really great people…when you have a smaller cast you get really close with these people and I couldn't ask for a better group of people to work with."
"It's really apt that it'll be showing the day after Valentine's Day because it does deal with a lot of love," Hart said.
Brittni Garcia described her character, Teresa, as an outgoing individual.
"She's really sassy, very outgoing, she speaks her mind. She's just a lot of fun," Garcia said.
"Teresa is that side of me that's how I want to be but that's not who I am…I just have fun with it and let myself be open," said the senior theatre major.
According to Garcia, Teresa is driven by her passion for people, love and life.
Garcia said she enjoyed working with the smaller cast.
"It's been a lot of fun. We all respect each other and rehearsal is a lot of fun because it's a comedy, and so finding all the comedic moments had been so much fun figuring it out, and when we find it out it's like 'Oh my gosh! That's perfect. Let's go with that'…sometimes I'll be tired from the day, but I get to rehearsal and I'll be like, 'Okay, this is what I've been waiting for.'"
Garcia had to perfect her Brooklyn accent for the role. Getting rid of the hard Midwestern r's was the biggest challenge.
"It's a very heartfelt show and I feel like anyone who has ever been in love or felt love or seen love is gonna understand the show," Garcia said.
Director Elliot Wasserman explained what made working on this show so special.
"I like to work with students actors. I like to work with actors who are hungry for the experience…when they arrive at rehearsal they're not jaded from long years of experience. They're not tired, they're excited and thrilled to have been cast," Wasserman said.
Wasserman described the theme of the show.
"It's about love and it's about mistakes that we make about love when we're young. It's a short-cut to a little wisdom. Not to mention the fact that it's funny," Wasserman said.
"Italian American Reconciliation" will be shown 7:00 p.m. Thursday, Friday and Saturday and 2:00 p.m. Sunday in the USI Performance Center. Tickets will be sold for $2 for USI students and $4 to non-USI students with rush hour tickets being sold for free an hour before the show.
Leave a Comment