Catching feelings, frisbees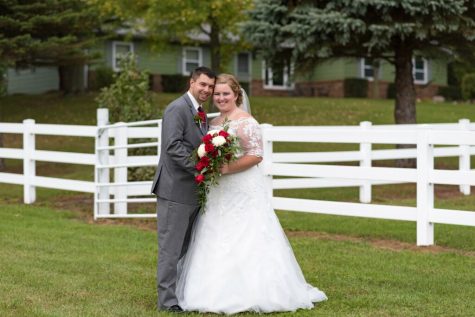 Photo courtesy of Jesse Wyatt
More than frisbees were caught on the ultimate field back in 2015. In the case of Jesse and Kim Wyatt, it was true love.

With Valentine's Day approaching, the Wyatts said that they plan on staying home and saving money as newlyweds. The couple reflected on their love story to celebrate the holiday.    

Jesse was a  physical education major when he met his bride, Kim. They were both student-athletes playing ultimate frisbee.

"I asked her out maybe four or five times to which she said no every time," Jesse said. "Then she asked me out, and I almost said no just to be a jerk, but I figured I wouldn't get another chance so I said yes."
Kim, a junior exercise science major, said she was blind to Jesse's affections for her at first.

"I thought he was just being nice, helping the newbie out with throwing and technique and stuff, that was the oblivious part," she said. "We finally went out and hit it off and we've been together ever since," Kim said.

Jesse graduated and became a coach for both the men and women's ultimate teams. To avoid a  conflict of interest, Kim decided to end her ultimate frisbee career. This didn't stop her from continuing to support the sport and Jesse as a coach.

"I'm not a part of the team, but I still go to practices if it's nice out," Kim said. "For tournaments, I really get to help with selling merchandise, sit at the table and answer questions, and just be there for support. A lot of my friends still play so it's a nice way to get to see them more as well."

After two years of dating, the couple got engaged. Jesse first asked Kim's parents for her hand in marriage. With their approval, he set out to pop the big question in as smooth a way as he possibly could.
His plan was to take Kim to "their" bridge on the riverfront walkway where they had placed a lock with their initials on their first Christmas.

"I sensed that a proposal was coming," Kim said. "I even told my friends. We were on the way to Olive Garden when he turned off the Lloyd, heading to the bridge and I just started crying."
Jesse said he knew his intentions of asking her were obvious.
"Yeah, It wasn't very subtle," he said. "She even called it a few weeks before, telling me 'yep, you're going to propose to me on that bridge, you're going to take me to dinner.' She was right, but I was still going to do it because I'm not very creative."

Kim said yes and the couple went to Olive Garden, which Kim informed has very good lighting for admiring an engagement ring in.

On the chance that the couple may decide to have a child together, they both agreed that he or she will play ultimate frisbee.

Kim and Jesse are just one example of a successful love story that blossomed on the field. They both said they know of at least five other couples that met through the sport.

Ultimate frisbee is a competitive 7-on-7 team club sport which is played on a football field setup play area. The basic goal is to throw the frisbee from person to person on the team until making it into the end zone to score. Tournaments are typically on the weekends and will consist of 6-7 games per team.

This non-contact sport is self-officiated and heavily relies on the spirit of the game and sportsmanship.

Check out the frisbee teams at the March Mayhem Ultimate Tournament at the Broadway Sports Complex March 17-18.

Leave a Comment