Women's basketball hopeful for bigger turnout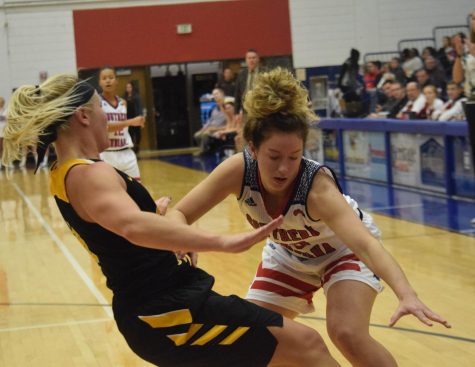 Jordan Auker
Audrey Turner thinks men's sports, including basketball, are more hyped than women's sports.
"I think the timing of men's games is better, and in general it's a faster-paced game and people would rather watch that," the freshman special education major said.
Turner, a center for the women's basketball team said although the fanbase has populational differences, the women's team has its own amazing student section that the team appreciates.
Although the section isn't huge and isn't as big as the men's turnout, Turner said she feels compared to other schools the university has a bigger turnout due to it being a "community school."
"It's always a lot more of a fun environment when you have people watching you," she said. "If it's just empty, it doesn't feel like a game. But having a lot of people there supporting you, knowing that you have some people who care about you and want you to play well, that really is a great motivator."
Currently, the team has lost only two games during their season and stands 9-1 for the conference.
"We're just going up from here," Turner said. "We have a lot of great competitions ahead of us, and we are finally completely united as a group and figuring things out from a team perspective."
Matthew Kreutzer, vice president of Archie's Army said fans should be supporting the women's basketball team.
"(The women's team) is playing phenomenal right now and they're fun to watch," he said.
Kreutzer said the group strives to advertise games the same no matter the sport or gender and to support all athletes and encourage other students to do so as well.
"A fan's main role is to support the athletes in any way that they can, and generally that's being loud and proud and showing good screagle spirit at the sporting events," the junior finance major said. "I really think crowds pump up our guys and girls basketball teams as well as other USI athletics."
Morgan Dahlstrom, a senior forward, said she finds it shocking how the team can be playing this well and have a better record than the men's team and they get more media coverage.
"A crowd is definitely motivating even when they aren't on our side. (It helps) just knowing that there's a lot of people there and just having all the encouragement and support coming from that," Dahlstrom said. "I think that's just a huge motivator for us knowing that there's a huge game on the line and there's a lot of things going on and a lot of distractions happening but just
to be able to play our best basketball through it all is a big motivator."
As the season continues and the women's success rises, Dahlstrom and Turner hope to see a bigger crowd form.
However, Dahlstrom said she does feel support from the university.
"I think USI does a really good job of advertising our games and just trying to get people to come to our games," the exercise science and pre-physical therapy major said.  "We know each other and (have) each other's backs, and being able to communicate with us is something that at a big school you might not always get.  It's like how athletes (at other schools) keep their distances from other students, but it's not like that at USI at all."  
Kreutzer said he has not missed a women's game this semester and is looking forward to the remainder of their season. He encourages the student body as a whole to attend the upcoming sporting events.
"It's something fun to do and gives you a chance to let loose," Kreutzer said. "Just enjoy watching your fellow students compete, and if you like sports there's no reason to not be a fan."