'Greatest Showman' pleasantly surprises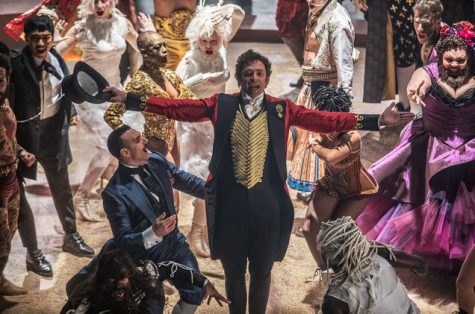 Billboard
"The Greatest Showman" is a new musical that sort of caught everyone by surprise. With trailers appearing only a month or two before the premiere, it was a movie that almost came out of nowhere.
However, it was a rather pleasant surprise for anyone who watched it. With actors/singers like Hugh Jackman, Zac Efron, and Zendaya attached to the project, nothing but greatness could occur.
This new musical is inspired by P.T. Barnum's creation of the Barnum and Bailey Circus and the lives of its stars. The movie showcases various magical scenes of eccentric circus acts as well as pleasant themes of love and acceptance. Messages such as following your dreams and never judging someone from their appearance are also strong and heart-warming aspects of the film.
The soundtrack of "The Greatest Showman" is sure to entrance those who listen. The title track of the movie "The Greatest Show" immediately hypes viewers up and perfectly captures the energy of the characters doing what they love and enjoy.  
Songs such as "A Million Dreams" and "Come Alive" are lush pieces that speak of following dreams and are bound to get stuck in viewer's heads. "Rewrite the Stars" and "Tightrope" are romantic tracks certain of pulling heartstrings and putting listeners into a trance with the soft, melodies and emotional voices of Zac Efron, Zendaya, and Michelle Williams. "This is Me" is a power song inspiring confidence and determination to be true to yourself and to show society who you are.
"The Greatest Showman" is a new, magical musical inspiring societal acceptance as well as self-acceptance.
It is very heart-warming to watch and includes a soundtrack many will find a pleasure to sing along to. The themes of love and following your dreams have such a strong presence throughout the film, you're likely to find yourself smiling and full of motivation to achieve whatever goals you have set. Hopefully, this movie will be one that will inspire many to follow their dreams and to love themselves and others.
(5 / 5)