After tribulation comes triumph
Former basketball star overcomes adversity, goes pro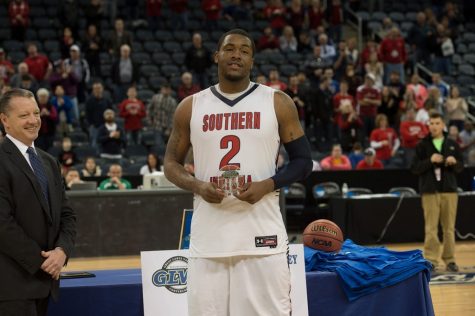 Before Aaron Nelson started donning the uniforms of professional basketball teams, he had much to overcome.
The 26-year-old Chicago Heights native was blessed with his on-the-court skills, but parts of his life off the court have been far from blessed.
Aside from personal issues he's had to overcome, he also had a potential career ending injury nearly five years ago in his junior year at the University of Southern Indiana.
It was a typical midseason conference game in the 2012-13 season.
The Screaming Eagles were 12-2 and 4-1 in the Great Lakes Valley Conference. In the NCAA Division II polls, USI was trending well, coming in at No. 15.
It was only 15 minutes into USI's sixth conference game on the road against Kentucky Wesleyan in Owensboro, KY Jan. 21, 2013 when an ordinary play changed everything for Nelson.
"Within the team, people say whenever USI plays at Kentucky Wesleyan, something bad always happens," Nelson said. "It was something the team always told me."
Even in hindsight, there wasn't anything he could do to stop it from happening.
Nelson got the ball and went straight to the basket, doing his best to draw contact as he finished at the rim.
The goal was to get bumped on the way up, so the referee would utilize the whistle dangling from his neck, and the junior forward could go the line with hopes of completing a 3-point play at the defender's expense.
Only this time, when Nelson drew contact from KWC's Dazmond Starke, something went wrong.
That extra bump on the way up to the basket shifted Nelson's body ever so slightly, changing the trajectory of his landing.
As soon as Nelson's feet touched the floor, he knew. He knew that feeling.
"I felt it," Nelson said. "I heard the snap. I knew it was something bad. I didn't want to believe it, but I knew."
USI's big man earned the 3-point play, but as a result, Nelson's promising season was cut short.
He had just suffered his second ACL tear as a collegiate athlete in only his 15th game in a USI uniform and only two years after he tore it the first time.
"It made my stomach drop," he said. "… From 1-12 to even 14, we had a really good team that year, and I thought it was our best shot at winning a national championship at USI."    
Before the game at KWC, the 6-foot-9 forward was averaging 11.9 points and 7.9 rebounds in 22.5 minutes of play halfway through USI's season, but after going down due to injury, it would be almost a year before he would take the court again.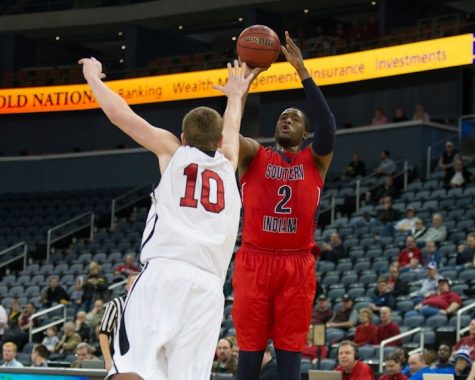 The early years
Nelson didn't start his college career at USI. Before he came to Evansville, he spent his formative years in Chicago Heights and later at two junior colleges in Illinois.
And before he was a dominant low-post presence or a guy with a smooth mid-range touch, he was just a kid dealing with his own personal struggles.
Basketball wasn't a passion of Nelson's until he hit middle school, and it's thanks to his older brother Jawan that he found the game.
He didn't have his father to play ball with when he was growing up, instead, he had his older brother.
Since Aaron and Jawan's father wasn't around much when the two were growing up and their mother, Mica Malone, worked long hours, it fell to Jawan to step up.
"I had to be the man of the house," Jawan said. "My mother was a single parent and she worked, sometimes night shifts. A lot of times night shifts, so there would be days where I had to get Aaron ready for school… It was pretty rough, but we managed."
After Nelson saw his older brother, the hero of his youth, succeed on the court, he wanted to do the same.
Jawan graduated a year before Aaron from Bloom High School in Chicago Heights. The eldest Nelson brother went from Bloom to Texas A&M Corpus Christi, where he played Division I collegiate basketball.
Nelson looked up to Jawan as one of the few positive male role models he had as a child.
"My big brother had a really big effect on my life," Nelson said. "… He was always there and he always supported me with everything I did. And he was there to check me if I was going down a bad road."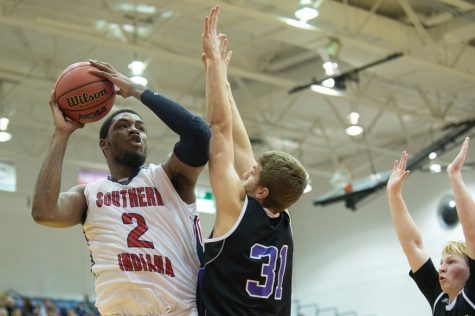 A chance encounter
Being competitive in college basketball, let alone going pro, wasn't a possibility Nelson thought about until his junior year when a favorable growth spurt occurred.
At Bloom, Nelson was a 6-foot guard as a sophomore, but when he came back after summer break before his junior year, he added six inches in the offseason.
"I hit a little growth spurt and started working a little harder in the gym," Nelson said. "Just dedicating myself to the sport a little more."
His junior year is also when he first met future USI head coach, Rodney Watson.
In the 2007-08 school year, Watson was serving as an assistant coach to Chris Lowery at Southern Illinois University.
Watson was looking at Nelson to potentially suit for the Salukis. He was looking for a low-post player who could put his back to the basket and dominate other players off the block.
"When he was a junior in high school, it was remarkable, the soft hands he had and to be so big and strong," Watson said. "He had such a strong physical body, and he knew how to use his body to rebound and score."
But the meetings didn't go anywhere. Nelson opted for junior college instead of outright committing to a four-year university.
Two years later, Watson interviewed for and received the USI coaching job.
It seemed like a lost cause for Watson to coach Nelson.
But after Nelson finished up his two seasons playing in junior college in 2012, one at Southwestern Illinois College and two at Highland Community College due to redshirting a year, he was looking for the school where he'd finish out his collegiate career.
It was his dream to end up in Division I, just like his older brother. That's where he wanted to go. It would give him the best chance to go pro, but as he finished up his last year at Highland, he found himself one class short of being eligible to go DI because he couldn't afford to pay for it.
"I did want to see what it's like to play Division I basketball," Nelson said. "But at the same time, I feel like everything happens for a reason
Not being able to go DI opened Nelson's mind to playing Division II ball instead.
So, when the guy who once recruited him for the Salukis came calling again, only this time with a different pitch, he made sure to listen.
"Watson was one of the most persistent people during my recruitment, even from high school," Nelson said. "When he opened up to me when I was playing junior college, I felt like it was the right fit for me."
Bouncing back and another setback
Heading into his surgery, Watson kept telling Nelson to look at the positives from his situation.
He remembers seeing a guy who so desperately wanted to play, but his body wouldn't let him.
"I knew he thought it was all over, he thought, 'I've blown my second knee, college basketball isn't meant for me.'" Watson said. "Frankly, you never know as a coach, so all I could think to tell him was 'look, you're going to have a brand new knee and you're going to have a really good year next year, but from then on, you're going to have new knees when these older guys you're playing against have old knees."
After his surgery was completed Feb. 7, 2013, it only took three days for Nelson to drop the crutches.
He didn't just want to be back on the court. He wanted to be better than he was before his second knee injury.
And since it was his second knee injury, Nelson knew it was a slow road to recovery.
A few weeks after his knee surgery, Nelson sat on the bench during the GLVC Tournament Championship game against Drury March 10, 2013.
The big man with the soft touch inside looked over to Lawrence "LT" Thomas to prophesize about his future.
"I'm going to come back and win player of the year in this conference," Nelson said.
Thomas nodded along in agreement, but all that mattered is Nelson believed in himself.
He had one year of college eligibility left and wanted to make the most of it.
But prior to his senior season in fall 2013, only seven months after his surgery was completed to repair the damaged ligaments in his knee, something else got in the way.
"The whole process, I was really motivated, really determined to come back and have a really good senior year," he said. "That's what stuck with me through the whole recovery process."
Nelson was pushing his body to its limits. He wanted to be back. He didn't want to miss any more games. He had already suffered two serious knee injuries, he was tired of being hurt.
A few weeks before the exhibition opener against Indiana University on Oct. 26, 2013, Nelson started suffering from full body cramps. It was so extreme, he couldn't move once the cramps started.
"Two separate incidents, he's in the hospital and we have no idea (why)," Watson said. "This was serious stuff."
After he went to the hospital, doctors diagnosed Nelson with severe dehydration.
Once Nelson and the team knew what they were dealing with, they figured out how to better hydrate the big man, and he played in and started 29 of USI's 31 games as a senior with something to prove.
He took the drive to succeed on the court into every game.
By the end of the year, after posting 19.3 points and 12.7 rebounds per game and leading the NCAA DII in double-doubles, rebounds per game and total rebounds, Nelson was on the short list to receive plenty of hardware in the leadup to his graduation from USI.
He took home four different All-American honors, as well as the Daktronics and GLVC Player of the Year awards.
"He overcame some real trauma in his two years here," Watson said. "He was a young guy. He was wanting to have a career and he was wanting to be a good college player. There were times where I didn't feel like we were on the same page, but he was extremely productive."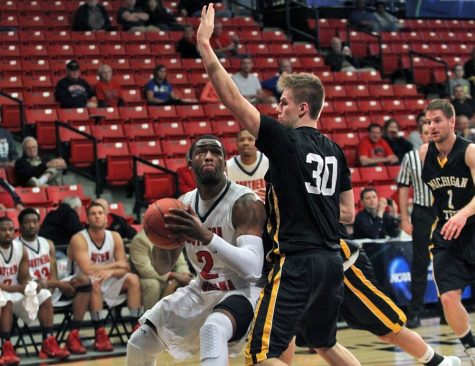 New heights 
Nelson's rejuvenated senior season put him on the radar of both scouts and agents.
As a senior, he was constantly fielding calls from agents promising him a road to riches if he signed with them.
But with Watson in his ear telling him to be careful, Nelson listened to his coach like he had done so many times before.
"Halfway through the season, I started getting people trying to contact me," Nelson said. "I never responded or anything, because I knew it would be a violation."
Now, Nelson hasn't played for USI in close to four years, but he's still playing basketball. He's played on five professional teams over the last four years in Argentina, Uruguay, Germany and most recently with Basket UC in Chile.
His game has evolved since his days as a Screaming Eagle. Nelson is leading Basket UC with 28.5 points and 12.7 rebounds per game this season through 20 games.
He's evolved since his days as a Screaming Eagle.
Passion is still a part of why he plays the game, but now, he's playing for so much more.
Everything changed Sept. 15, 2014.  It's not about just him anymore.
It's about his daughter Aaliyah.
"He was already growing up as a person," Jawan said. "But I think his daughter made him see that his life is really not about him anymore. He brought a child into this world, and he has to be there for his child."
He can't be around as much as he'd like to for Aaliyah since she lives in the States, but it's not like the situation he had growing up.
Nelson is away because he's trying his best to do right by her.
"Aside from the motivation I had for myself, (Aaliyah) gave me the motivation to go the extra mile in games," Nelson said. "So I can do for her what wasn't done for me while I was growing up."